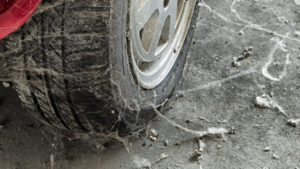 Democratic California Gov. Jerry Brown last month signed into law a bill which requires a shop to charge "reasonable" towing and storage rates related to "an accident or recovery of a stolen vehicle."
Assembly Bill 2392, which oddly doesn't specify what to do about storage relating to comprehensive claims, also defines what's "reasonable":
(2) (A) For purposes of this section, a towing and storage charge shall be deemed reasonable if it does not exceed those fees and rates charged for similar services provided in response to requests initiated by a public agency, including, but not limited to, the Department of the California Highway Patrol or local police department.
(B) A storage rate and fee shall also be deemed reasonable if it is comparable to storage-related rates and fees charged by other facilities in the same locale. This does not preclude a rate or fee that is higher or lower if it is otherwise reasonable.
The bill also bans certain storage fees as "unreasonable":
(A) Administrative or filing fees, except those incurred related to documentation from the Department of Motor Vehicles and those related to the lien sale of a vehicle.
(B) Security fees.
(C) Dolly fees.
(D) Load and unload fees.
(E) Pull-out fees.
(F) Gate fees, except when the owner or insurer of the vehicle requests that the vehicle be released outside of regular business hours.
This passage doesn't appear to mean that other auto repair administrative fees are unreasonable, only costs related to "towing and storage."
Both the California Tow Truck Association and major national insurance trade groups supported the bills, and the final versions of the bill passed both the Senate and Assembly unanimously. (The first Assembly vote on a prior version of the bill did see one no vote, Assemblywoman Marie Waldron, R-Escondido. However, she voted for the final version.)
"Towing and storage fees are becoming an increasingly large percentage of the payouts in automobile crashes, contributing to higher insurance premiums," State Farm said, according to a Senate floor analysis. "And while a majority of towing companies are behaving in a fair and responsible manner, some are employing tactics that unnecessarily drive up costs, such as holding cars longer than necessary for high fees, or charging extra and unnecessary fees for towing cars from accidents. These delaying tactics do nothing other than drive up the price for consumers."
"AB 2392 attempts to raise the standards of professionalism in the industry by making a number of changes to existing law to ensure that bad actors are not price-gouging and that consumers and their agents have adequate access to and information about vehicles being stored by a tow company," the California Tow Truck Association wrote.
No opposition was recorded ahead of the final floor action on the bill.
The bill also reiterates that insurers must allow the customer's collision repairer of choice by referencing California Code Section 2695.8.  It also grants certain access rights to the insurer and customer — they're allowed to see the vehicle for free.
The bill says the insurer can do so during normal 8 a.m.-5 p.m. business hours and seems to suggest this would apply to the customer too.
"Outside of normal business hours, the facility shall provide a telephone number that permits the caller to leave a message," the bill states. "Calls to this number shall be returned no later than six business hours after a message has been left."
The insurer — it can be either a first-or third-party carrier — isn't allowed to be disruptive when they visit, however.
"However, the storage facility may limit the (insurer) inspection to increments of 45 consecutive minutes in order to provide service to any other waiting customer, after which the insurer may resume the inspection for additional increments of 45 consecutive minutes, as necessary," the bill states.
The facility storing the vehicle also has to accept an insurance check.
AB 2392 also states that unless an exemption is mentioned, the consumer protections in Section 22651.07 of the vehicle code (and by extension, Section 22524.5 dealing with the "reasonable" fees, which is mentioned within) "apply to any facility that charges for the storage of a vehicle, including, but not limited to, a vehicle repair garage or service station, but not including a new motor vehicle dealer."
According to California regulations and the Bureau of Automotive Repair, a shop can't start charging for storage until they invoice the customer for work performed. This is an important item for shops to recognize, and it seems to reflect the reality that their customer is the customer, not the insurer, and your contract is with the vehicle owner.
More information:
California Bureau of Automotive Repair storage/towing and liens presentation
BAR, Oct. 18, 2018
"Bureau of Automotive Repair Advisory Group Meeting – October 19, 2018"
California Department of Consumer Affairs YouTube channel, Oct. 22, 2018
Featured image: Storage fees must be "reasonable," according a 2018 California bill which defined what counts as "reasonable." (GoneWithTheWindStock/iStock)
Share This: