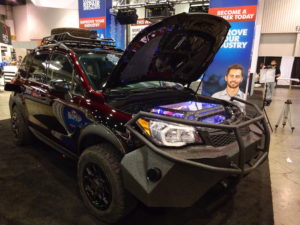 With a full field of competitors vying to develop self-driving cars for city streets, Mississippi State University's Center for Advanced Vehicular Systems decided to carve out its own autonomous niche.
It unveiled the result Tuesday in the Society of Collision Repair Specialists booth at SEMA: "Halo Project," a 2014 Subaru Forester modified to be fully electrified and able to drive itself off-road. See it at the booth, No. 11173, today and the rest of SEMA Week.
"The Halo Project itself serves as a platform for our researchers to demonstrate their expertise, on a real-world, high-performance vehicle," CAVS associate director Matthew Doude said in a statement. "Less than one percent of the Earth is paved, so we needed a vehicle that could be a capable development and test platform both on- and off-road. The Halo Project vehicle is all-wheel drive with tons of wheel torque from its four independent electric motors. This allows us to do research on topics like self-driving cars, even in rugged environments."
Will Meadows, an MSU electrical engineering masters student and the electrical lead for the vehicle, said that for a typical autonomous vehicle, "the world is flat." Aside from worrying about debris in the road, traditional autonomous vehicles assume a paved road is constant and don't pay much attention, even to the point of ignoring items like potholes. But despite having been lifted four inches with a kit (assisted by collision repairer Clinton Body Shop, which also painted the SUV), the Forester has to keep a close watch on the ground beneath its mammoth Black Rhino wheels.
Meadows said MSU addressed this problem by angling two lidar sensors towards the ground and combining their output with a third above the car for a single, wider sensory view. The lidar sees the world by reflecting lasers off of objects, which Meadows said provided CAVS with a convenient way to classify various potential obstacles based upon the intensity of their reflectivity.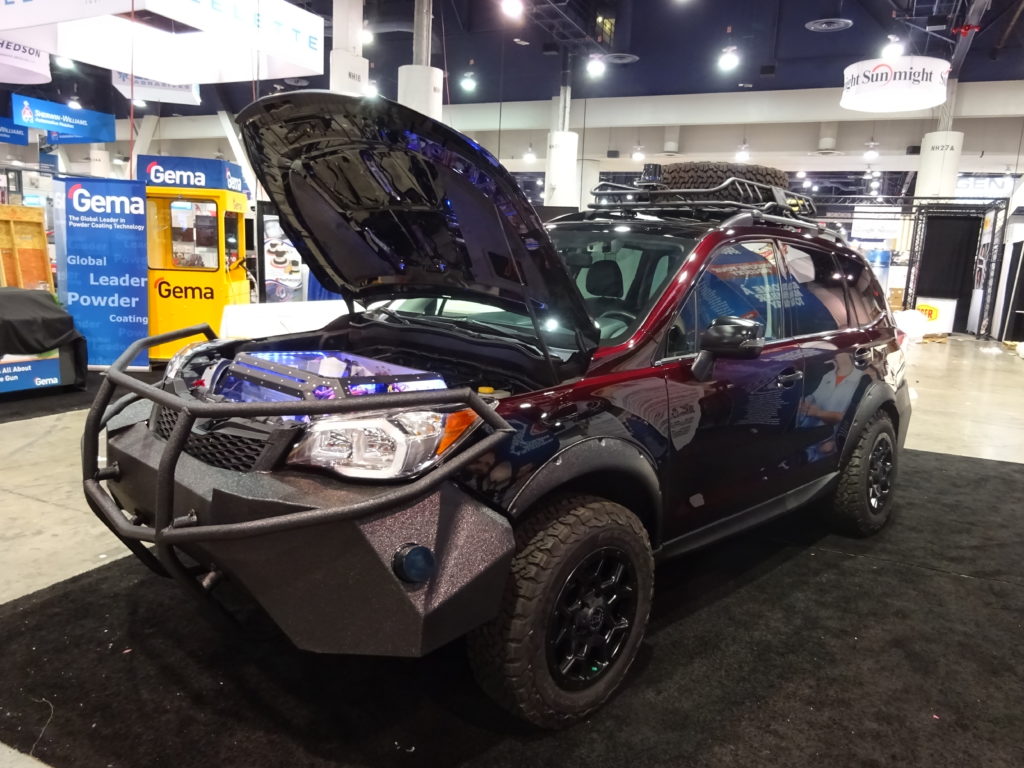 MSU retained the Subaru EyeSight system on the vehicle, which uses two cameras behind the windshield to provide a steroscopic view of the road for advanced driver assistance system features.
"We listen to it first," Meadows said.
CAVS added two 190-degree cameras to the mirror — each can see "a little bit behind itself," according to Meadows — and installed two more in the rear of the vehicle for another stereoscopic view of the terrain.
It electrified the vehicle (and gave it electric all-wheel drive) by ripping out the existing powertrain and converting the engine compartment, transmission tunnel and rear of the vehicle into three sets of 15 modular batteries, according to Meadows.
Williams said the end result was 90 kilowatt-hours of range, which puts "Project Halo" ahead of the 75 kWh base Tesla Model X (which has the luxury of a skateboard battery design) and just under the top-end 100 kWh variant.
Since it used a stock Forester and added hundreds of pounds of battery, the result is a "very heavy car," according to Williams. But new battery technology by partner A123 allows 50 percent more energy capacity than the previous-generation lithium ion battery, and the SUV can go an estimated 230 miles on a single charge.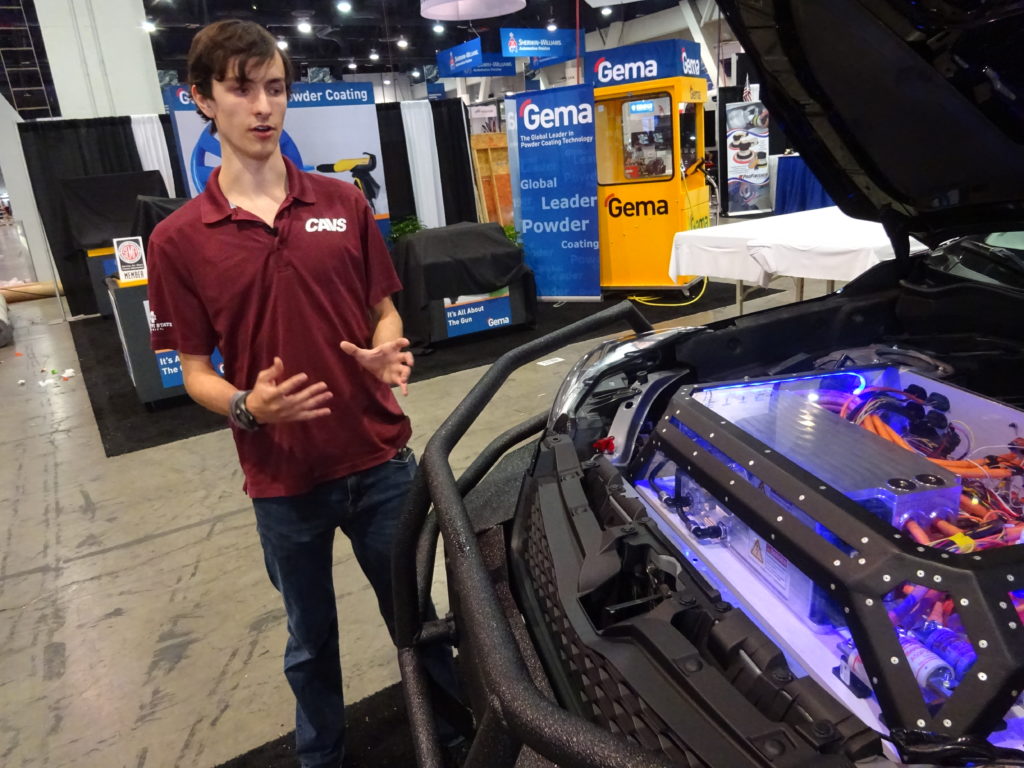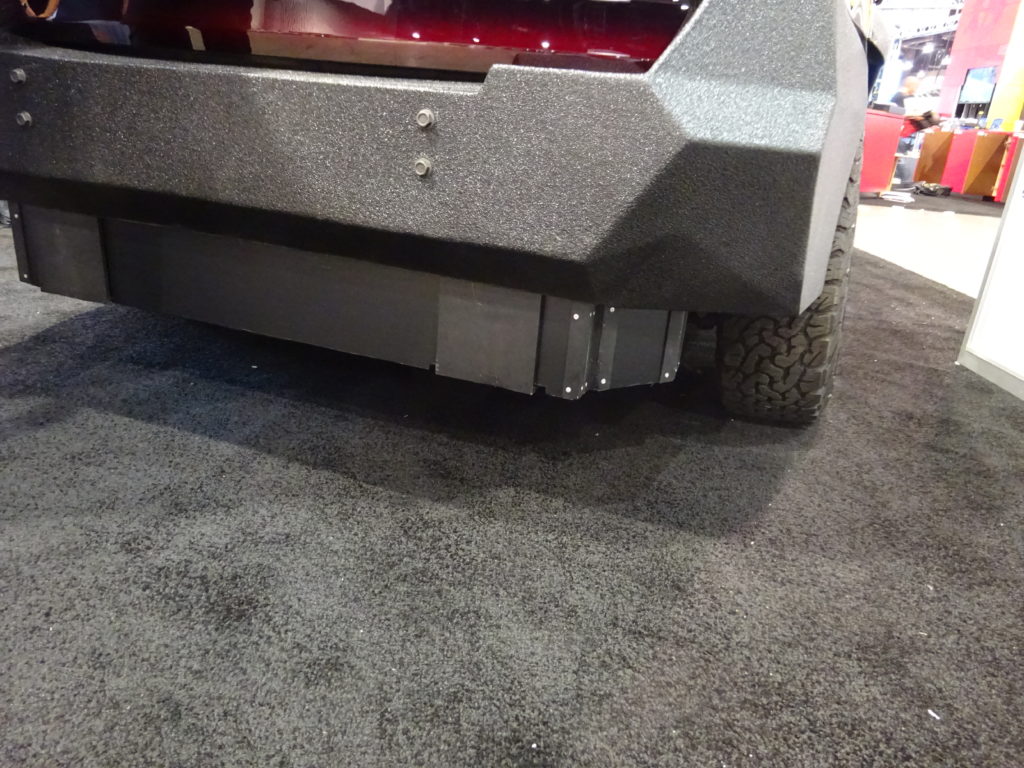 Williams said CAVS "essentially cut holes in the chassis," and Clinton Body Shop helped make the end product look a little bit better. He said the batteries sat atop new aluminum structures, which dispersed their heat better than steel.
Amanda Meeler, CAVS marketing and communication coordinator, said the term "Halo" showed off various aspects of MSU's technical expertise, including some abilities that go unrecognized because of the confidentiality demands of typical partners.
"It's a very diverse research facility," Williams said of CAVS. He said that it doesn't have many internally funded projects, so it wants to demonstrate its capabilities when it does. Meeler said the vehicle was an "all-hands-on-deck" project.
Besides the center's specialties of autonomous and electric vehicles, the vehicle also sports "a suspension that was partially built using steel that was melted, cast and rolled at the CAVS steel research center," according to a CAVS news release.
Williams said the existing unibody nature of the vehicle made for a difficult conversion to an electric vehicle, as the vehicle developers couldn't use the typical skateboard configuration in which a battery occupies the entire space between the frame rails.
CAVS also performed the fluid dynamics research needed to assess the battery pack's cooling, and the project includes some 3-D printing (though Williams wasn't sure where).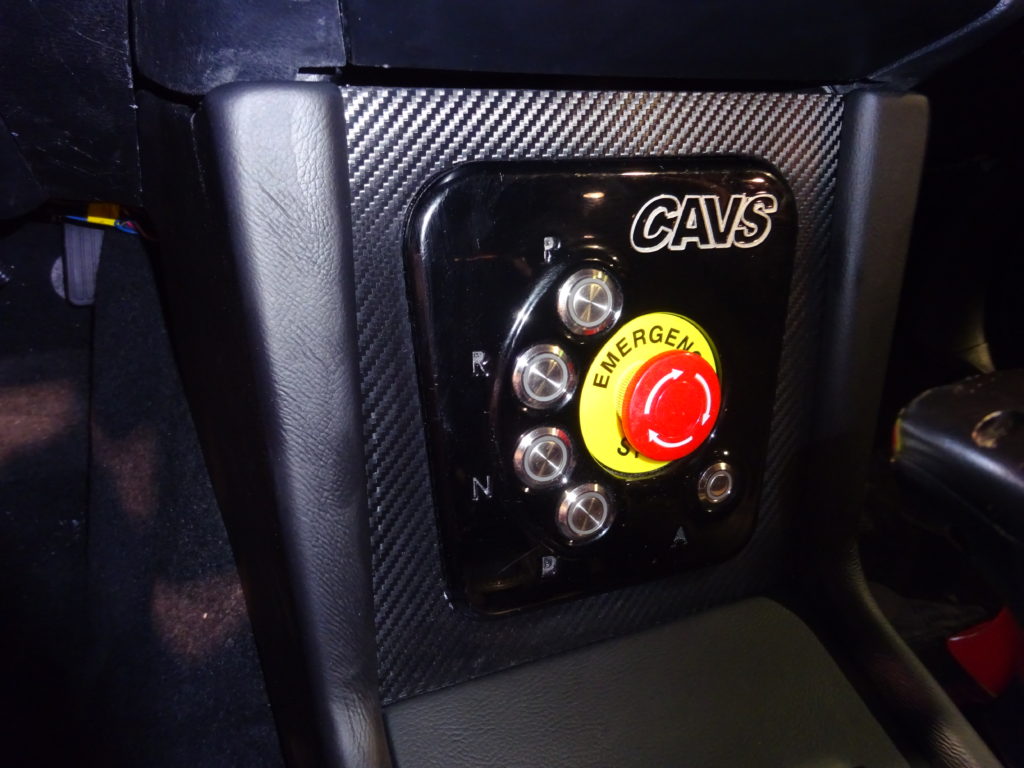 The center also used ultrasound technology to examine why some of its welds failed despite looking fine on the surface — an application repairers at SEMA will definitely want to ask CAVS representatives about today.
"The students and researchers have been working so hard to make this project possible," CAVS Executive Director Clay Walden said in a statement. "I think this car makes an impactful statement about our contribution to the future of autonomy and off-road mobility."
More information:
"MSU debuts 'Halo Project' supercar in Las Vegas"
Mississippi State University Center for Advanced Vehicular Systems, Oct. 30, 2018
Images:
Lidar sensors can be found on the top and sides of the front bumper on the Mississippi State University Center for Advanced Vehicular Systems "Halo Project" autonomous Subaru Forester. (John Huetter/Repairer Driven News)
Will Meadows, an MSU electrical engineering masters student and the electrical lead for the vehicle, is seen next to the Mississippi State University Center for Advanced Vehicular Systems "Halo Project" autonomous Subaru Forester. The engine compartment contains a battery pack with 15 modules. Other battery packs can be found in the transmission tunnel and rear of the vehicle. (John Huetter/Repairer Driven News)
The rear of the Mississippi State University Center for Advanced Vehicular Systems "Halo Project" autonomous Subaru Forester contains a battery pack with 15 modules. Other battery packs can be found in the transmission tunnel and engine compartment. (John Huetter/Repairer Driven News)
The gearshift on the Mississippi State University Center for Advanced Vehicular Systems "Halo Project" autonomous Subaru Forester is a series of buttons. The button to engage autonomy is at bottom right. The emergency stop button is self-explanatory. (John Huetter/Repairer Driven News)
Share This: