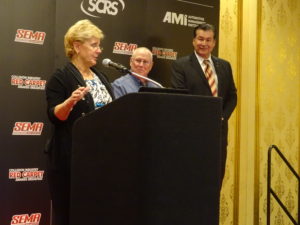 The Society of Collision Repair Specialists on Wednesday named industry veteran Petra Schroeder the second March Taylor Kina'ole honoree.
The award is "about the spirit of March," March Taylor Memorial Fund Administrator and former SCRS Chairman Jeff Hendler (J.D. Hendler / Associates) told the audience at the second annual SEMA Week Collision Industry Red Carpet Awards Breakfast.
Taylor was a Hall of Eagles member, owned Auto Body Hawaii and served on the SCRS board. His work with estimating service inquiries prior to the existence of the Database Enhancement Gateway led to the resource being dedicated to his memory. He died Aug. 26, 2007, a mentor to "many of us" and a friend to "all of us," according to Hendler.
The Hawaiian word kina'ole represents "doing the right thing, in the right way, at the right time, in the right place, to the right person, for the right reason, with the right feeling, the first time."
"It's a way of life," Hendler said.
The award honors those who "absolutely embrace March's spirit," kina'ole, according to Hendler. It's represented by a framed Taylor work shirt.
Hendler said March sat, observed, and then spoke, and did so with knowledge of the topic. He also "wanted to help the guys in the back" by making sure the front office was doing the right thing, according to Hendler. He also was known for showing up in Hawaiian shirts and for one period, without shoes, according to Hendler.
"Our recipient today, with the exception of the shoes, has that same spirit, has that same, 'I'm going to show up, and I'm going to help this industry any way I can' (attitude)," Hendler said.
Hendler said he guaranteed one couldn't attend an industry event that didn't count Schroeder as an attendee.
"Always there," he said. "Every association knows this person."
He also called Schroeder a "mentor to many."
Schroeder retired after nearly 47 years at what is now Axalta — her last post was brand development manager — but remains highly involved in the industry as a self-proclaimed "Collisionista."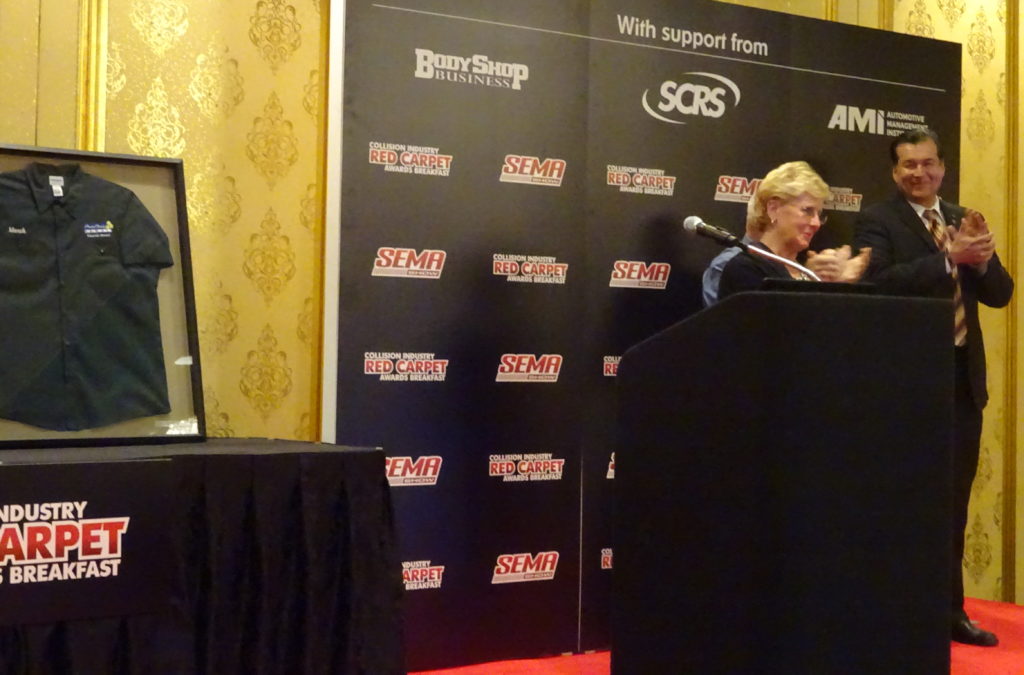 She is a champion and the immediate past chairwoman of the Women Industry Network. The organization offers all regular members and students (who can obtain free memberships) the opportunity to be paired with a mentor, and Schroeder said earlier this year she talks with 5-6 WIN members on a regular basis in such relationships.
She's also secretary of the Collision Industry Foundation and has served as a National Auto Body Council board member.
Schroeder on Wednesday said she was "totally overwhelmed." She said she didn't know Taylor for very long, but "I always searched him out" at Collision Industry Conferences or when she was in Hawaii.
She said she didn't know how she deserved the award, but it meant "a ton to me."
She also jokingly thanked everyone who checked to make sure she was going to the event, noting that as a retiree, "I should be in bed."
"Thank you so, so much," she said.
SCRS also Wednesday honored the Mississippi Collision Repair Association with its Affiliate Association Award, a title SCRS Executive Director Aaron Schulenburg said is only "very infrequently" bestowed. MCRA will be just the sixth of the trade group's numerous affiliates to have won it.
Schulenburg said the award is meant for associations that "stand out" and instances where other organizations "look up" to them.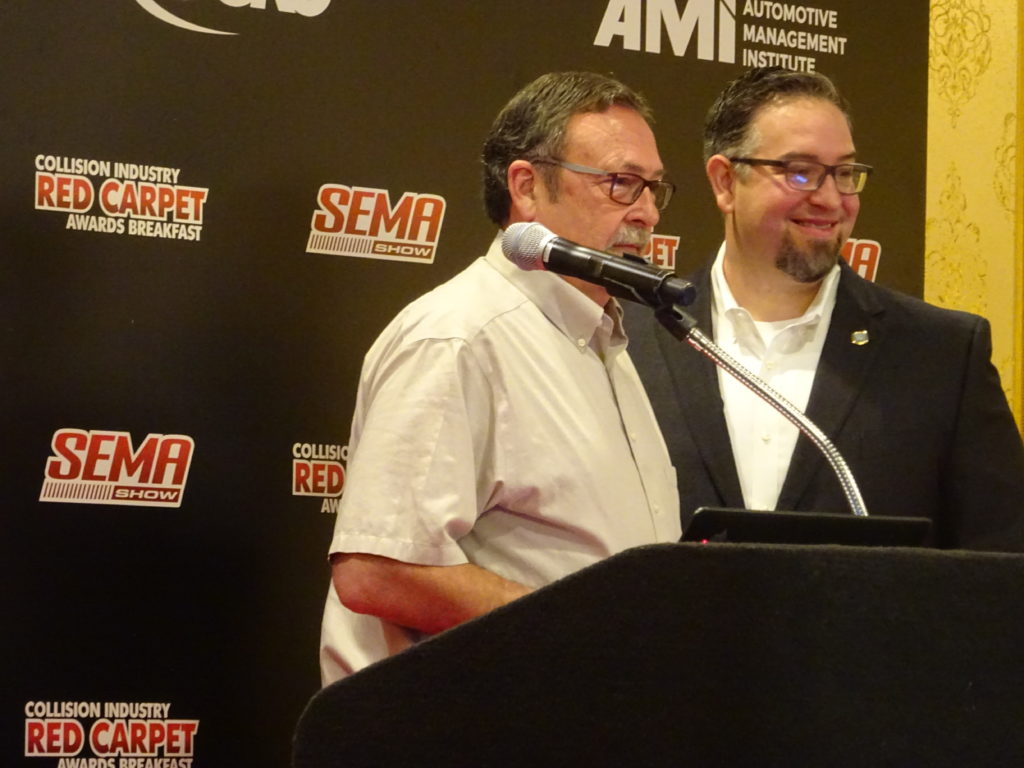 MCRA won for its "very collaborative effort" on a "Consumer's Guide to Insurance and Auto Body Repair" released in 2017. The document was produced by a task force including collision repairers, OEMs, aftermarket parts manufacturers and Mississippi Democratic Attorney General Jim Hood and Republican Insurance Commissioner Mike Chaney.
"To say this is a monumental day would be an understatement," the Mississippi Collision Repair Association wrote on Facebook in 2017. "Please follow the below link to the document, print copies to keep at your shop to provide to customers. This is a testament to the good that can come when shops, insurance companies, parts makers, and regulators come to the table for the good of consumers."
Schulenburg said the document was something other trade groups could use as a reference for their states.
Share This: