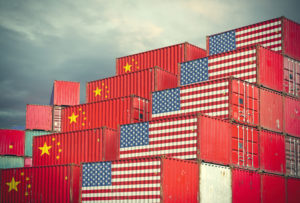 The Property Casualty Insurers Association of America said Saturday it warned the National Association of Insurance Commissioners that U.S. tariffs could increase auto claims costs.
Joint July comments from the PCI and other insurer trade groups to the Commerce Department estimated 60 percent of all auto parts are imported, and imported parts comprised 10.9 percent of all auto repair claim expenses.
Tariffs on goods from abroad could affect OEM part prices as well as aftermarket ones.
"By Februrary 2019, people will feel it," OEM and supplier adviser Jon Gabrielsen told the Detroit Free Press in September regarding a 10 percent tariff on China. "… It covers literally everything that goes into the construction of an automobile, from the smallest components and material inputs like the cords in tires and shafts and gears and bearings all the way up to completed engines and, in some cases, chassis with engines mounted. Thing is, it takes about three years to source each product. It takes many years and possibly a decade to make that full move."
PCI policy, research and international Vice President David Snyder said auto glass prices already have begun to rise in response to the tariffs.
"Tariffs on auto parts could have a significant adverse economic impact on consumers, automobile repair providers, business, and insurers," Snyder said in a statement. "… In addition, a 10 percent tariff has been imposed on Chinese imports, including auto parts and many other products, which is expected to increase to 25 percent in January. These tariffs are already increasing the price of replacement auto glass, primarily replacement windshields that are frequently damaged by rocks and road debris."
LKQ CEO Nick Zarcone has said tariffs would be felt by LKQ subsidiary PGW, since many of its aftermarket windshields come from China.
Snyder also threatened that tariffs "could potentially disrupt the supply of parts and impede consumers from promptly repairing their vehicles and getting back on the road after a crash."
The PCI asked insurance commissioners to help insurers "oppose, reduce or remove tariffs that increase insurance costs as well as inform the public and other policymakers on the effects of these tariffs."
The trade group this summer warned that severity could rise by $3.4 billion if all imported auto parts were slapped with a 25 percent tariff. The Insurance Information Institute estimated nearly 202.7 million vehicles were insured in the U.S. in 2015, the last year for which we could find data. The estimated $3.4 billion would work out roughly to $16.77 more in premiums a vehicle if spread evenly throughout them all.
However, it appears the $3.4 billion amount would fall somewhat given trade deals announced earlier this fall with nations like Canada, Mexico and South Korea. (A PCI representative was looking into that for us Tuesday.) For example, an April Center for Automotive Research analysis reported that 85 percent of imported metal stamped parts are from Canada, China, Mexico, South Korea and Taiwan.
Taiwan appears to remain a wild card for insurers and repairers.
Zarcone in July said the entire North American recycled parts supply chain is sourced from U.S. salvage vehicles, so "there's no impact." However, the "vast majority" of LKQ's aftermarket products are from Taiwan, he said.  (Special thanks to Seeking Alpha, whose transcript of the earnings call helped us research and confirm quotes.)
"Taiwan is not deemed to be China," so LKQ wouldn't be affected by China-specific tariffs, Zarcone said this summer. But "very little detail" exists on a Section 232 proposal by Republican President Donald Trump to slap country-by-country tariffs of up to 20-25 percent on automobiles and auto parts, Zarcone said. A tariff on Taiwan here would be LKQ's "biggest exposure," he said.
"A unique feature to the aftermarket body parts industry versus the entire aftermarket parts industry is that 90% of the aftermarket body parts are produced in Taiwan," the Automotive Body Parts Association wrote in a June position statement opposing Taiwanese tariffs.
More information:
"PCI Highlights Impact of Tariffs on Insurance Costs and Consumers at NAIC Meeting"
Property Casualty Insurers Association of America, Nov. 17, 2018
Joint written comments to Commerce Department regarding tariffs
PCI, American Insurance Association, National Association of Mutual Insurance Companies, 2018
"Buying a car before December 31 will save you money"
Detroit Free Press, Sept. 18, 2018
Featured image: Tariffs on China specifically have increased the price of auto glass, according to the Property Casualty Insurers Association of America. (narvikk/iStock)
Share This: