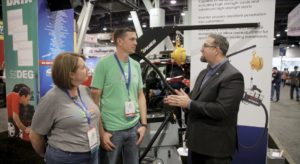 The Society of Collision Repair Specialists on Wednesday announced that New Carlisle, Ind.-based AMP Custom Paint and Collision took home the trade group's annual SEMA raffle prize this year.
AMP Custom owner Adam Podell's wife, Stephanie, was picked randomly to win the more than $28,000 Spanesi 14500A inverter spot welder given away by Spanesi and SCRS.
"She's got bragging rights," Adam Podell said. "I lost $140 in the slot machine."
"First off thank you for the opportunity to win such a great prize," he said, according to SCRS. "We are a small family-owned, younger shop, which we started without a lot of money but with a ton of hard work. Investing in equipment is important, and you need to be able to afford the proper tools to do the job to expand the type of work you take in. This is something we could not have afforded for a few more years.It will be a great addition to our business, and I believe it will be part of what starts to set us apart from other shops in and around our area. We want to be a leader in newer repair technologies, and this is a great step to that goal."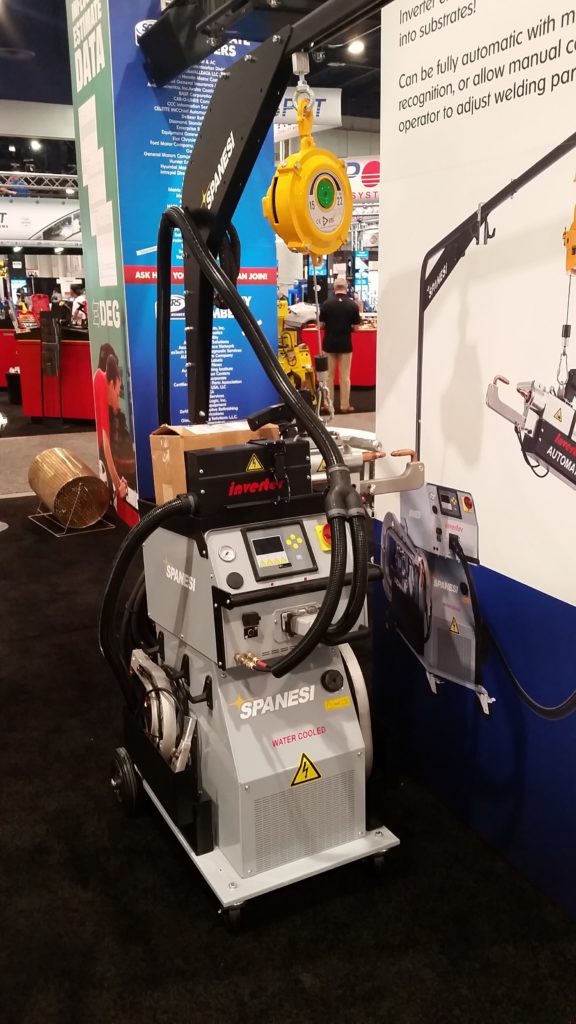 "We are really fortunate," SCRS Chairman Kye Yeung (European Motor Car Works) said in a statement. "Our objective at SCRS has always been to positively impact those in the industry around us. We want to make a difference in people's lives, and it was very evident this year, the ways in which we have found successful opportunities to do that. My business also began with humble beginnings, and I know how hard it was to find the money for the right tools; it's heartwarming to see this go to such a great home. It's an exciting time in our industry, and I am so glad that there is another shop that will be poised to start leading the way for others around them as we look to the future."
Stephanie Podell and other hopefuls entering the free drawing had to visit the SCRS booth at SEMA, collect a "report card" mapping out companies that sponsored the Repairer Driven Education series and get a stamp from each one. SCRS in October recognized Repairer Driven Education sponsors Alliance of Automotive Service Providers, AkzoNobel, Axalta, BASF, CCC, Celette, Enterprise, General Motors, LKQ, Honda, PBES, PPG, Pro Spot, Reliable Automotive Equipment, SEMA, Sherwin-Williams, Spanesi and Toyota.
AMP Custom didn't just visit the SCRS booth at SEMA. It also joined SCRS as a general member after encouragement from longtime John Mosley, owner of Clinton Body Shop and a member of the Mississippi Collision Repair Association, according to Adam Podell.
"I've been attending SEMA for about 12 years now and it's an amazing display of cars, products and tools that are used in our industry," Adam Podell said, according to SCRS.  "It is a motivating experience. Every time I go I get inspired. I'm really looking forward to gaining more information in the collision repair industry from joining SCRS while at the show. I want to build a company that is successful, respected by its customers and community, and build on our already great reputation. I'm really excited about all of this."
"We've always looked at offering this prize experience at SEMA as a way for our company to give back to an industry that has been very good to the Spanesi family," Spanesi Chief Operating Officer Timothy Morgan said in a statement. "To know that it is going to such good people, with a budding business, and that this will help them take how they support their community to the next level is priceless to us."
Other information about SCRS: 1-877-841-0660, info@scrs.com or www.scrs.com.
More information:
"Indiana Collision Repairer Wins SPANESI Spot Welder From SCRS Booth During 2018 SEMA Show"
Society of Collision Repair Specialists, Nov. 21, 2018
"Indiana Repairer Wins Spanesi Spot Welder at SCRS Booth During 2018 SEMA Show"
SCRS YouTube channel, Nov. 20, 2018
Images:
AMP Custom Paint and Collision owner Stephanie and Adam Podell appear with Society of Collision Repair Specialists Executive Director Aaron Schulenburg on Nov. 2, 2018, after SCRS' annual SEMA raffle picked Stephanie to win a $28,000 Spanesi 14500A inverter spot welder given away by Spanesi. (Screenshot from Society of Collision Repair Specialists video)
The Society of Collision Repair Specialists on Wednesday announced that New Carlisle, Ind.-based AMP Custom Paint and Collision took home the trade group's annual SEMA raffle prize this year. AMP Custom owner Adam Podell's wife, Stephanie, was picked randomly to win the more than $28,000 Spanesi 14500A inverter spot welder given away by Spanesi and SCRS. (John Huetter/Repairer Driven News)
Share This: