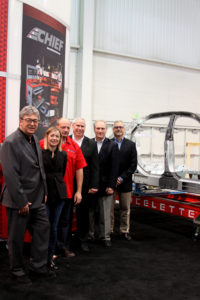 Chief parent company Vehicle Service Group on Tuesday offered additional information about Chief and Celette's plans to team up on what a Dover news release called "the most expansive databases of vehicle dimensional specifications in the industry."
"This is a key industry moment where two technically advanced companies with extensive experience can share technology for the sole purpose of providing our repair shops with the broadest forms of information available when making their repairs," Celette President Pierre Nicolau said in a statement.
Chief and Celette each have data for "thousands" of global vehicles, VSG's own parent company Dover wrote in a Nov. 1 news release.
"Through this alliance, they will leverage their individual data collection technologies and will share information so that both companies can expand their specification databases to provide maximum vehicle coverage to their customers," Dover wrote.
Some automakers might only rate particular bench systems as acceptable for their vehicles and refuse to share precise measurements with unapproved manufacturers.
Asked how the database partnership would handle a situation where either Chief or Celette was approved by an OEM and the other company wasn't, Vehicle Service Group global technical systems product manager Brent Johnson said exact OEM CAD files would not be shared.
"We can share the data even for those OEM's that only approve Celette or Chief equipment," Johnson wrote in an email. "The dimensional data can be acquired by anyone measuring a vehicle and so it cannot be copyrighted or protected. The information that we share refers only to the coordinates of the point, the plane that the point resides on as well as the descriptive information about that point. If either Celette or Chief has access to the OEM CAD files those files will not be shared unless we have an agreement from the OEM to do so."
Merging the two competitors' databases wouldn't be redundant when examined on a global scale, according to Johnson.
"In some cases this agreement is redundant; however Chief has a more complete database in North America and perhaps China while Celette has a more complete database in Europe and some other regions of the world such as India," Johnson wrote in an email. "By combining these databases Celette and Chief are able to fill a few holes and provide some additional checks to data accuracy. This also allows both companies to work together and learn key aspects of the other companies operations as well as share technical knowledge providing a competitive advantage to both companies."
"We are always looking for ways to add value to our customers" Vehicle Service Group global collision Vice President Mickey Swartz said in a statement. "This is the type of industry cooperation that can provide shops with the best possible value proposition on their investments in measuring and structural repair equipment."
Johnson explained how the database would handle a scenario where the two companies' measurement information varied.
"Because of repair philosophy there could be legitimate differences, however; if both companies have vehicle data and a discrepancy is found between that data; Celette and Chief will work together to determine the source of the discrepancy and provide a solution to our customers," he wrote. "In this case neither data will be considered as incorrect until after basic research is completed."
In other Chief-Celette news, Dover announced Oct. 30 that Chief can now distribute all Celette OEM-approved measuring systems and collision repair equipment "across most of North America, South America and China."
"Celette is proud to expand our market coverage by tapping into the impressive infrastructure and highly experienced representation of the Chief team in these important global markets," Nicolau said in a statement.
Dover highlighted Celette's "host of OEM global approvals," offering as an example the more than 60 OEM makes that have given a nod to the Sevenne bench. It said Celette's portfolio would compliment Chief's diverse catalog, which includes tools like welders, fume extractors and rivet guns in addition to measuring, pulling and anchoring equipment.
"Chief has great respect for Celette's dedication to highly accurate repairs, and we are excited to represent the brand in the Americas and China," Swartz said in a statement. "As we continue to see vehicle manufacturers add body shop certification programs or expand the requirements of existing programs, customers can save time and effort by getting all the structural repair equipment they need to achieve certification from a local Chief distributor."
More information:
"CHIEF® AND CELETTE® ANNOUNCE STRATEGIC ALLIANCE TO BUILD WORLD'S LARGEST VEHICLE SPECIFICATION DATABASES"
Dover, Nov. 1, 2018
"CHIEF® TO SELL FULL LINE OF CELETTE® COLLISION REPAIR EQUIPMENT IN NORTH AND SOUTH AMERICA, CHINA"
Dover, Oct. 30, 2018
Featured image: From left, Celette President Pierre Nicolau, Celette rental and marketing coordinator Delphine Goutarel, Celette OEM manager Bernd Schmidt, Vehicle Service Group global collision Vice President Mickey Swartz, VSG global business development Vice President Mike Cranfill and VSG global collision sales Vice President Lee Daugherty pose in an undated photo. The two companies have teamed up to create a global vehicle measurement database. (Provided by Dover)
Share This: