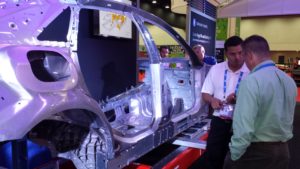 The end of the Cadillac CT6 sometime in 2019 means collision repairers who joined the GM certified repair network for the advanced aluminum-and-steel vehicle will have had just three years to reap benefits like GM restricting parts and measurements and referring customers to them through OnStar.
The network began to take shape in 2015 ahead of the CT6's debut for the 2016 model year. It reflected that the new, complex body design required special equipment and procedures. The car was 64 percent aluminum, and its parts were largely replace-only, Cadillac said at NACE 2015. Joining methods described then included items like adhesive, flow-driill screws, rivets and barely any welding.
The CT6 was among "the industry's most advanced body structures – an aluminum-intensive architecture incorporates 11 materials," Cadillac boasted to consumers while discussing the 2017 model. It also was the first vehicle to receive the hands-free, partially autonomous Super Cruise system, which GM will expand to all Cadillacs in 2020 and to other GM vehicles after that. 
The first CT6s appear to have been delivered to U.S. dealers in March 2016. Cadillac does have a 2019 model year for the CT6, whose lineup includes V-Sport and regular editions.
CEO Mary Barra didn't say when in 2019 GM would specifically pull the plug on the sedan, but she confirmed Monday it and and five other GM vehicles would be deallocated from five North American plants by the end of next year. The Chevrolet Cruze, Impala and Volt; Buick LaCrosse; and the Cadillac XTS will also no longer be produced for the U.S. market, according to Barra.
The CT6 has sold 7,270 vehicles to date this year through the end of September, down from 8,128.
Three years of volume, give or take, isn't a huge pool of business to form a return on the CT6-certified shops' investment, which would include what GM said in 2015 would be an $4,500 annual membership fee on top of buying any training and equipment the shop lacked. (Of course, CT6 shops might have already held certifications for other aluminum luxury vehicles, which would mean they might have been able to satisfy GM equipment requirements without too many additional expenditures.)
GM said Tuesday it was examining the future of the CT6 network.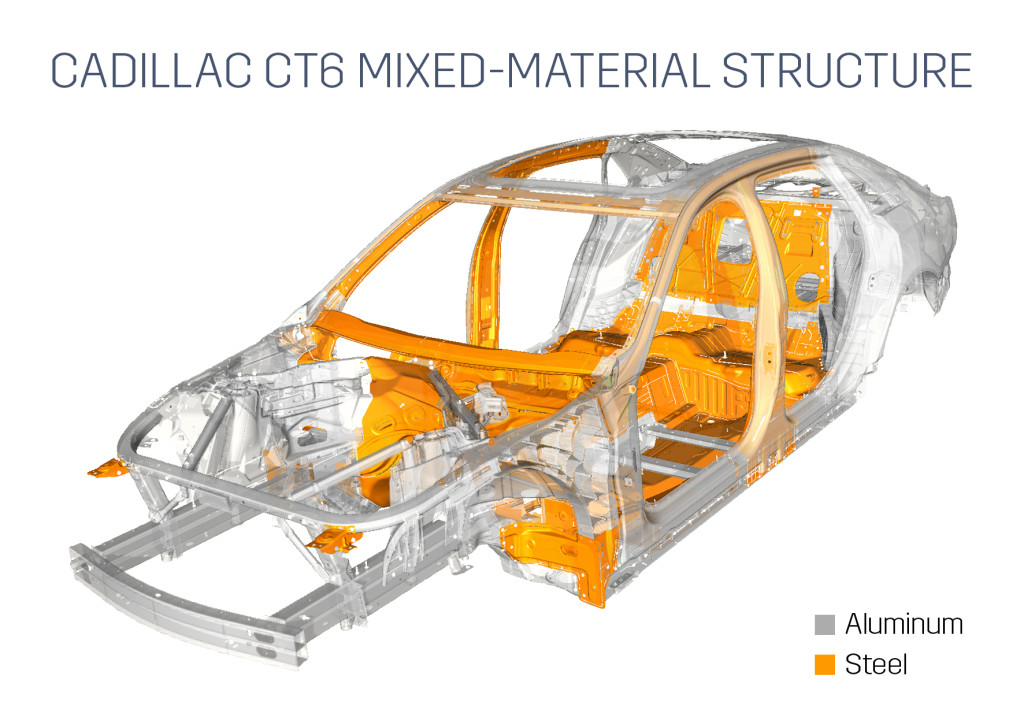 As of August, GM had 87 certified CT6 shops.
The 2019 CT6 starts at $46,995 and reaches $60,195 for the Premium Luxury edition, and the V-Sport starts at $61,695 and can climb to at least $71,795 for its Premium Luxury model, according to Cadillac's website.
That's quite a bit of cushion before a total loss threshold. GM could still need to have qualified body shops around to work on the vehicle for a few years, at least until it depreciates to the point of being an always-total. (For context, a certified pre-owned base 2016 CT6 is now typically listed for only around $34,657, according to Kelly Blue Book.)
Ironically, then-Cadillac President Johan de Nysschen on Friday adamantly denied to Jalopnik Reuters' report that the CT6 could be cut after 2020, saying that the company planned to provide even more funding and clout to the aluminum and steel sedan. Cadillac at the time referred us to the Jalopnik article when asked for comment.
"There is absolutely, if I could speak all capitals now, they'd be coming out of my mouth," de Nysschen told Jalopnik. "There is absolutely no plan, at all, to cancel the CT6."
More information:
"General Motors Accelerates Transformation"
General Motors, Nov. 26, 2018
General Motors investor call on reorganization
GM, Nov. 26, 2018
Cadillac CT6 network information portal
Images:
Part of the steel-and-aluminum body of the 2016 Cadillac CT6 appears at NACE 2015. (John Huetter/Repairer Driven News)
A diagram of the 2016 Cadillac CT6 body released prior to it going on sale. (Provided by Cadillac/Copyright General Motors)
Share This: