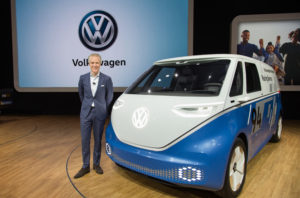 An article in Green Car Reports on Monday finds Volkswagen CEO Scott Keogh offering some fascinating food for thought about how quickly electric vehicles will become a force in the U.S. market.
Keogh felt the country was near a tipping point, according to Green Car Reports.
"I've seen it with products, and I see it happening here," Keogh told the news outlet. "I'm a firm believer, and the reason it's going to happen is because they're going to feel they're driving the future, driving what's next—and that is a universal truth of consumer goods."
It's easier to sell something completely new than a car with incremental improvements, Keogh told Green Car Reports.
According to Green Car Reports, Keogh said the marketplace is showing growing consumer interest and a fear of "'someone else has gotten in on something before me.'"
Volkswagen in October announced an upcoming fleet of fully electric vehicles that would start at 150,000 units in 2020 and grow to 1 million by 2025. The tallies were global figures, and Europe and China have been quicker to adopt electric vehicles than America, according to the Guardian.
Check out the Green Car Reports article here. Keogh's comments about consumer psychology seem to ring true, and American demand could indeed change rapidly, if it isn't doing so already.
Tesla, for example, announced in October that it had delivered 55,840 Model 3s in the third quarter — "limited to higher-priced variants, cash/loan transactions, and North American customers only."
Keogh's sister company Audi also this year predicted that electric vehicles would come far ahead of autonomous vehicles, despite the hype about the latter.
A broader consumer switch to electric vehicles could affect collision repair in a variety of ways.
Heavy batteries mean more of the body might need to be lightweighted, which could mean a higher use of aluminum and higher-strength steels than on a traditional car. Repairers might have to take precautions to avoid being electrocuted. Painting the vehicle could be complicated by a battery with heat sensitivity.
Even the National Highway Traffic Safety Administration has given some thought to collision repairers and electric vehicles.
"All events in a vehicle's life must be considered, because events that are benign for conventional vehicles could be very harmful to Li-ion battery systems," NHTSA wrote in an October 2017 analysis of electric vehicle safety.
"One plausible example of a potentially hazardous sequence of abuse events is a moderately severe vehicle crash requiring body repair. In this example, a vehicle is impacted sufficiently to cause undetected shock and internal crushing damage of cells. Following body repair, the vehicle is painted and cured in an elevated temperature paint oven, which grows the previously induced damage. Upon returning to service, the vehicle is then subjected to a series of severe charge/discharge cycles, which finally drives the damaged cells to failure. In the absence of understanding or training, mechanics and consumers will employ the same practices they have learned to use with conventional vehicles, failing to understand that they can harm Li-ion batteries."
NHTSA cited potential aftermarket-specific risks like:
– Incorrectly or inadequately de-energizing batteries prior
towing
– Lifting and towing vehicles incorrectly
– Dropping tools on batteries
– Penetrating battery during accident, lifting or towing
– Major body work and frame straightening
– Painting
– Sandblasting
– Heating in paint curing ovens
Other concerns of relevance from the NHTSA report:
– Abrasion from vehicle mountings, brackets and other vehicle components
– Failure of mounting brackets, allowing battery/components to drop or twist
– Punctures and penetrations
– Broken frame members penetration during and after crash …
– Replacement of damaged batteries with incorrect modules or arrays
– Replacement of control circuit boards with incorrect components
– Reflashing controls software with incorrect controls software
– Lifting vehicle incorrectly, twisting and damaging mountings … 
– Improperly or inadequately trained mechanics …
– Post crash storage (Junk Yard?)
– Disassembly and remanufacturing of components
More information:
"Lithium-ion Battery Safety Issues for Electric and Plug-in Hybrid Vehicles"
National Highway Traffic Safety Administration, October 2017
"VW's new U.S. CEO: The tipping point on EVs is already here"
Green Car Reports, Dec. 3, 2018
Images:
Volkswagen CEO Scott Keogh poses next to a Volkswagen I.D. Buzz Cargo concept panel van in November 2018 at the Los Angeles Auto Show. Volkswagen might sell the van by 2022 in Europe. (Friso Gentsch/Volkswagen)
Volkswagen's modular electric drive platform encases the battery in aluminum. (Provided by Volkswagen)
The electrical powertrain and other components of the Volkswagen modular electric drive platform are shown. (Provided by Volkswagen)
An example of the Volkswagen modular electric drive platform for an I.D. BUZZ van. (Provided by Volkswagen)
The Volkswagen modular electric drive battery is shown. (Provided by Volkswagen)
The Volkswagen modular electric drive platform is shown. (Provided by Volkswagen)
Volkswagen describes charging scenarios for an electric vehicle. (Provided by Volkswagen)
The Volkswagen modular electric drive powertrain is shown in this representation. (Provided by Volkswagen)
Share This: