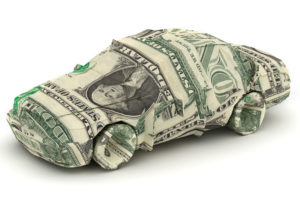 Fitch Ratings on Tuesday announced conclusions that the private passenger auto insurance industry has delivered its "best underwriting performance in 10 years."
The company said that insurers had raised rates over consecutive renewal periods and seen frequency fall. It estimated that the industry was likely to post an annual statutory underwriting profit (a more conservative measurement than that registered by general accounting rules, according to Investopedia) for the first time in more than a decade, since 2007.
"A 65% industry aggregate statutory direct loss ratio in private passenger auto liability and auto physical damage combined through the first nine months of 2018 represents an improvement of over five points from full-year 2017," Fitch Ratings wrote in a news release.
That means insurers are only paying out about 65 cents in claims of every premium dollar to fix customers' cars; the rest of their revenue is being spent on other items, such as ads, or banked as profit.
Fitch noted that nine publicly traded auto insurers combined posted a combined ratio of 92.2 percent between Jan. 1 and Sept. 30, way down if compared to the full-year results of 98.1 and 98.8 in 2017 and 2016, respectively.
"All nine companies reported better results in 2018," Fitch wrote.
A lower combined ratio means an insurer was keeping more money than it was spending on claims and internal expenses. Anything under 100 means the carrier finished in the black; anything over 100 means the carrier lost money on auto insurance.
No. 2 GEICO (whose results are reported by publicly traded Berkshire Hathaway), No. 3 Progressive and No. 4 Allstate are the most important of these nine, and Fitch reported their results fueled the large improvement seen to date in 2018.
"Specifically, these insurers benefit most from size and scale advantages that allow for investment in technology to gain pricing and risk selection sophistication, and branding through marketing and advertising," Fitch wrote in a news release. "GEICO rebounded from a rare auto insurance underwriting loss in 2017 to a 92% interim 2018 calendar-year result."
Privately held No. 1 State Farm so far has reported "strong year over year improvement in automobile underwriting results," according to Fitch.
This is interesting in light of Fitch's earlier reference to higher rates, for State Farm actually announced significant rate cuts this year in numerous states. However the various states' staggered renewal dates meant that some or much of the year's results through Sept. 30 still reflected the old, higher rates.
GEICO's rates were up 7.8 percent over the prior year in the third quarter, Allstate's were up 3.2 percent, and Progressive's were up 4 percent, which the company said was "primarily reflecting a shift in the mix of business toward higher premium coverages and the rate increases taken during the last 12 months."
State Farm might have have been ahead of the curve in cutting premiums, based on the Fitch news release.
"Strong performance aside, the auto market is beginning to show signs of rate increase fatigue following several years of larger price increases," Fitch wrote. "Premium rates continue to rise and motor vehicle insurance costs increased by 6.7% year-over-year as of October 2018, according to Bureau of Labor Statistics data. Fitch expects flatter price changes going forward given competitive forces and recognition of recent better underwriting performance."
If Fitch is correct, it'll be interesting to see if insurers become less receptive to shop and customer requests for reimbursement as a means of compensating for flat or even reduced rates. Or perhaps the savings from what Fitch reports is decreasing frequency will be enough for insurers to meet their financial goals.
"Claims frequency experience has resumed its longer-term historical downward trend, driven in part by strong improvements in vehicle safety from technology enhancements, including antilock brakes, backup cameras and blind spot sensors," Fitch wrote. "However, technology advances are also a contributor to loss severity increases as vehicles with more sophisticated parts and components are more costly to repair and replace. Bodily injury claims severity remains a prime source of future personal auto profit uncertainty as signs become more evident of medical inflation rising above general inflation and heightened litigation activity and settlement costs in the auto segment."
More information:
"Fitch Ratings: U.S. Auto Insurers See Best Underwriting Results in a Decade"
Fitch Ratings, Dec. 11, 2018
Allstate third-quarter 2018 earnings call slides
Allstate, Nov. 1, 2018
Progressive third-quarter 2018 report
Progressive, Oct. 31, 2018
Berkshire Hathaway (GEICO) third-quarter 2018 report
Berkshire Hathaway, Nov. 3, 2018
Featured image: Fitch Ratings on Dec. 11, 2018, announced conclusions that the private passenger auto insurance industry has delivered its "best underwriting performance in 10 years." (kh_art/iStock)
Share This: