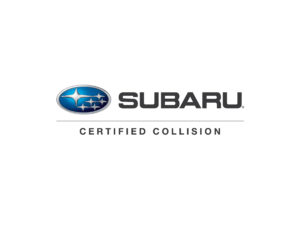 Subaru on Wednesday announced any U.S. body shop can effective Jan. 1, 2019, apply to join its certified collision repair network.
Collision repairers seeking to join the ranks of the booming brand's certified shops should email info@subarucertifiedcollision.com.
Subaru in November posted its 84th month of consecutive growth and has through Nov. 30 sold 615,594 vehicles this year, up 5.3 percent. It's gone from being around the 17th biggest brand in the 2000s to ranking around Kia and Hyundai in popularity, Subaru national wholesale parts manager John Lancaster estimated last month on a VeriFacts Guild 21 call.
"Providing safe and proper repairs for our customers is the Subaru Certified Collision Network's top priority. We understand Subaru drivers love their vehicles; often purchasing for safety and handing beloved vehicles down to their children," Lancaster said in a statement. "We believe we have a responsibility to ensure Subaru vehicles are fixed properly, so they remain as safe and reliable as the day they were purchased."
Subaru piloted the program in what it called a "successful" March test. In June, it began to allow its dealerships to become certified, a head start that recognized the OEM-dealer relationship. Now, it's the rest of the collision industry's turn.
Independent shops will comprise "most" of Subaru's certified auto body repairers, Lancaster estimated on a the Guild 21 call. Only about 25 percent of Subaru's approximately 631 dealerships have collision capabilities, and not all of them would make the cut, he said at the time.
Subaru will not cap the number of shops it enrolls nationally, but "market by market, there will be caps," Lancaster said last month.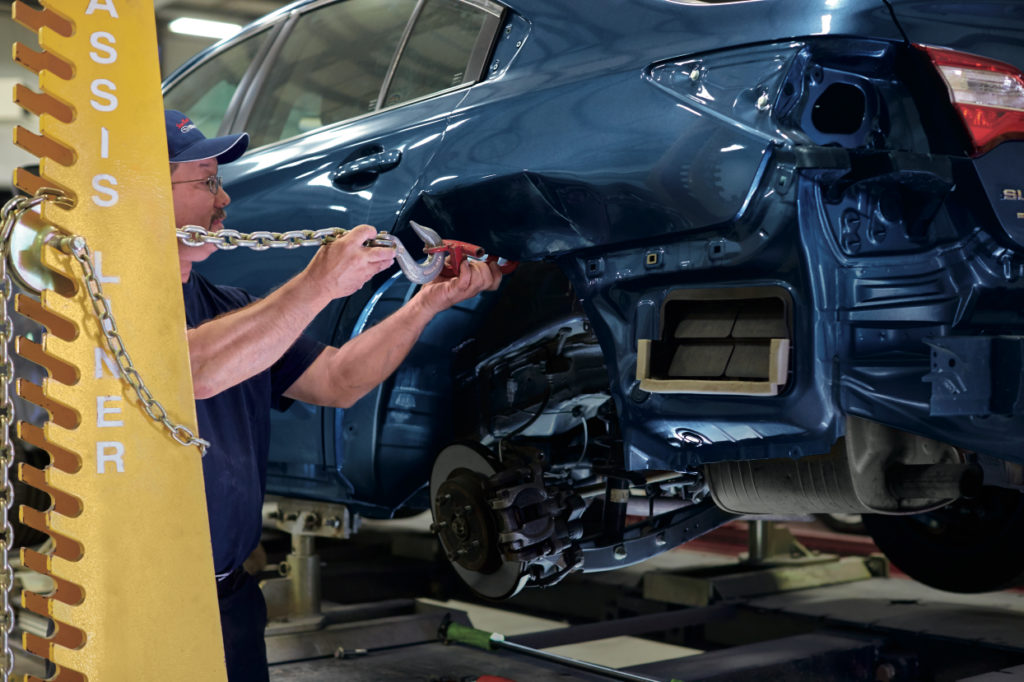 Subaru will calculate likely demand and cap markets based up on its seven-year units in operation metric (how many Subarus are driving around on the road) and a market's claim rate, he said.
For example, a city with few Subarus but a lot of Subaru through traffic — and therefore more collisions involving Subarus — might have a high claim rate, according to Lancaster.
He said Subaru will have a protected range around each shop but it would vary by market, noting the difference between metro Chicago was different than Montana as an example. Dealers would never be barred from joining the network, however. "They'd fry us," he joked.
Repairers will pay $3,200 a year to join, a fee which includes a free subscription to Subaru's OEM repair procedures (normally costing between $34.95 for a three-day pass to $2,499.95 for a year.)
Certification could pay off with volume from Subaru's die-hard customer base.
Repairers will be able to use certain marketing materials featuring the iconic Subaru logo, and they'll be featured on a customer-facing Subaru locator that Lancaster said his company plans to expand. Subaru's marketing department has also offered to help develop templates to help shops promote themselves on social media — just plug in your shop name, Lancaster said.
Subaru wholesale parts specialist Nicole Riedel said at SEMA that the automaker is examining tying its Starlink connected car platform to its certified network, which means the OEM could detect a crash and recommend one of its dealer or independent shops. Given what Lancaster described as significant brand loyalty, this could be a valuable source of volume for shops in Subaru-rich areas.
Customer dealer services will refer customers to body shops as well, Lancaster said.
However, the shops won't receive the captive volume which comes from parts restrictions, a component of some OEM networks. Lancaster has said the OEM won't refuse to sell parts to uncertified collision repairers, and he confirmed this again Thursday.
"Again, each decision for this network comes from the philosophy that safety is most important," he wrote in an email.
The eco-conscious company is also trying to introduce into the program a means of helping body shops remove their waste, according to Lancaster. This could help cut down on a shop nuisance and possibly even make a shop a few recycling dollars, he said on the Guild 21 call.
Requirements
Subaru promoted some of the program's requirements in its news release Wednesday.
"Subaru has partnered with Wadsworth International's team of experienced business growth professionals to help administer the initiative; ensuring that each collision center passes a rigorous audit and meets all necessary criteria," it wrote. "This includes I-CAR Gold Class certification, proper tools specifications, outstanding customer service, accurate documentation procedures, and the use of Genuine Subaru Collision Parts which are identically engineered to meet the same strict safety and quality standards as the Original Equipment (OE) used to manufacture the vehicle."
Riedel said in November that Subaru would measure shops on KPIs. However, Lancaster said on the November Guild 21 call that Subaru had dropped at least for now an earlier plan to demand certified shops use a certain percentage of OEM parts. 
"I would say, not at this time," Lancaster said of Subaru's plans to pursue this. He said Subaru's opinion was that OEM parts would result in a safer car but "it's gonna happen naturally" from shops using repair procedures and "doing the right thing."
He confirmed a similar stance on Thursday.
"While we are not mandating the use of Genuine Parts in the Certified Collision Network, we've found that many high-performing collision centers prefer to use them," Lancaster wrote in an email. "We support this philosophy, and will be monitoring Genuine Parts usage, but not holding anyone to a particular metric or percentage of use.  The safety of our owners is paramount; therefore, facilitating proper repairs is the top priority in this initiative."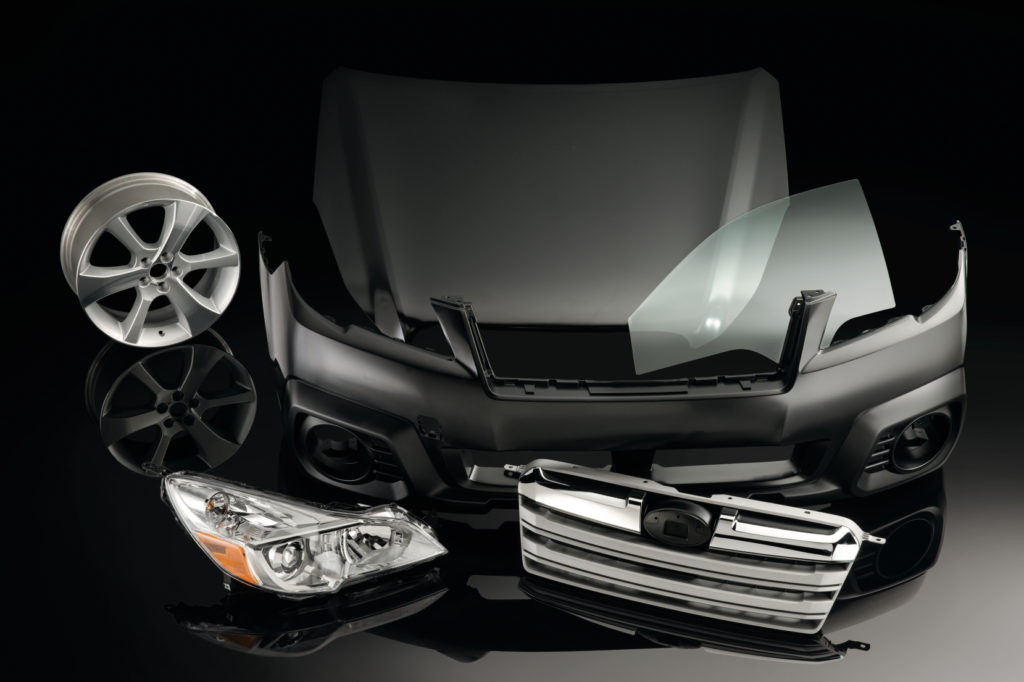 Subaru doesn't require dealership sponsorship to join the network, though it wants an independent shop and dealer to have a "relationship," Lancaster said in November.
From an infrastructure perspective, a shop certified by another automaker should find Subaru's equipment requirements fairly painless, according to Lancaster.
"We don't want to make money off of tools," he said.
Many of the requirements are spec-based, not brand-specific, Lancaster said.
There existed "just a handful" of situations where a Subaru-specific was necessary, Lancaster said. Based on a list he provided in November, the only items tied to the Subaru parts catalog or another specific brand were:
A Subaru Midtronics GR8-1100 Battery Diagnostic Station.
Subaru door regulator holder adjusters, a torsion bar adjuster, a BRZ window wrench.
Having either a Subaru hybrid safety kit or one from another OEM's certification program.
Owning or subletting to someone with a "Subaru branded or equivalent Hunter Road Force Elite and John Bean B200P" wheel balancer.
Owning or subletting to an authorized Subaru dealership possessing certain advanced driver assistance system calibration gear. (Over the next 2-3 years, Subaru will expand EyeSight to its entire fleet, according to Lancaster)
Owning or subletting to a dealership with a Subaru passenger weight tool.
Owning a Subaru SSM3 and SSM4 scan tool and Subaru Diagnostic System, or using an asTech or subletting scanning to a dealership.
Shops also have to be I-CAR Gold Class, have no more than two role rep positions represented by a single person (which becomes an I-CAR requirement for new Gold shops next year) and a designated customer service representative, Lancaster said.
Finally, Subaru also sets its network apart from other OEM networks by requiring all certified shops to perform community service for a 501(c)3 charity, including local ones. Every Subaru employee including its president already is required to do something like this, and the dealerships required to contribute in this fashion have found it yields bonds with customers.
Subaru is very open here to "what your cause is," Lancaster said. He said it also can help match repairers with dealerships on philanthropic efforts to help build their bond.
Subaru won't be directly auditing repair quality by repeatedly examining work in progress or performing a post-repair inspection on a customer's vehicle, according to Lancaster.
However, certification will include an annual inspection of the shop which will also grab three random vehicles and offer suggestions. Rather than being part of the "pass-fail," the lessons are kind of like "teaching money" — extra steps needed on an estimate, according to Lancaster. Feedback to these so far has been "pretty good," he said in November.
The program requires shops to use AutoWatch (Subaru gives them a free subscription), which provides some KPI visibility but also allows shops to upload documentation such as estimates, OEM repair procedures, results of diagnostic scans (required since the 2004 model year), calibration verification and measurement output, Lancaster said in July.
"We can audit remotely," he said then.
More information:
"SUBARU CERTIFIED COLLISION NETWORK TO OPEN ENROLLMENT TO INDEPENDENT COLLISION CENTERS NATIONWIDE"
Subaru, Dec. 12, 2018
Customer-facing Subaru collision repair network website
Request information about joining the Subaru certified collision network
Images:
Subaru on Tuesday announced any U.S. body shop can effective Jan. 1, 2019, apply to join its certified collision repair network. (Provided by Subaru)
A Subaru Legacy receives a fender pull. (Provided by Subaru)
Subaru collision parts are represented here. (Provided by Subaru)
Share This: