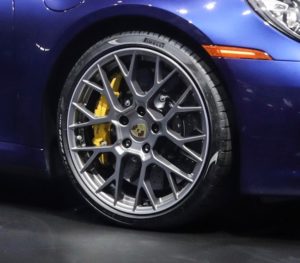 Porsche on Thursday said its rim flanges are 2.5 mm thinner than the 11 mm flanges described in one European rim and tire standard, a technical decision contributing to its ban on alloy wheel repair.
Mike Kukavica, Porsche aftersales technical training collision repair technology instructor, told a VeriFacts Guild 21 audience that the European Tyre and Rim Technical Organisation has for a long time proposed a minimum of 11 mm for an outer rim flange. However, there's nothing binding Porsche to those standards, and so it has always used an 8.5 mm flange on its alloy wheel, he said.
Despite their reduced thickness, the wheels are "structure-optimized," according to the presentation.
"Porsche uses the flow-forming process to produce the rims in order to achieve the lowest wall thickness combined with maximum stability," a slide from his presentation explained.
Kukavica described Porsche wheels as able to handle top speeds nearing 200 mph on a 911 Turbo and able to handle 24 hours of operation.
"The performance is not a question," he said. But Porsche has removed everything it could out of the wheel to get that performance, he said.
A separate TÜV standard suggests Europeans can repair the outer 1 mm of the 11 mm wheels, but this can't work for Porsche's thinner wheels, Kukavica said.
"There's no room to take any more away," Kukavica said.
Porsche only allows shops to repair paint damage, "period," he said. It bans all other wheel repair.
Kukavica said he didn't think either standard had been established in the U.S.
While Kukavica said he couldn't speak for other OEM's bans on repairing wheels, we asked him to clarify that Porsche's 8.5 mm rim flanges contrasted with the European standard didn't necessarily mean the outer 2.5 mm of every 11 mm OEM's rim flanges could be shaved off with impunity.
Kukavica replied that his point was simply Europeans felt an wheel with a 11 mm thick flange could tolerate a 1 mm repair, "no more," he said. He noted that mentioning numbers made him uneasy, for people could run with them inappropriately.
"These aren't all the same places making wheels," Kukavica also pointed out. A mass-market car with a top speed of 85-90 mph might have different performance requirements than cars designed to go much faster. (Even a Cayenne diesel could hit 140 mph, Kukavica recalled.)
A skeptic might counter that the speed limit was only 70, Kukavica said. A repairer could certainly wager that real-world conditions would allow them to stand behind the improper repair — though getting caught would be "a different issue," according to Kukavica.
"As collision repairers, our responsibility is the technical quality of the car when it leaves," he said. The car should be able to still match the manufacturer's performance standards.
Moderator George Avery, a former longtime State Farm employee, noted that other OEMs wheels were probably designed to need a thicker flange.
And in fact, multiple OEMs issue similar repair prohibitions as Porsche for U.S. repairers — even mass-market brands. (For example, here's Ford from earlier this year.) So don't go around assuming all U.S. wheels are going to have the 11 mm spec of some European wheels or that the first 1 mm of substrate on any wheel is automatically fair game. Follow the OEM repair procedures.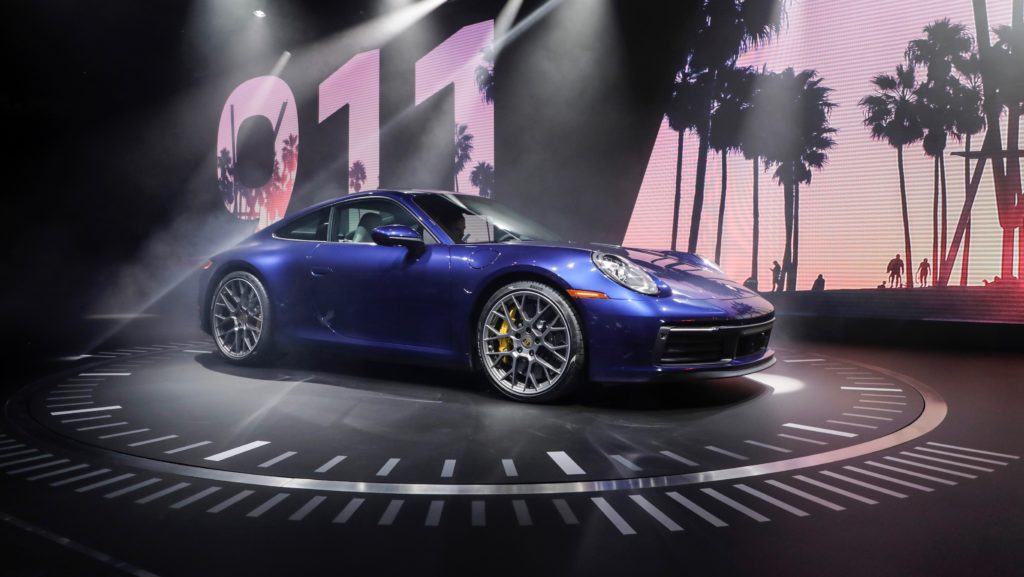 Porsche's wheels have thinner rim flanges because wheels are a "very big part of performance," Kukavica said. A lighter wheel reduces rotating mass and unsprung mass, and a lower unsprung mass means better handling, he said. Porsche's are engineered to be thin yet strong enough to
Porsche balances weight reduction, maximum performance and safety in making such decisions, Kukavica said. It also examines cost of ownership.
It was easy to say Porsche should have just made the wheel thicker (and this point had been raised to the engineers, he said), but that lacks knowledge of all the factors that went into the OEM's decision, Kukavica said.
"We just know the end result," he said.
The equipment and skills to check if a wheel is acceptable was "beyond the scope" of the aftermarket — not just collision repairers but "aftermarket, period," according to Kukavica.
If you received a repaired wheel from a third party, "how can you know that it's OK?" Kukavica asked.
About half of the Guild 21 audience reported in an informal poll that they handled damaged wheels by having a third party repair the part. A little less than 10 percent bought a refurbished wheel. The remainder bought a new OEM wheel.
Avery said he heard from some automakers that there is some wiggle room when they order a wheel from a Tier 1 supplier. If a part is out of spec, it can be adjusted in the factory and still be considered viable, he said.However, a repairer has no way of knowing if a customer's wheel has received such a factory repair already, Avery said. The implication seemed to be that the only chance to be repaired had already been consumed.
Kukavica said a "simple solution" existed — just buy a new OEM wheel. It was the "right solution," he said. The presentation wasn't meant to be an ad for Porsche parts, according to Kukavica, but his job was to ensure vehicles are fixed properly, he said.
If an industry guideline is one width and Porsche's wheels are almost 30 percent thinner for "good technical reasons," then it validates that you can't repair the alloy, according to Kukavica. "It just makes sense," he said.
Porsche believes that paint damage is repairable on its wheels, and it demonstrates this by providing wheel paint codes, according to Kukavica. But if the scratch goes "down to the metal" and exposes the alloy, it's not repairable, he said.
If "you don't see anything silver underneath," the damage is superficial and is repairable, he said.
But there's a difference between what's "technically possible" and what was "practically possible," Kukavica said. It's unlikely that a collision repairer would encounter a Porsche wheel with an impact so minor it only damaged the paint, he said.
VeriFacts CEO Farzam Afshar advised repairers listening to the call to only accept wheels with a stamp if they didn't buy wheels brand new from an OEM, which he called a sign of a reputable company and a means of shifting liability from the body shop.
Kukavica said Porsche was clear on the matter. Deviate from its instructions, and "that's gonna be their problem," he said.
He said that it would be "pretty smart" to pick a third party and stick them with some liability, but he wasn't sure that the body shop wouldn't continue to hold some responsibility.
"There's no ambiguity" in Porsche's statement instructing shops not to use such parts, Kukavica said.
Experts have said that a body shop as the repair professional still assumes liability for the parts installed on a vehicle.
While a repairer couldn't truly be sure of a wheel's status, there are some red flags that could alert a shop to a prior repair. As Kukavica noted, sometimes a vehicle has seen work before it's brought to your repair facility.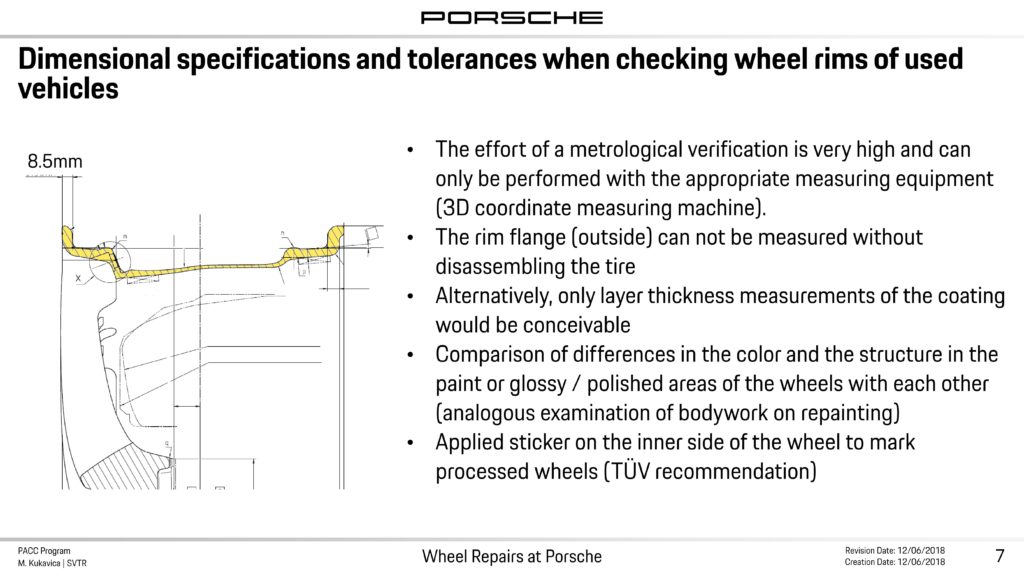 A repairer could take paint thickness measurements on the wheel, he suggested.
"That would help you out a lot," Kukavica said. His presentation also advised looking for color differences.
Many Porsche wheels have a milled surface and an undercut painted a complementary color, according to Kukavica. If the milled surface itself is inconsistent within the wheel or doesn't match other wheels on the car, it's a "pretty good indication" of a repair, he said.
A rim flange's contour might not correspond with the original flange's curve, he said.
"That one ought to be easy," he said.
The TÜV's recommendation that everyone who processed wheels put a sticker on the inner side could also yield another tip-off, he said.
In another informal poll, 55 percent of the audience reported they'd inspected a wheel, which Kukavica called "very surprising" but "heartening." However, a call moderator said that as a consumer, the lack of inspection of outsourced wheel work made her "really nervous."
She noted that after she raised that point, the audience stats changed to 64 percent inspecting.
At the end of the call, the proportion of the audience declaring they planned to send wheels to third parties had fallen to 8 percent, with another 8 percent planning to buy refurbished wheels. About 62 percent said they'd buy new OEM wheels, and 23 percent said they didn't know.
The next Guild 21 call is Jan. 10 at 2 p.m. ET.
More information:
Porsche presentation explaining wheel repair position
Porsche via VeriFacts, Dec. 13, 2018
Some OEM position statements on wheel reconditioning
Images:
The next-generation Porsche 911 Carrera 4S is revealed at the Los Angeles Auto Show. Porsche will not allow repairs to its alloy wheels aside from refinishing. (Provided by Porsche)
Porsche on Thursday said its rim flanges are 8.5 mm, one of the reasons behind its ban on alloy wheel repair. (Provided by Porsche via VeriFacts)
Share This: