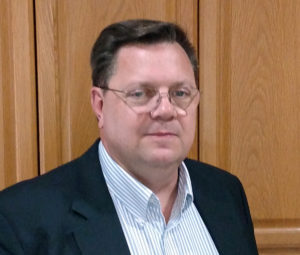 After considering about 80 resumes, the Automotive Service Association announced Thursday that affiliate leader and former body shop manager Ray Fisher would become its new executive director.
Fisher had been executive director of ASA-Michigan since 2010. He will take the helm of the 67-year-old national organization effective Jan. 2.
"I appreciate the opportunity that the ASA Board of Directors has afforded me, and I look forward to serving the independent automotive repair industry," Fisher said in a statement.
"We are at a critical time in our industry where involvement plays an important role. Education and training are no longer an elective but required. Trade schools were forgotten, technology can be overwhelming, and we have an aging workforce that is faced with some difficult decisions. ASA can help lead the industry in addressing those challenges."
Former Executive Director Dan Risley resigned this summer to become CCC's quality repair and market development vice president. The trade group's CPA Beth Risch has served as interim chief operating officer since July 2.
"I'd also like to thank Beth Risch for her service as interim COO during our search process and look forward to continuing our relationship in her consulting capacity," ASA Chairman Roy Schnepper (Butler's Collision) said in a statement.
Fisher had also been ASA-Michigan vice president from 2004-09, according to his LinkedIn page. The ASA wrote in a news release that he also "served as a body shop manager for more than 20 years, assistant parts manager, and an expert witness for a local law firm regarding collision repair and processes."
His LinkedIn page indicates a great deal of his collision repair career was spent at Courtesy Dodge.
"In 1995, we expanded the collision center from 2400 square feet to just under 10,000 square feet," that page states. "We had many 'firsts' — in West Michigan we were the first Chrysler/Dodge dealer to be Five Star, I-CAR Gold, I-CAR Welding certified, to have 3 dimensional sonar measuring system, to spray Envirobase (Waterborne) and hosted numerous I-CAR and other industry training classes over the years."
Fisher also has a business administration background and carries Automotive Manager (AAM) and Master Automotive Manager (AMAM) accreditations. He's also received the I-CAR Founder's Award and led ASA-Michigan to ASA Affiliate of the Year and Legislative Awards.
"He has extensive legislative experience, driving key issues for ASA-Michigan members on sales tax issues and shop licensing," ASA wrote.
"The ASA National Board considered many variables in choosing our next executive director," Schnepper. said in a statement. "After reviewing approximately 80 resumes, the search committee of Bryan Kelly, Jim Keller, Robert Redding, Darrell Amberson and myself narrowed it down to three well-qualified candidates and presented this to the board of directors at the November board meeting in Las Vegas. Ray's broad industry background and long association experience as executive director of the ASA-Michigan affiliate made him the best candidate. We welcome Ray to his new role and look forward to working with him to grow the association through his knowledge and dedication to serving our members."
In other ASA news, the organization on Monday held a briefing on OEM repair procedures and scanning for trade press. See it below.
More information:
"ASA Appoints Ray Fisher to Serve as Executive Director"
Automotive Service Association, Dec. 13, 2018
Featured image: Incoming Automotive Service Association Executive Director Ray Fisher. (Provided by ASA)
Share This: