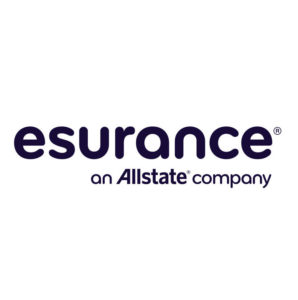 Allstate subsidiary Esurance earlier this month told its E-star direct repair program shops they could now use recycled suspension and steering components on customers' vehicles.
A Dec. 4 memo provided to Repairer Driven News informed shops the new guidance was effective immediately. Esurance has not yet responded to an inquiry Thursday morning asking about the rationale for the change.
"Esurance estimates can now be written to include recycled suspension and steering parts," Chad Sulkala of Esurance E-Star material damage practices wrote. "The part must be inspected by the auto repair facility and parts supplier. Parts with visible damage or defects must not be used."
We asked Esurance Thursday if the company would reimburse shops for the 0.1 hours or whatever time was necessary to inspect the part or parts. We also asked if the company's adjusters would automatically accept the DRP shop's judgment if its estimator deemed a recycled part inadequate. The company has not yet responded to these points.
However, a visual inspection might still fail to recognize other issues related to a part's storage or prior collisions, a point raised in OEM position statements.
"Many factors can influence the quality and/or suitability of salvage/recycled parts including but not limited to, unknown prior damage to the donor vehicle, exposure to weather, improper removal or transfer of parts, possible mis-match of vehicle electrical components or other safety-related items as well as excessive wear on vital mechanical parts such as steering or suspension parts," Honda wrote in its most current statement, dated July 2016. (Emphasis ours.)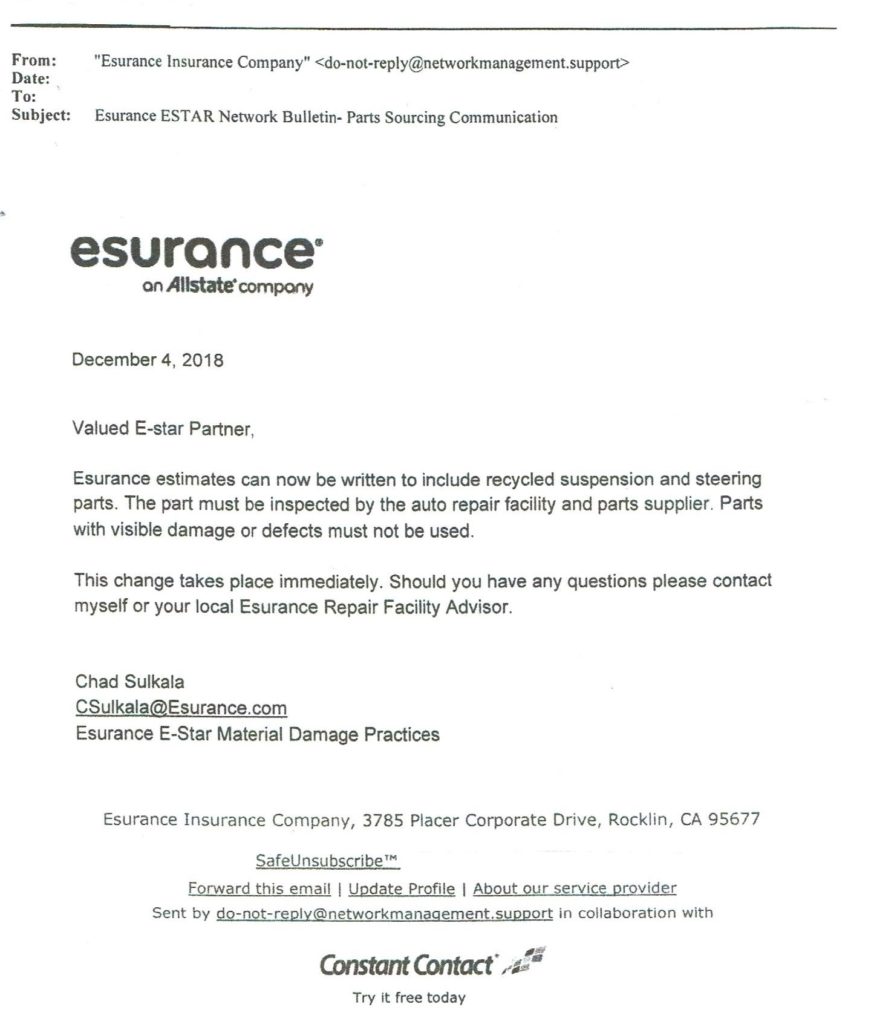 Nissan said basically the same thing in its June 2016 recycled parts statement declaring it "DOES NOT approve" any salvage parts. (Emphasis Nissan's.)
The language in both companies' statements is often identical. However, Nissan also pointed out how warranty issues can arise from recycled parts.
Under the Magnusson-Moss Act, installing a recycled or aftermarket part doesn't void an OEM warranty. However, if the part's failure causes something else under warranty to fail, the automaker doesn't have to honor that warranty. (Whether the OEM could tell if a part is recycled is an interesting practical question, but the threat to the shop's customer remains nonetheless.)
"Nissan North America's New Vehicle Limited Warranty, and Limited Warranty on replacement parts do not apply to any parts other than Genuine Nissan original equipment parts," Nissan wrote.
"Nissan North America will not be responsible for any subsequent repair costs associated with a vehicle and/or part failure caused by the use of parts other than Genuine Nissan replacement parts."
Mercedes raised some similar concerns and pointed out in an undated position statement that you can't track recalled recycled parts:
"Mercedes-Benz does not approve of the use of components removed from a vehicle that was damaged, burned, flooded, scrapped, or involved in a previous collision," the OEM wrote. "Salvaged or recycled parts may have been subjected to crash impact loads, exposure to outside weather, excessive wear, high temperatures, or extreme forces during removal from the donor vehicle. Mercedes-Benz cannot guarantee the safety, quality, compatibility, or durability of recycled parts as there are no standards in place for testing these components. In addition, salvaged components are not traceable should a recall occur in the future."
An Esurance website describes the E-star network as providing "cutting-edge" collision repairers.
"When we look for E-star shops, we're looking for a commitment to top-quality repairs and customer service," the insurer also wrote.
"Esurance constantly monitors E-star shops to ensure they provide high-quality repairs and excellent customer service. Each shop in our network is a state-of-the-art facility that adheres to strict environmental/EPA standards."
Allstate said Nov. 1 that lower frequency and lower expenses relative to premiums — though advertising had increased — led to Esurance "Producing strong growth with improved profitability."
Esurance paid out 76.4 cents from every $1 in premiums on actual losses in the third quarter, down from 78 cents in 2017 and down from 78.6 cents in the second quarter of 2018. More than 90 percent of the company's business is auto insurance.
The company bumped up its advertising to 10.6 cents of every $1 in premiums in the third quarter, up from 9.3 cents in 2017 and 8.5 cents the second quarter of 2018.
Allstate reports Esurance's average premium for a six-month auto policy was $603 in the third quarter, up from $574 last year but down $1 from the second quarter.
More information:
OEM1Stop position statement portal
Images:
The Esurance logo. (Provided by Esurance)
Allstate subsidiary Esurance earlier this month told its E-star direct repair program shops they could now use recycled suspension and steering components on customers' vehicles. A Dec. 4 memo provided to Repairer Driven News informed shops the new guidance was effective immediately. (Provided to Repairer Driven News; redactions by source)
Share This: