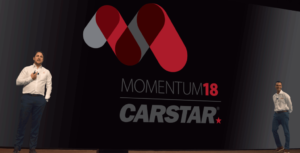 After chalking up more than 90 auto body shop locations so far this year, CARSTAR on Thursday said it predicted it would add 120 shops in 2019, mostly in "key U.S. markets."
"Across North America, consolidation rates have yet to slow," development Vice President Dave Foster said in a statement. "Knowing that the industry is continuing at this pace, having the support of CARSTAR is incredibly powerful in competing against the collision repair chains. We allow franchise partners to independently own and operate their facility, while we aggregate our entire network North America-wide to enable the store owners to leverage that national brand, strong insurance relationships and excellent purchasing power through our vendor partnerships.  We are committed to putting our franchise partners' profitability as our first priority."
The brand reported "dramatic growth" in Canada, the Carolinas, Virginia, and California this year, which could make for greater competition for independent shops and consolidators in those markets. Its franchise model allows for the economies of scale and support of a MSO while allowing repairers to still own their facility, though it costs at least $19,995 in a fee and branding to initially join, plus an unspecified royalty. (Entrepreneur magazine estimated owners pay up to $3,500 a month and up to $1,200 in ad royalty fees.)
"As the collision repair industry evolves, the national organizations with strong franchise partners who have the scale and expertise to adapt to advanced repair standards, changing technology and insurance carrier needs will be the ones with the best opportunities for success," CARSTAR President Michael Macaluso said in a statement. "We are focused on growing strategically in target markets with excellent franchise partners and providing these franchise partners the operations and marketing support to help them perform and grow with the most trusted brand in the industry."
CARSTAR predicts it will have 650 locations across the U.S. and Canada by the end of the year, a slight reduction from an earlier forecast of 660. It wants 1,000 locations in three years. Around half are in the U.S., found within 35 states, compared to the 37 states the 1,000-shop ABRA-Caliber would have post-merger. Service King had 341 locations in 24 states as of Oct. 31, and Gerber Collision's Nov. 14 third-quarter earnings report said it had 417 shops in 25 states.
Fix Auto USA, the other major collision repair franchise player in the U.S. (not counting the more retail-focused MAACO), continues to grow as well. It grew from somewhere between 119-126 shops in January to 142 in eight states as of Oct. 29.
"Once I aligned my business with Fix Auto USA, I immediately gained access to a fraternity of progressive, like-minded operators who truly care about my success and that of my two body shops," stated Fix Auto El Cajon and Fix Auto La Mesa owner Sid Rodriquez Jr. said in a statement. "In addition, we're very much looking forward to leveraging a recognized brand, consumer advertising campaigns, and a world-class operating platform.""To see existing Franchise Partners expand their operations, like Krishneel and Selvi, and to welcome new operators, like Pat, Sid Sr. and Sid Jr., Russ, and Mike and Stephanie, simply underscores our mission—to provide a proven platform that allows independently owned and operated body shops to achieve long-term success," said Fix Auto USA President and CEO Paul Gange. "We welcome these new locations to the Fix Auto USA Family."
Caliber Collision also plans to retain ABRA's 59 franchised shops and serve them "with an even greater level of attention," according to a news release announcing those two companies' merger.
Asked if they'd be a grandfathered line of business or if Caliber planned to expand the franchise program further, merger spokesman JP Kaytrosh wrote earlier this month that this hadn't been determined yet.
"No decisions have been made yet about the growth of franchises in the combined company, but the combined company remains committed to strengthening its relationship with Abra's 59 franchisees," he wrote in an email.
More information:
"CARSTAR Announces Aggressive Growth Plans For 2019, Includes Strategic, Targeted Expansion"
CARSTAR via PRWeb, Dec. 13, 2018
Featured image: From left, John Harvey, vice president of sales for CARSTAR Canada, and his U.S. counterpart Arlo Johnson appear at a CARSTAR conference. (Provided by CARSTAR)
Share This: