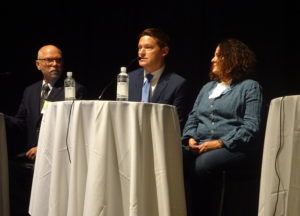 The Alliance of Automobile Manufacturers earlier this month said it and the ASA would next year pursue legislation barring insurers from requesting deviations from OEM repair procedures.
However, the OEMs and Automotive Service Association's bills would allow an exception in the case of parts, Auto Alliance state government affairs senior director Wayne Weikel said on a press briefing Dec. 6.
Legislation prohibiting insurers from requiring deviations from OEM procedures became law in Rhode Island earlier this year. However, it was altered during the legislative process to apply to repairs with "OEM parts only," ASA Washington, D.C., representative Bob Redding said. This was "not the original intent of the legislation," he said.
Lawmakers in Rhode Island changed "No insurance company may require any repairer to use repair specifications or procedures that are not in compliance with the recommendations of the original equipment manufacturer for those parts" to "When 'OEM part(s) are used in the repair of a motor vehicle, no insurance company may require any repairer to use repair procedures that are not in compliance with the recommendations of the original equipment manufacturer."
The change was made after aftermarket parts advocates complained that following OEM repair procedures would prohibit anything other than new OEM parts. Multiple OEMs have issued position statements warning repairers against using recycled, refurbished or aftermarket parts.
Unfortunately, the Rhode Island rewrite to accommodate those interests might have backfired by suggesting an aftermarket part negates other repair procedures beyond the automakers' prohibitions on alternative parts.
Considering that aftermarket parts manufacturers promote their ability to perfectly mimic OEM components, logic suggests they need those parts installed following OEM repair procedures. In that regard, the change hurts them as well.
Still, the legislation (which also extends the length of time written consent is necessary for aftermarket parts) can be chalked up as a win for repairers.
"We hope to build on the success in Rhode Island," Weikel said Dec. 6.
He said the intent was legislation prohibiting the insurer from telling the shop to use anything other than OEM procedures.
"We view this as separate and discreet from the question of what parts are used in insurance-funded repairs," Weikel said.
He noted the Rhode Island argument that the law was meant to prohibit aftermarket parts. "That is not what this is about," he said. It was about the safety of consumers.
The Alliance planned to make it clear in its draft legislation that "these are two separate issues. … A legislature can take action on one without having any impact on the other."
Splitting off the question of parts meant insurers couldn't "hide behind ancillary issues," according to Weikel.
"Either they support repairers being allowed to do the repairs they've been trained to do, following OEM repair procedures, or they don't," he said.
Insurers have either learned from the John Eagle case, "or they haven't," he said.
The verdict against John Eagle Collision Center in 2017 brought into "stark relief" the longtime industry problem of a lack of quality control, Weikel said. If the consumer gets a "shiny" vehicle with matching paint back quickly, they're satisfied, he said.
"The general consumer doesn't know what we know," he said.
Since consumers lack the ability to judge whether they received a quality repair, the situation is one that "begs for governmental intervention," he said.
"It is ridiculous that we are in a position that we have to go and pass a law to get proper repairs to be done … and have proper repairs paid for," Weikel said.
Weikel said he didn't think laws in all 50 states were necessary, as the real issue was insurer practices. The hope was that over time, the behavior "corrects itself" and 50 separate laws weren't necessary to obtain the repairs "consumers deserve," he said.
The ASA and Auto Alliance will push legislation in "a number of states" in 2019, according to Weikel. The organizations expected to target Texas, Minnesota and New Hampshire and are still determining which other legislatures to target, he said.
However, they also have discussed that "there's so much positive attention around this issue right now … it may not matter which states we pick," according to Weikel.
An "organic, grassroots groundswell" of shop owners talking to local officials could spark similar efforts in other statehouses, he said. He called it a "real possibility" that other bills will arise and take a variety of forms.
If that happens, the bills will go to committees of jurisdictions, and lobbyists like him will find out about it and express their views.
It's all part of the "Wild West of state affairs legislation," he said.
The organized effort has developed multiple drafts and has a piece of sample legislation that is "very close" to be released but not there yet, according to Weikel.
ASA board member Darrell Amberson (LaMettry's Collision) said he could to some degree understand insurers' insistence on proof with direct repair programs — extensive documentation came with the territory. But non-DRP interactions with insurers regarding the shop following repair procedures sometimes seemed to become outrageous.
"Frankly, it almost feels like they're just doing it to find ways not to pay you for something," he said. "… That burden of proof really shouldn't be on us."
More information:
"ASA Collision Trade Press Briefing OEM Repair Procedures"
Automotive Service Association asawebops YouTube channel, Dec. 10, 2018
"ASA Hosts Collision Trade Briefing on OEM Repair Procedures"
ASA, Dec. 10, 2018
Featured image: From left, Darrell Amberson, LaMettry's Collision operations president, Automotive Service Association board member and committee chairman; Alliance of Automobile Manufacturers lobbyist Wayne Weikel; and Janet Chaney, CaveCreek Business Development owner participate in an Aug. 8, 2018, Collision Industry Conference Governmental Relations Committee panel. (John Huetter/Repairer Driven News)
Share This: