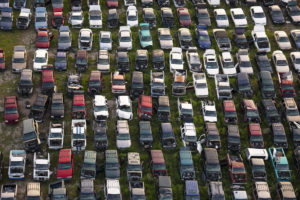 A recycled automotive part from another part of the country might be illegal in Ohio, based upon a recent presentation by collision industry attorney Erica Eversman.
Eversman (Vehicle Information Services) shared with an SCRS Repairer Driven Education audience Oct. 31, 2018, an anecdote illustrating the issue.
(Note: Eversman stressed that her educational session was not intended as legal advice, only as ideas. The same applies to this RDN article. Before you act on anything described here, consult with a qualified attorney licensed to practice in your state.)
Allstate had sought to install a used vehicle nose from Nebraska on an Ohio third-party claimant's vehicle, she said.
However, Ohio Revised Code 1345.81(D) states:
An insurer, repair facility, or installer may use a salvage motor vehicle part in the repair of a motor vehicle, if the salvage motor vehicle part is of a like kind and quality to the part in need of repair and is removed from a salvage motor vehicle by a salvage motor vehicle dealer licensed under Chapter 4738. of the Revised Code.
Eversman said she called the dealer and asked about the vehicle nose's VIN and provenance. It came from Nebraska, she was told.
She asked: Was it taken apart in Nebraska? Yes.
She then asked: Was it taken apart by a licensed Ohio salvage dealer? No, said the vendor, but we're a licensed Ohio salvage dealer.
"'That's a problem,'" she described her response.
If Allstate tried to force the repairer to use that part, she told the vendor, she planned to sue Allstate — and also the vendor for conspiracy to violate the consumer protection law.
"Dead silence," she said.
Allstate argued that the law doesn't apply to it, she said. Irrelevant, she said she countered — the law applies to the body shop. Trying to get the shop to violate the law would be lawsuit-worthy, she said she told Allstate.
Allstate replied that "'we do this all the time'" and nobody had ever raised this issue, she said.
Well, it wasn't her fault other attorneys were stupid, she said. "'This is what the flipping law says'" — a law she said Allstate helped develop back in 1995.
Contacted for comment Dec. 25, 2018, the insurer replied Dec. 27, 2018, it would look into a possible response.
In the national carrier's defense, we couldn't immediately find another example of a state requiring that used parts installed on a vehicle had to have been dismantled by a licensed salvage dealer there.
Featured image: A recycled automotive part from another part of the country, such as those in this Kalispell, Mont., photo, might be illegal in Ohio, based upon a recent presentation by collision industry attorney Erica Eversman. (Jassen Todorov/iStock)
Share This: