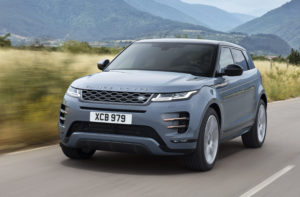 A recent I-CAR post alerted us to an OEM scanning position statement which had slipped under our radar late last summer.
As the Repairability Technical Support portal pointed out Jan. 2, Jaguar Land Rover in August 2018 declared it "necessary" to conduct a post-repair diagnostic scan of any of the OEM's vehicles.
"Post-repair scanning and diagnosis of the vehicle is necessary to ensure that the vehicle's safety and driver-assist systems are operable and fully functioning," Jaguar Land Rover global customer service global body and paint operations manager Glen Mathews wrote in the document, which is available for free on Jaguar's OEM repair procedure website TOPIx. (You need to create a login, but that's free too. However, other technical bulletins and the instructions to actually fix the car correctly require a paid subscription.)
Jaguar Land Rover illustrated its position statement with examples of when "a full Pathfinder diagnostic scan is required" — noting that other scanworthy scenarios besides those could exist. According to Jaguar Land Rover:
Some examples of when a full Pathfinder diagnostic scan is required include, but are not limited to:
Vehicle collisions, regardless of the appearance of damage, windshield replacement for vehicles with driver-assist sensors (including rain/light sensors) located in the windshield, Headlamp assemblies, removal and/or replacement of exterior components, bumpers, SRS sensors, parking sensors, driver-assist system sensors and cameras, wiring harnesses, vehicle control units, seats, or interior trim panels If a collision repair is necessary.
And if that weren't enough, Mathews later reiterated in the document that a post-repair scan was "required."
"When the vehicle is fully repaired, a post repair diagnostic scan and calibration is required to ensure all safety and customer systems are functioning correctly as designed," the OEM wrote.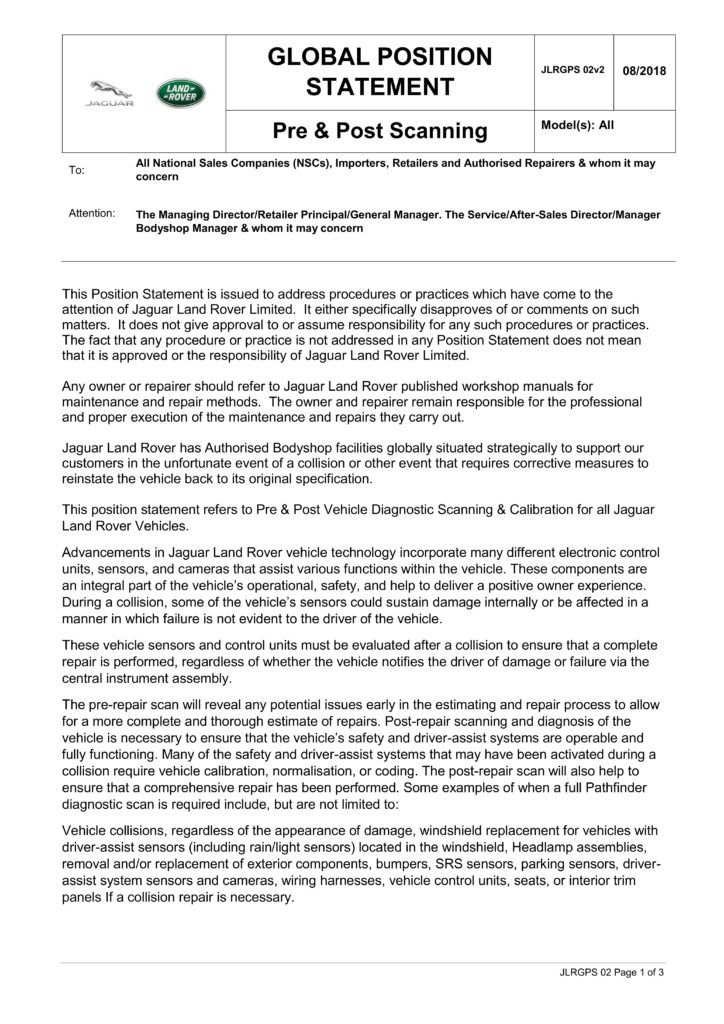 Jaguar Land Rover also suggested that repairers should conduct a pre-repair scan.
"The pre-repair scan will reveal any potential issues early in the estimating and repair process to allow for a more complete and thorough estimate of repairs," Mathews wrote.
Jaguar Land Rover cited the technology within its luxury vehicles as the rationale for a scan.
"Advancements in Jaguar Land Rover vehicle technology incorporate many different electronic control units, sensors, and cameras that assist various functions within the vehicle," Mathews wrote. "These components are an integral part of the vehicle's operational, safety, and help to deliver a positive owner experience. During a collision, some of the vehicle's sensors could sustain damage internally or be affected in a manner in which failure is not evident to the driver of the vehicle.
"These vehicle sensors and control units must be evaluated after a collision to ensure that a complete repair is performed, regardless of whether the vehicle notifies the driver of damage or failure via the central instrument assembly. …
"Many of the safety and driver-assist systems that may have been activated during a collision require vehicle calibration, normalisation, or coding."
Jaguar Land Rover provides examples of the kind of technological features consumers have been requesting — noting again, this time in bold, underlined type, that the list is not inclusive. The implication seems to be that these kinds of things require scanning.
According to Mathews:
Every Jaguar Land Rover vehicle is required to perform to global and market safety standards. From extensive research customers are requesting more technology in the vehicle to support comfort and safety. Some of the features identified (and not limited to) are:
• Intelligent Driveline Dynamics
• Autonomous Emergency Braking
• Blind-spot monitoring
• Forward Collision Avoidance
• Clear Exit Monitoring
• Driver Drowsiness
• Adaptive Cruise Control
• Dynamic Stability Control
• Roll Stability Control
• Sonar for Wading
• Parking Sensors
• Seat Weight Calibration
• Lane Departure Warning (Minor formatting edits. Emphasis JLR's.)
We'd point out that such scan-demanding technology dates back at least more than a decade. According to the National Highway Traffic Safety Administration, multiple Jaguars and Land Rovers came standard with electronic stability control since at least 2005. (NHTSA's records cut off at that year.)
Jaguar Land Rover also instructs repairers to use its OEM repair procedure site TOPIx.
"'Any owner or repairer should refer to Jaguar Land Rover published workshop manuals for maintenance and repair methods," Mathews wrote. "The owner and repairer remain responsible for the professional and proper execution of the maintenance and repairs they carry out. …
"The official technical information portal TOPIx must be accessed to ensure that repair procedures are followed."
I-CAR bundled its Jan. 2 Jaguar Land Rover post and numerous other articles offering guidance on OEM and industry scanning position statements in a handy Jan. 9 roundup. Check it out here, though of course you'll have to check OEM official repair procedure websites (many of which are also accessible through the I-CAR portal) for the most up-to-date versions of any position statement.
More information:
Jaguar Land Rover global position statement: "Pre & Post Scanning"
Jaguar Land Rover, August 2018
Jaguar Land Rover body and paint position statements
JLR TOPIx OEM repair procedure website
"Pre- and Post-Repair System Scanning Position Statements"
I-CAR, Jan. 9, 2019
"Jaguar Land Rover Issues Pre- and Post Repair Scanning Position Statement"
I-CAR, Jan. 2, 2019
Images:
The European version of the next-generation 2020 Range Rover Evoque is shown. (Provided by Land Rover)
Jaguar Land Rover in August 2018 declared it "necessary" to conduct a post-repair diagnostic scan of any of the OEM's vehicles. (Provided by Jaguar Land Rover)
Share This: