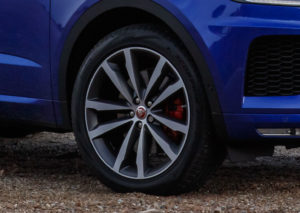 Jaguar Land Rover joined other OEMs in November 2018 by issuing a position statement banning all repaired and reconditioned alloy wheels.
However, the luxury automaker broke from other manufacturers in refusing to endorse cosmetic repairs.
A number of OEMs have permitted shops that single exception — so long as it's limited to sanding and refinishing a coating only, not the actual wheel. (For example, here's fellow luxury brand Mercedes' position statement.)
But Jaguar Land Rover warned repairers in November that its engineers hadn't verified such refinishing, and any shop attempting it was on their own.
"Jaguar Land Rover understands that wheel repairs limited to cosmetic surface sanding and refinish are carried out by retailers and third party companies however there is no approved refinish method verified by engineering," global customer service global body and paint operations manager Glen Mathews wrote in the document, which is available for free on Jaguar's OEM repair procedure website TOPIx. "The repairer is solely responsible for any warranty on such repair. Jaguar Land Rover reserves the right to exclude that component or components from any subsequent warranty claim arising from such repair."
That's a critical distinction shops must remember.
Of course, such a cosmetic repair scenario might never actually arise anyway. As a Porsche collision instructor observed in December, there's a difference between what's "technically possible" and what was "practically possible."
Even though Porsche allows repairs to wheel coatings (it bans any other wheel work), it's unlikely that a collision repairer would encounter a Porsche wheel with an impact so minor it only damaged the paint, aftersales technical training collision repair technology instructor Mike Kukavica said.
As for the broader wheel repair ban, Jaguar Land Rover wrote in November:
Jaguar Land Rover does not support or approve the use of reconditioned wheels or any process that claims to restore damaged wheels or rims on any Jaguar Land Rover vehicle. Use of such wheel or wheels with inferior integrity may compromise safe motor vehicle operation, and may cause loss of control which may result in injury or death, and in many global markets this could lead to criminal prosecution of the supplier or repairer.
Reconditioning of damaged wheels typically involves a process that may include heating, straightening, welding, material removal, reshaping, or re-plating. This process can cause deficiencies in the strength and integrity of the wheel material. Reconditioned wheel and rims do not meet the exacting engineering specifications for Jaguar Land Rover vehicles and this is not a method of repair acceptable to Jaguar Land Rover. (Emphasis Mathews'.)
Mathews also told shops to inspect wheels near collision damage, and if there's doubt, throw them out.
"Any road wheel near the area of any collision damage should be thoroughly examined to ensure that the wheel is undamaged and meets the original safety specifications and if there is any doubt regarding the integrity of the wheel/s they should be replaced," Mathews wrote. (Emphasis his.)
As noted above, the wheel position statement is free to access on TOPIx. You need to create a login, but that's free too. However, other technical bulletins and the instructions to actually fix the car correctly will require a paid subscription to the site.
More information:
Jaguar Land Rover global position statement: "Alloy Wheel Repair"
Jaguar Land Rover, November 2018
Jaguar Land Rover body and paint position statements
JLR TOPIx OEM repair procedure website
Featured image: The wheel of a Jaguar E-PACE is shown in this image released in 2018. (Provided by Jaguar)
Share This: