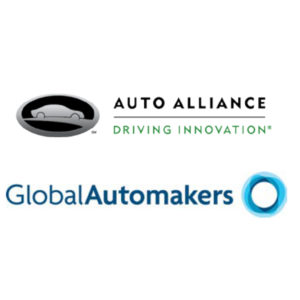 The Alliance of Automobile Manufacturers and Association of Global Automakers this month declared that all "post-collision vehicle repairs" must follow OEM repair procedures.
The policy statement by the two trade groups — who represent 99 percent of U.S. new car and light truck manufacturers — formally aligns automakers with the stance held for nearly a decade by the three national collision repair trade groups, Assured Performance and I-CAR. It also matches what courts have supported — perhaps most notably with the $31.5 million 2017 John Eagle Collision verdict (later settled for an undisclosed amount).
"There was a time when a basic understanding of autobody repair would allow a repairer to fix 9 out of 10 vehicles that come into a shop. That time has passed," Auto Alliance government affairs senior director Wayne Weikel said in a statement Wednesday. "If a collision shop is going to fix the cars of today, they cannot use the repair procedures of yesterday. The only way to repair today's vehicle is by following the OEM recommended repair procedures on every repair."
"An automaker's top priority is its customers' safety, as is safeguarding the overall health of the motor vehicle fleet utilizing our nation's shared roadways every day," the joint statement declares.
"All post-collision vehicle repairs must be conducted in accordance with the repair procedures issued by the vehicle's original equipment manufacturer (OEM), specific to that vehicle's year, make, and model. This includes any directives contained therein relative to pre- and post-scanning of vehicle systems.
"OEMs develop repair procedures to help safely restore vehicle systems to proper conditions. The processes follow service and structural engineering practices that have been tested by the manufacturer through crash simulation, actual crash testing, and real-world validation of the repair methodology.
"Beyond the simple reinstallation of vehicle hardware, OEM repair procedures provide the measurements and tolerances to correctly recalibrate advanced driver safety and assist systems increasingly found on today's vehicles, including lane departure warnings, emergency braking, adaptive cruise control, and blind-spot monitoring.
"Failure to follow OEM repair procedures in the course of a post-collision repair should be considered an unauthorized modification of a vehicle and its systems, introducing the potential for bodily injury and death to any future drivers and occupants of the vehicle, as well as occupants in other motor vehicles on the roadway."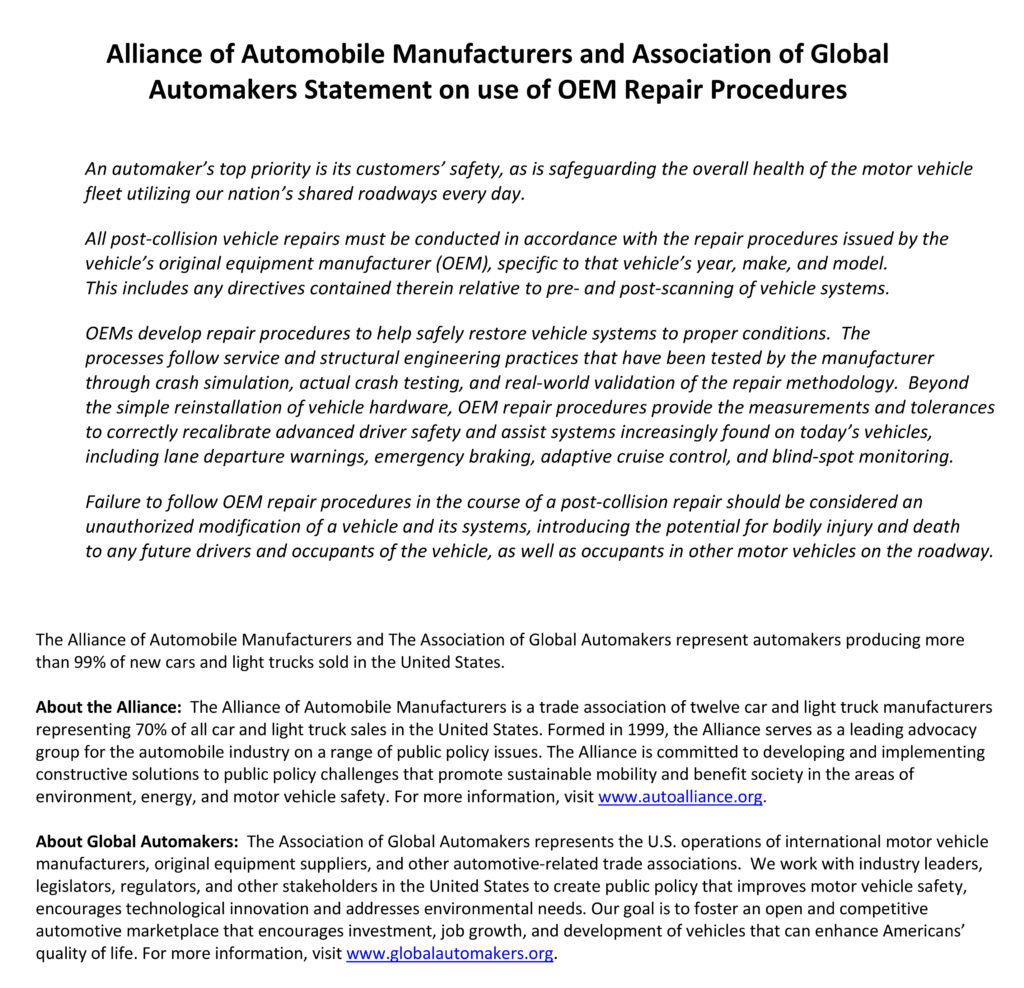 The Auto Alliance's membership includes BMW, FCA, Ford, General Motors, Jaguar Land Rover, Mazda, Mercedes, Mitsubishi, Porsche, Toyota, the Volkswagen Group and Volvo.
Global Automakers includes Aston Martin, Ferrari, Honda, Hyundai, Isuzu, Kia, Local Motors, Maserati, McLaren, Nissan, PSA, Subaru, Suzuki and Toyota.
Global Automakers noted Wednesday that repair procedures were accessible. Most members allow anyone to obtain online a copy of the instructions to fix their vehicles with either a short- or long-term subscription.
"Automakers have gone to great lengths to make repair procedures available to the public," Global Automakers vehicle safety and connected automation Vice President Steve Gehring said in a statement. "These procedures were developed to ensure the vehicle is safely returned to pre-crash condition, with a confidence that advanced driver safety systems are calibrated correctly to help avoid the next crash."
The Automotive Service Association and Auto Alliance have planned to pursue OEM repair procedure legislation this year.
"ASA has made the use of OEM repair procedures by collision shops a top policy priority. All parties in the collision repair process have a stake in repairs being made correctly by following OEM repair procedures which includes vehicle scans," ASA Chairman Roy Schnepper (Butler's Collision) said in a statement. "Following these recommended procedures should be a practice that is performed on every vehicle and all parties to the repair, consumers, insurers and shops assume that it will be done. We look forward to working with our team members to move OEM repair procedure policy forward across the U.S."
More information:
Alliance of Automobile Manufacturers and Association of Global Automakers policy statement on OEM repair procedures
Auto Alliance, Global Automakers, January 2019
"Automaker Trade Associations Release Policy Statement Calling for All Collision Repairs to Follow OEM Repair Procedures"
Auto Alliance, Global Automakers, Automotive Service Association, Jan. 16, 2019
AASP, ASA, SCRS, Assured Performance 2011 declaration of OEM repair procedures as standard of care
"Always Follow Vehicle Maker Procedures"
I-CAR, July 7, 2016
Featured images: The Alliance of Automobile Manufacturers and Association of Global Automakers in January 2019 declared that all "post-collision vehicle repairs" must follow OEM repair procedures. (Provided by Auto Alliance, Global Automakers)
Share This: