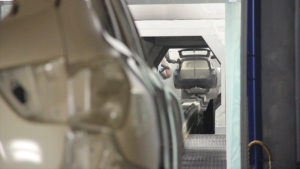 Nissan told collision repairers in new position statements that it requires raw bumper and other raw part prep, opposes partial clearcoat blending and anticipates denib and finish sanding will occur.
The Dec. 12, 2018, Nissan refinishing documents and similar Dec. 18, 2018, position statements for Infiniti ought to give repairers, insurers and customers more clarity into the issues. They're among nine new or updated position statements released recently by Nissan (and Infiniti).
Denib and finish sanding
Contrary to the argument that denib and finish sanding reflects a lack of paint skill, Nissan said in the position statement it understands that those operations could be required.
"Nissan is dedicated to providing vehicles of the highest quality to every owner," the OEM wrote. "Every aspect of the vehicle, from mechanical, safety, and paint finish during the manufacturing process, receives the utmost attention to detail. Restorative paint processes can be one of the most impactful attributes to owner satisfaction when done properly. Repair facilities face a variety of challenges with vehicles including, but not limited to, paint maintenance and debris from daily road conditions.
"After refinishing any outer panel, it may be necessary to nib sand (or de-nib) any particles found within the final finish followed by polishing affected areas. It may also be necessary to finish sand and polish an entire panel finish, followed by polishing the affected areas to provide the desired uniform texture of the factory finish."
In fact, Nissan acknowledged it has to denib and finish-sand within in its own multimillion-dollar factory paint shops.
"Nissan also completes these same processes in the manufacturing environment due to intrusive dirt or debris found in the production environment," the OEM wrote.
More than a quarter of 740 responding shops also have found either denibbing or finish sanding and buffing necessary on all jobs, according to the January 2017 "Who Pays for What?" study.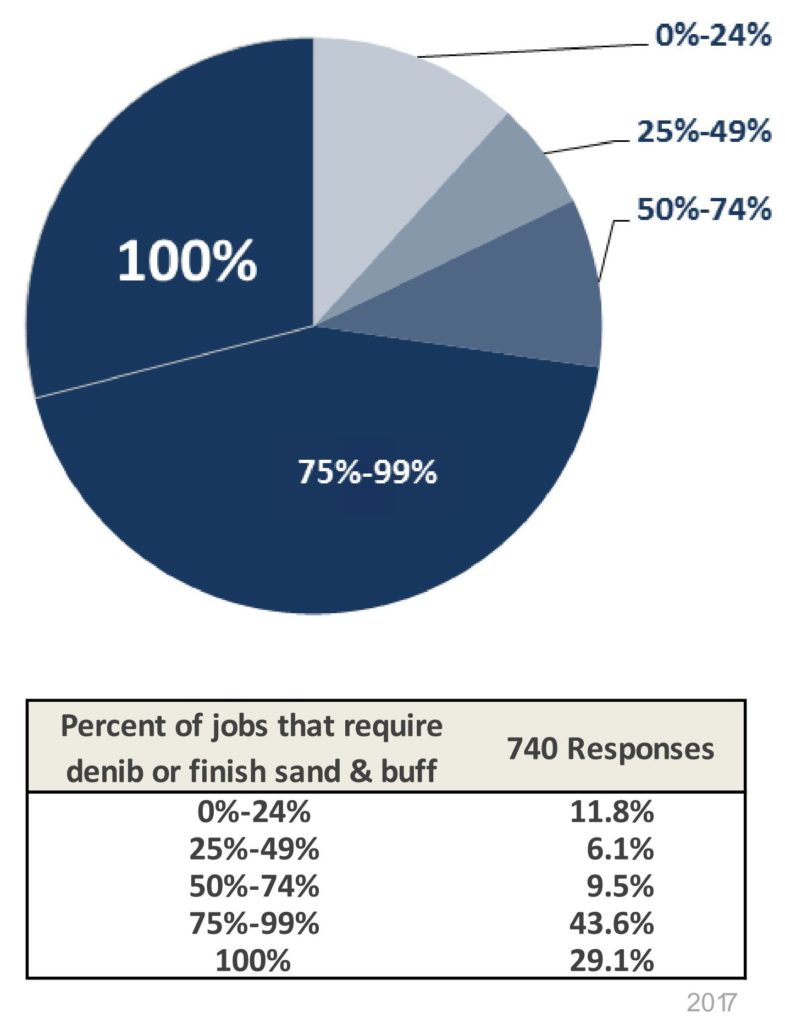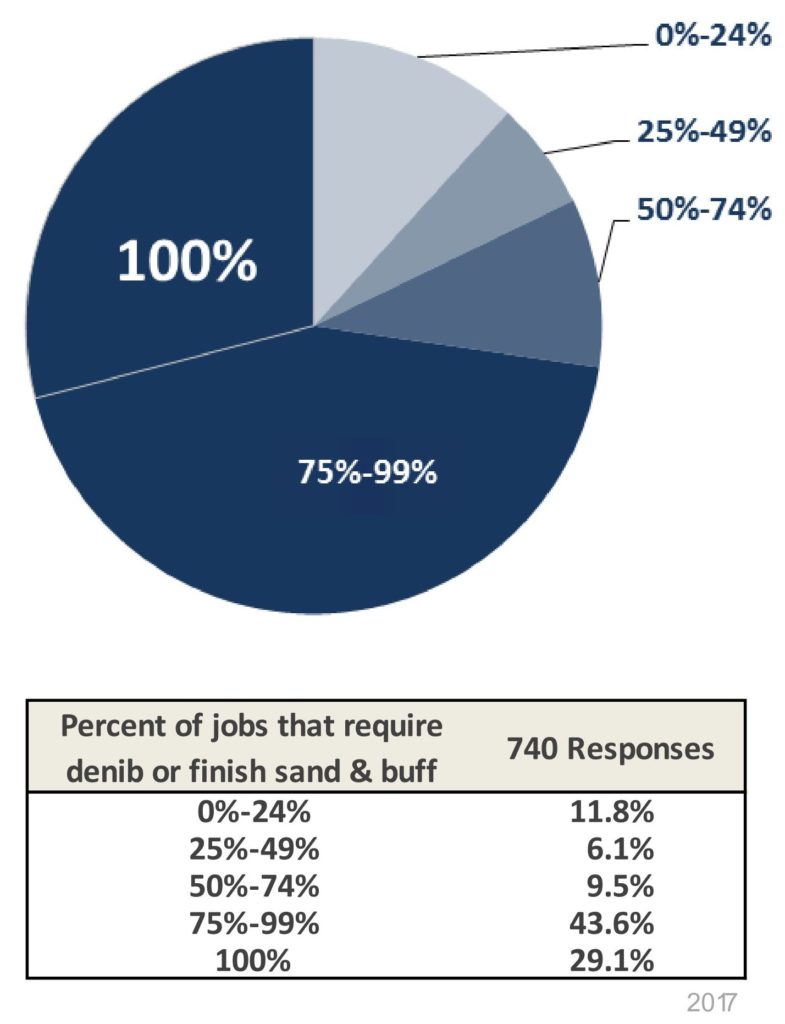 Another 43.6 percent said they do at least one of those two operations on 75 percent to 99 percent of repairs.
The numbers fell off after that, with the next highest amount actually being the 11.8 percent who perform these operations less than 25 percent of the time.
(This year's refinish "Who Pays?" survey is under way now.) Participants receive a free copy of the results. Get the past year's data here.)
"It is important for shops to understand the difference between 'denib' and 'finish sand and buff' in order to charge the appropriate labor time based on what was done to the vehicle," the "Who Pays" report stated. All three estimating system providers allow 30 percent of basecoat time for 'finish sand and buff.' But the systems each have a different formula (or none at all) for 'denib.' So the labor allowance varies significantly between 'finish sand and buff' and 'denib.'"
Clearcoat blends
Paint manufacturer comments to the Society of Collision Repair Specialists already frown on and refuses to warranty clearcoats which don't extend to the natural breaking point in a panel. Nissan put the additional weight of an OEM behind those stances and directs shops to uphold paint manufacturer procedures in its Dec. 12, 2018, position statement.
"Paint manufacturer's recommended guidelines should be followed by qualified trained individuals with proper equipment during this process," Nissan wrote.
The clearcoat blend might look good for a while — until the facade collapses, according to Nissan.
"Nissan North America does not recommend partial clear coat refinishing, 'solvent blending,' or 'melting' for any refinishing work that is being performed," Nissan wrote. "While initial attempts will provide an aesthetically acceptable finish, it does not allow for proper adhesion of the material due to thermoset processes. Decreased film thickness and exposure to elements sacrifice long-term durability and can result in discoloration or peeling.
"To restore the factory finish, the final clear coat should be applied to the panel(s) edge or natural breaking point. It may be necessary to remove exterior trim, weather stripping, roof luggage rack or rail systems, or remove glass. Industry standards and paint manufacturer's guidelines align with this methodology. Please refer to the paint manufacturer's guidelines for additional information on recommended processes and warranty restrictions."
Nissan also pointed out that removing exterior components to refinish a part can trigger a need to scan the vehicle.
"Removal of certain components such as mirrors, door handles, or glass, can cause a disruption in the vehicle control systems and may not create a Malfunction Indicator Light (MIL) visible dash indicator," Nissan wrote. "Following removal, the vehicle will require a post-repair diagnostic scan to ensure all systems are functioning as designed. Please reference Nissan's revised Pre- and Post-Repair System Scanning position statement (updated 2018) for additional information."
Repairers might also want to check if removing a particular part also requires calibration, we'd wager.
Raw plastic
Any bumper fascia from Nissan will be raw plastic, and other plastic parts might be raw as well, Nissan wrote in a Dec. 12, 2018, position statement echoed six days later by Infiniti.
It will therefore fall on the shop to prepare such raw parts for painting, Nissan wrote.
"Any replacement bumper fascia shipped from Nissan will be raw plastic when received," Nissan wrote. "Other items, such as mirror covers, may come in this state as well. This will require the repair facility to take additional preparation steps before any paint application. These necessary steps help provide a longlasting finish on the new replacement bumper or other plastic replacement parts."
"To reduce and release the compounds from the plastic or other chemicals used during production, the bumper will need to be washed, dried, scuffed, re-cleaned, and inspected prior to any paint procedure. Repeat this step as needed until the new bumper (or other replacement part) is ready for paint. Appropriate cleaners, adhesion promotors, and flex additives recommended by the paint manufacturer should be used to provide the proper paint adhesion."
Collision repairers might want to double-check that Audatex, CCC, Mitchell or any other estimating system in use is taking into account a part's raw plastic status (sometimes IPs don't always match the OEM portfolio) and all the associated preparation steps in its labor times. It might be necessary to add not-included operations manually if not.
The Database Enhancement Gateway responded to a Dec. 18, 2018, inquiry by recounting how each of the Big 3 estimating systems handled raw plastic prep. Here's wording from the P-page passages the DEG highlighted:
Audatex refinish allowances start with priming a part. Due to the differences in the paint manufacturers' procedures, OEM recommendations, and the unpredictable nature of the parts, any preparation required for raw, unprimed bumper covers or other plastic parts is Not Included in Audatex labor allowances. This operation may be added manually, if required.
The Audatex formula for preparation of a raw, unprimed Bumper Cover or Plastic Part is:
• 20% of the base refinish labor.
Note: Audatex will begin to add a "Prep Raw Bumper Cover" operation to the Bumper Cover part choice box for new and update vehicles, beginning with Q1 2011. This will apply only to manufacturers known to supply raw, unprimed bumper covers. This operation only applies to the front and rear bumper covers.
The Audatex formula for Prep Raw, Unprimed Bumper Cover is 20% of the base refinish allowance, with a .3 minimum time.
The Audatex formula includes the following:
1. Wash cover with soap and water, rinse & dry
2. Degrease the surface with a wax, grease, and silicone remover.
3. Sand cover with a sanding paste and grey scuff pad
4. Wash cover with soap and water, rinse & dry
5. Degrease the surface with a wax, grease, and silicone remover.\
If the paint manufacturer or OEM requires any other or additional steps to prepare a raw, unprimed bumper cover, these steps are Not Included in Audatex labor times. They may be accounted for manually, if required. (Minor formatting edits. Emphasis Audatex's.)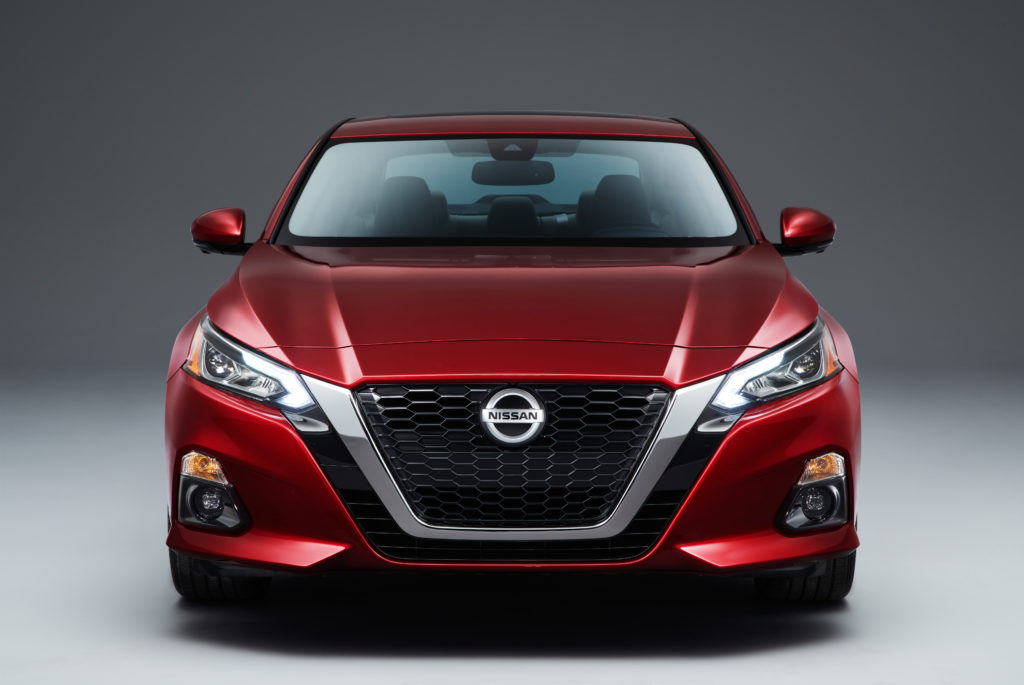 Unprimed Flexible Component Preparation
• 25% of the component's base refinish time
• Maximum time allocation: 1.0 hours
Included:
• Removal of mold-release agents as outlined by manufacturer
• Masking (if required)
• Application of adhesion promoter
Does Not Include:
• Correction of pre-existent surface imperfections
• Material Costs (Emphasis CCC's. Minor formatting edits.)
• Allow .2 per refinish hour (20%) for plastic components that come from the manufacturer/supplier in a raw/un-primed state.
Included Operations
• Detergent wash
• Alcohol/plastic cleaner wash
• Additional solvent wash
• Application of specialized adhesion promoter
• Clean Equipment (Minor formatting edits.)
Nissan also reminded shops that not all plastic was identical, and a repairer might have to treat different polymers differently based on information found within Nissan OEM repair procedures.
"Nissan North America utilizes a variety of plastic components that vary throughout the vehicle," the OEM wrote. "These include parts that have different heat resistance, solvent resistance, and other precautions needed when handling. …
"Refer to the Electronic Service Manual (ESM) to confirm locations and precautionary measures needed for all plastic components. These can be found under the 'Handling Precautions for Plastics' section of the ESM."
More information:
"POSITION STATEMENT: De-Nib & Polish and Finish Sand & Polish"
Nissan, Dec. 12, 2018
"POSITION STATEMENT: Nissan Partial Clear Coat Blending"
Nissan, Dec. 12, 2018
"POSITION STATEMENT: Raw Bumper and Other Precautions for Plastics"
Nissan, Dec. 12, 2018
Nissan collision repair procedures website (use Internet Explorer)
Infiniti collision repair procedures website (use Internet Explorer)
Images:
Nissan opened a new plant plant in Smyrna, Tenn., with a black 2013 Infiniti JX on Jan. 31, 2013. (Provided by Nissan)
More than a quarter of 740 responding shops found either denibbing or finish sanding and buffing necessary on all jobs, according to the January 2017 "Who Pays for What?" study. (Provided by Collision Advice and CRASH Network)
Repairers solicited by Auto Damage Experts provided photos of failing C-pillar clearcoat-paint blends. (Provided via Auto Damage Experts)
The 2019 Nissan Altima Platinum's bumper fascia is shown. (Provided by Nissan)
Share This: