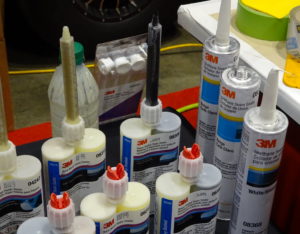 Collision Advice CEO Mike Anderson offered additional perspective on two reimbursable supplies in his latest "Who Pays for What?" study, and the commentary might be of interest to repairers, insurers and vehicle owners examining charges for the items.
Anderson's company and survey co-author CRASH Network reported that insurers 35 percent of the time "always" or "most of the time" reimbursed boron drill bits invoiced by a shop. However, the majority of the hundreds of shops surveyed in October 2018 had never sought payment for the supplies. The 1.6 percentage-point increase in receptiveness from eight of the nation's largest insurers was within the 3.5-point study margin of error, however.
"More shops may be using sanding belts rather than boron drill bits to remove welds on boron components," Anderson wrote. "Still, while these bits may be used less often, it shouldn't reduce how commonly they are reimbursed for when they are used. Estimators need to research the OEM procedures to know which components are made of boron. These drill bits are not inexpensive, and they have a limited use (some may only be effective for 50-75 spot welds, for example). So you may have to use two or three on a single job depending on the number and size of the structural components."
As often happens in these surveys, State Farm and USAA were more likely to consistently pay when a shop billed for boron drill bits. However, they were remarkably less likely to pay non-DRP shops.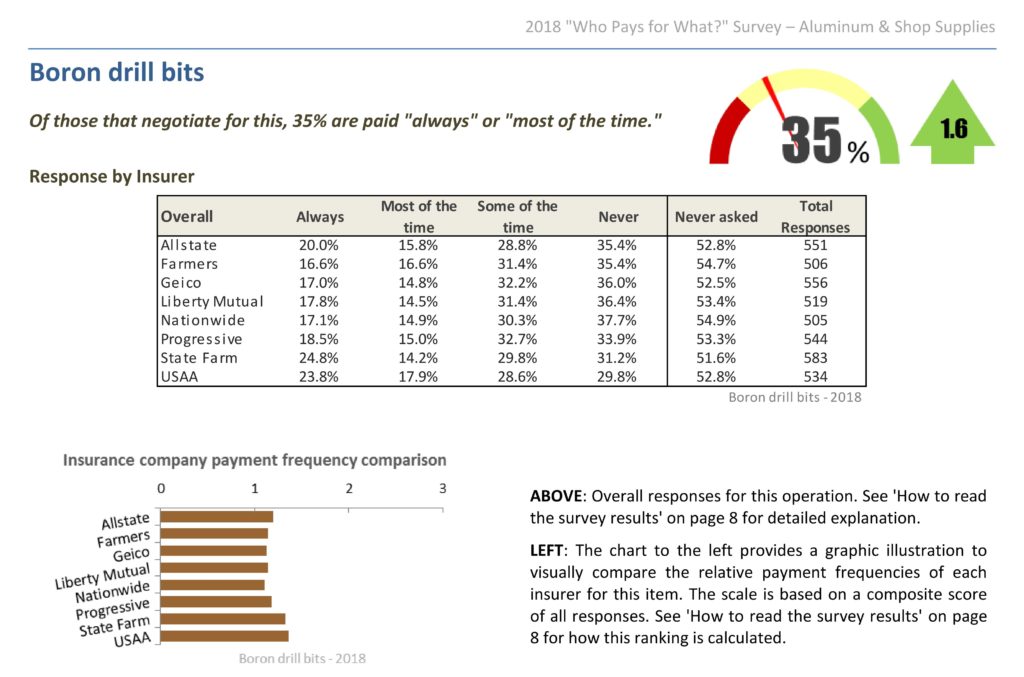 The "Who Pays?" report illustrated the subject with a 2009 Database Enhancement Gateway inquiry about a 2003 Ford Focus SE wagon's bumper beam. The DEG user had asked Mitchell to include an "allowance for spot weld cutter bit" when removing and replacing the part.
Mitchell at the time quoted its P-page guidance saying materials weren't included in labor times. Identical language exists today:  "The labor times shown in the Guide do not take into account the cost of any materials, or the cost of hazardous materials recycling or disposal."
The DEG in response to a 2018 inquiry (also highlighted by the study) wrote that Mitchell's materials policy extended to its two competitors as well.
"All Three Estimating Systems do NOT INCLUDE Material Cost in the labor times," the DEG wrote. "Materials paint or body materials are not inclusive of each other and do not define specifically individual products. Products used to perform repairs can vary and would need to be considered separately and not included in the labor time."
The user had asked if CCC included nine specific items — "1. Drill Bits 2. Mixing Tips 3. Roloc Disc 4. Grinding Disc 5. Sand Paper up to 150G 6. Rubber Wheels 7. Acid Brushes 8. Body Filler 9. Clean and Strip Disk" — in paint materials for a 2014 Jeep Grand Cherokee. The user also requested "a clear and distinct list of what items are encompassed in Paint Materials."
Mixing tips
Speaking of mixing tips, the 2018 "Who Pays?" study found carriers were way more likely to consistently approve reimbursement of such nozzles than in 2017. The number of shops reporting being paid "always" or "most of the time" whenever they asked eight of the nation's largest insurers jumped 23.6 points to 63 percent, far outside of the margin of error.
More than 60 percent of the few hundred responding shops had sought to be reimbursed for mixing nozzles.
"When you buy a tube of seam-sealer or other foam/adhesive product, it often comes with a nozzle or tip," Anderson wrote. "But you may not use an entire tube on one particular job, so you likely will need a new tip/nozzle the next time. The size of the bead may be different, for example. Again, if you're using an invoicing system to track and bill for clips, fasteners and other items, you can add mixing nozzles or tips to this system."
State Farm, Allstate and USAA were the most receptive for shops overall, though another chart suggests that State Farm was notably less consistent with non-DRP shops as it was with its Select Service facilities.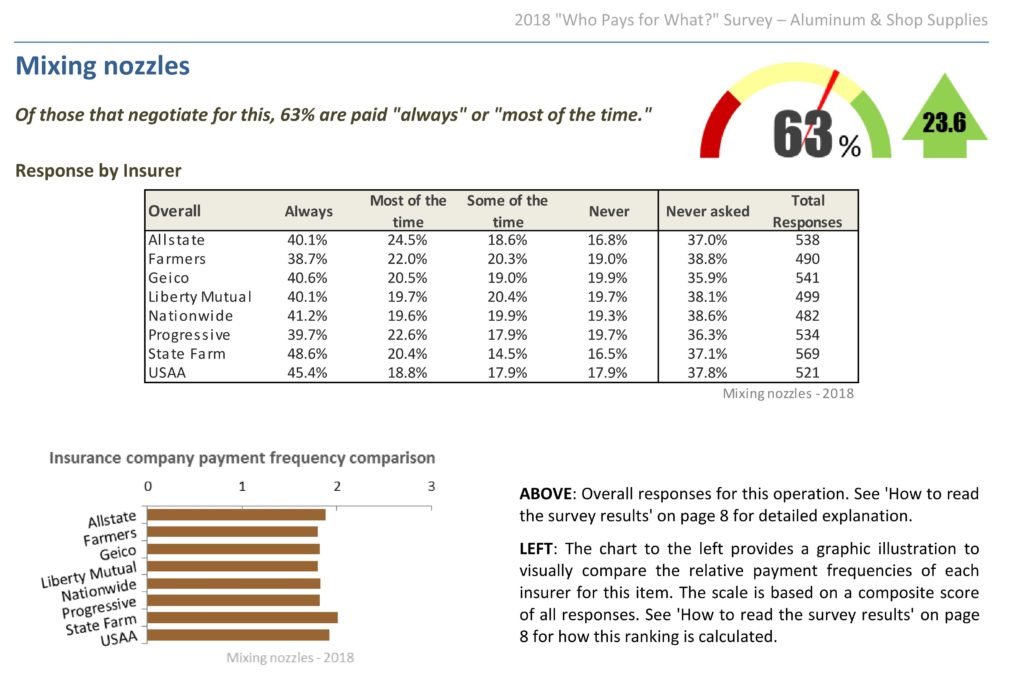 Help the industry by taking the current "Who Pays for What?" survey on "not-included refinish operations through Jan. 31. All answers are kept confidential — data is published only in the aggregate — and participants receive a copy of the report.
"I genuinely believe the information we are supplying through our 'Who Pays for What?' survey series is truly helping the industry, in large part by showing you, despite what you may be told, that you are not 'the only one' doing and charging for the nearly 100 'not-included' procedures and estimate line-items we cover throughout the year," Anderson wrote in the introduction to the survey.
"Our goal has always been to help shops become aware of the not-included procedures they are doing or materials they are using and understand how often other shops are being compensated for them."
More information:
Take the 2019 refinish operations "Who Pays for What?" survey
October 2018 "Who Pays for What?" aluminum repair and shop supplies results
Images:
Seam sealer nozzles can be seen at the 3M booth at NACE 2017. (John Huetter/Repairer Driven News)
Collision Advice and survey co-author CRASH Network reported in the latest "Who Pays for What?" survey that insurers 35 percent of the time "always" or "most of the time" reimbursed boron drill bits invoiced by a shop. However, the majority of the hundreds of shops surveyed in October 2018 had never sought payment for the supplies. (Provided by Collision Advice and CRASH Network)
State Farm and USAA were more likely to consistently pay when a shop billed for boron drill bits, based upon the October 2018 "Who Pays for What?" survey. However, they were remarkably less likely to pay non-DRP shops who asked. (Provided by Collision Advice and CRASH Network)
The October 2018 "Who Pays for What?" study found carriers were way more likely to approve reimbursement of mixing nozzles than they were in 2017. The number of shops reporting being paid "always" or "most of the time" whenever they asked eight of the nation's largest insurers jumped 23.6 points to 63 percent, far outside of the margin of error. (Provided by Collision Advice and CRASH Network)
State Farm, Allstate and USAA were most receptive of eight major insurers studied for shops seeking mixing nozzle reimbursement overall, based on the October 2018 "Who Pays for What?" poll. However, other data from the study suggests that State Farm was notably less consistent with non-DRP shops as it was with its Select Service facilities. (Provided by Collision Advice and CRASH Network)
Share This: