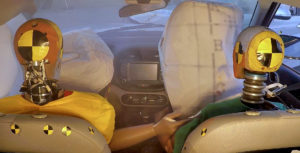 Collision repairers might find themselves in the future changing more airbags on Hyundais and Kias.
The OEM announced Wednesday it was working on and sought to commercialize "the world's first multi-collision airbag system" which can trigger in situations where the vehicle hits something else after the initial collision — something Hyundai says happens in three out of 10 crashes.
Hyundai vowed to install the system on new Hyundais and Kias "in the future."
"By improving airbag performance in multi-collision scenarios, we expect to significantly improve the safety of our drivers and passengers," Hyundai Motor Group Chassis Technology Center head Taesoo Chi said in a statement. "We will continue our research on more diverse crash situations as part of our commitment to producing even safer vehicles that protect occupants and prevent injuries."
Traditional airbags won't necessarily fire to protect occupants in a second crash (for example, a crash between two vehicles that sends one into a tree) if the initial collision wasn't strong enough to trigger the airbag, according to Hyundai.
"However, the multi-collision airbag system allows airbags to deploy effectively upon a secondary impact by calibrating the status of the vehicle and the occupants," the OEM wrote in a news release.
Hyundai global PR spokesman Junghyun Kim explained that a traditional airbag could still detect a second crash and deploy. However, if the vehicle occupants are forced into an unusual position (which we'd assume is anything other than the sitting-still-looking-straight-ahead pose of crash test dummies), you might want the airbag to blow at a lower impact threshold to protect them, according to Kim.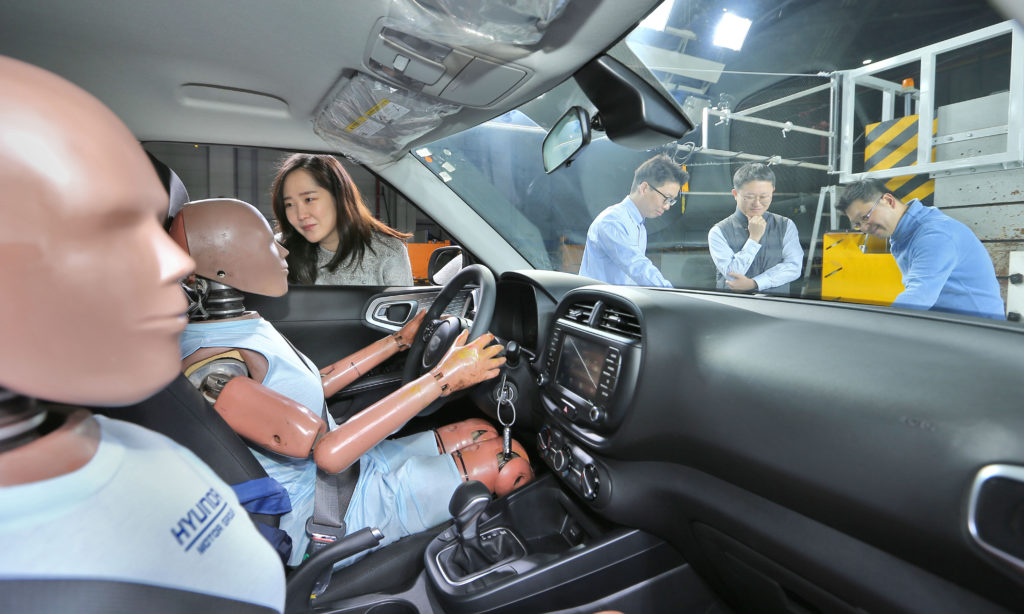 "Our newest airbag technology deploys effectively upon a secondary impact by calibrating the sensitivity of the vehicle," Kim wrote in an email Friday. "It also factors unusual movement of the occupants to deploy the airbags even quicker.
"For example when the airbag did not deploy for the 1st collision (minor impact), our newest airbag system factors unusual movement of the occupants to deploy the airbags even quicker for the 2nd collision. Body positioning of vehicle occupants often becomes unnatural upon a primary collision impact, other airbag systems do not factor this into a secondary collision deployment. Instead, other airbag systems are operated, only when collision intensity is severe enough."
Hyundai said the technology determines if the first crash forced occupants into a position that wasn't sufficiently protected by other vehicle safety systems and fires if a second crash is detected.
"Multi-collision airbag systems are designed to deploy even faster when initial safety systems may not be effective, providing additional safety when drivers and passengers are most vulnerable," Hyundai wrote. "By recalibrating the collision intensity required for deployment, the airbag system responds more promptly during the secondary impact, thereby improving the safety of multi-collision vehicle occupants."
Hyundai reported that 30.8 percent of the multi-collision accidents tracked between 2000-12 by NHTSA's Crashworthiness Data System involved a struck vehicle crossing over the center line. 13.5 percent saw vehicles struck while stopped at tollgates, 8 percent impacted the highway median and 4 percent hit or sideswiped trees or electric poles.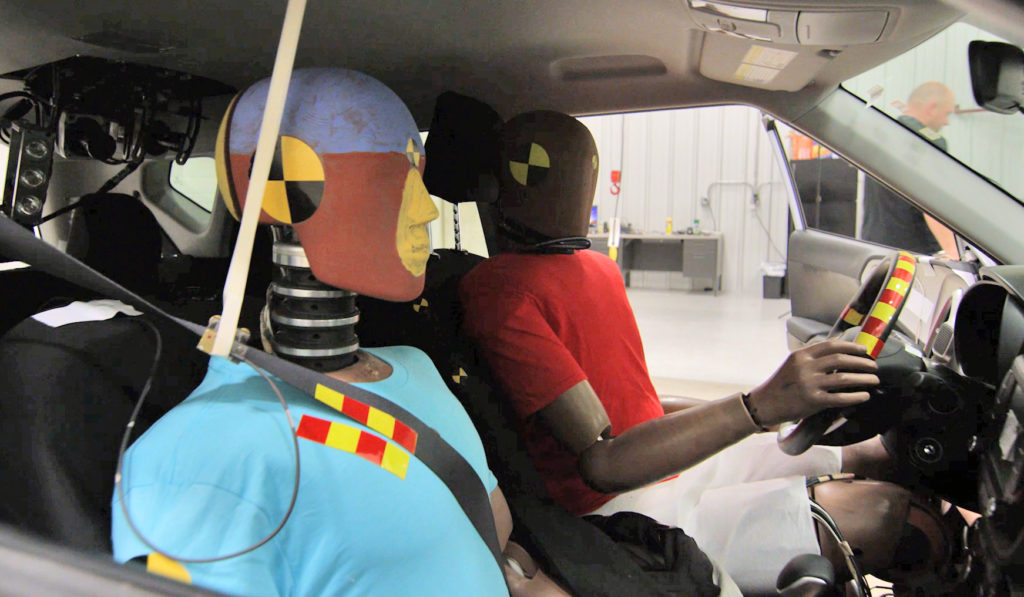 Kim wrote that Hyundai didn't calculate the occupant's position with "dedicated sensors" or technology like a driver-facing camera.
"However we have collected every possible scenarios of occupants' position possibilities through various  simulation tests and actual vehicle tests in order to calibrate the optimal time and strength for the airbag to deploy," Kim wrote.
Repairers will likely have to replace more airbags which wouldn't have blown under the old airbag tech but would under the new system. However, the physical parts on the vehicle won't change — Hyundai doesn't have to use a new type of airbag or add more sensors to make the technology work, according to Hyundai global PR spokesman Junghyun Kim.
"Our newest airbag system is not physically different," Kim wrote. "Hyundai Motor Group has implemented a new software for our newest Multi-collision Airbag System."
It'll be interesting to see if Kia repair procedures and positions related to calibrating or installing sensors or airbags change at all once Hyundai rolls out the technology. (Hyundai procedures too, assuming that information is contained within the OEM's mechanical repair instructions available in the U.S. instead of its collision repair instructions, which aren't yet.)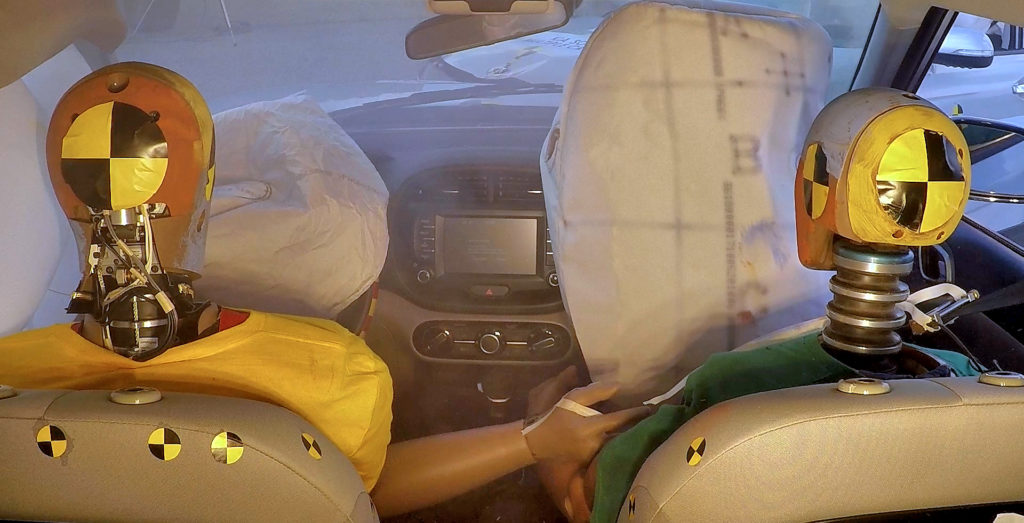 More information:
"Hyundai Motor Group Introduces World's First Multi-Collision Airbag System"
Hyundai, Jan. 23, 2019
Kia repair procedures portal on OEM1Stop
Hyundai repair procedures portal on OEM1Stop
Featured images: Hyundai announced Jan. 23, 2019, it was working on and sought to commercialize "the world's first multi-collision airbag system" which can trigger in situations where the vehicle hits something else after the initial collision — something Hyundai says happens in three out of 10 crashes. (Provided by Hyundai)
Share This: