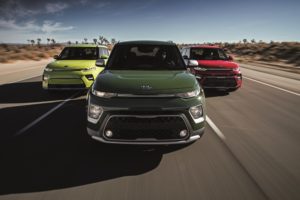 The next-generation 2020 Kia Soul announced late last year uses hot-stamped steel on 12.5 percent of its body, up from just 2.4 percent on the 2019 Soul.
More than half the body — 51.6 percent — is advanced high-strength steel, an increase from 44 percent on the old Soul, a Kia spokesman also reported in December.
These factors suggest the 2020 version of the popular vehicle — it sold 104,709 last year, according to Kia Motors America — will have more components with restrictions upon their repair. Higher-strength steels often carry rules against heat, sectioning or even repairs in general given their metallurgy and role in crash energy management.
"The 2020 Soul's stronger structure benefits from an increased use of Advanced High Strength Steel (AHSS), hot stamped components, and structural adhesive," Kia wrote in a Nov. 28, 2018, news release. "With stronger bones, the 2020 Soul is expected to achieve the highest safety ratings from the Insurance Institute for Highway Safety (IIHS) and National Traffic Highway Safety Administration (NHTSA)."
Higher-strength steels also allow OEMs to retain strength while reducing mass, and the 2020 Soul is lighter than the 2019 edition. The curb weight on an 2020 Soul LX manual transmission is 2,802 pounds, while an LX with "Intelligent Variable Transmission" weighs 2,844 pounds. A base manual-transmission 2019 Soul weighs 2,884 pounds, and an automatic 2019 Soul registers 2,942 pounds.
However, Kia said the 2020 Soul overall is longer and has a larger wheelbase than the older version, though it's a half-inch shorter.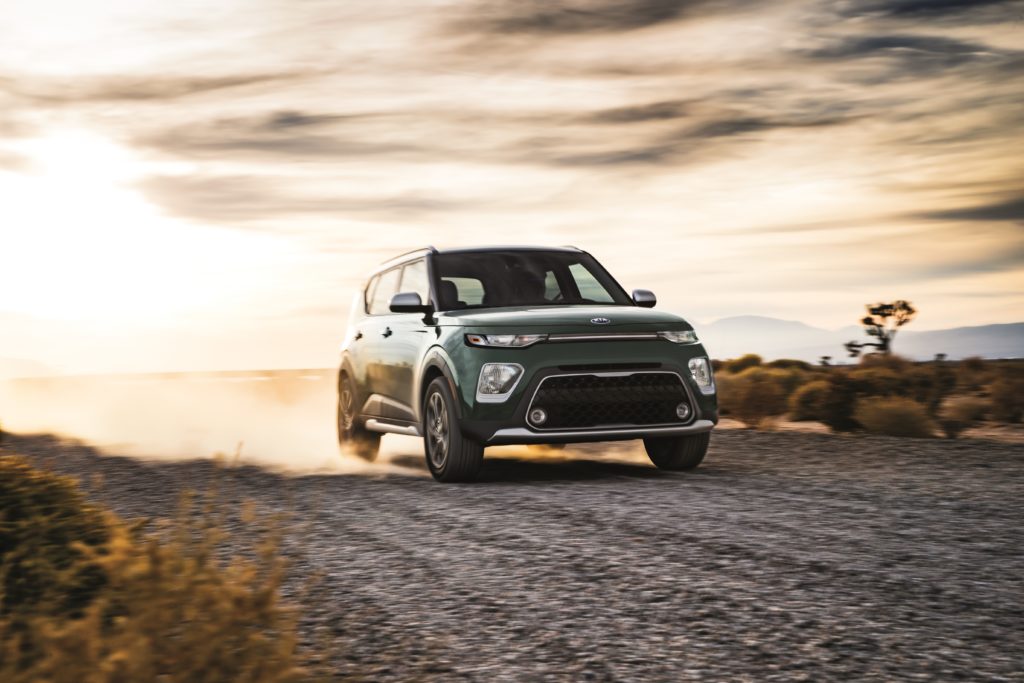 Kia wrote in the news release that the 2020 Soul used a new platform, but it didn't elaborate further on which, if any, other Kias shared that architecture.

Kia national product communications manager James Hope wrote in a December 2018 email the 2020 Soul has a "mean strength of 66.2 kgf/mm2 , compared to 49.0 kgf/mm2." (Minor formatting edits.) That works out to 649.2 megapascals, up from 480 MPa.
He wrote that the vehicle is also stiffer, with a "torsional rigidity (stiffness) of 27.7 , compared to 22.2 of the outgoing model  (torsional rigidity = 104 kgf*m2 /rad)." (Minor formatting edit.)
Hope wasn't sure if the vehicle used any aluminum or magnesium.
Kia reported a variety of other elements that might be of interest to collision repairers:
• A head-up display is standard on the GT-Line 1.6T, according to a Kia feature list. (The news release describes the feature as "available" but doesn't list models.) It's unclear if it's projected upon the windshield. 
• The grille has a "unique two-tone treatment," Kia wrote. The Soul X-Line offers two-tone paint as an option, and the EX Designer Collection trim has a two-tone roof, according to the OEM. (A feature sheet doesn't list the two-tone roof for the EX Designer Collection, but says it's available on the X-Line and S trims.)
• The C-pillar has a "Soul" graphic.
• Optional "sound mood lighting emits soft light from the center door panels and a unique 3D pattern surface on the upper door panels, with the ability to synchronize to the beat of the music playing through the Soul's audio system," according to Kia. This could make disassembling and reassembling doors interesting.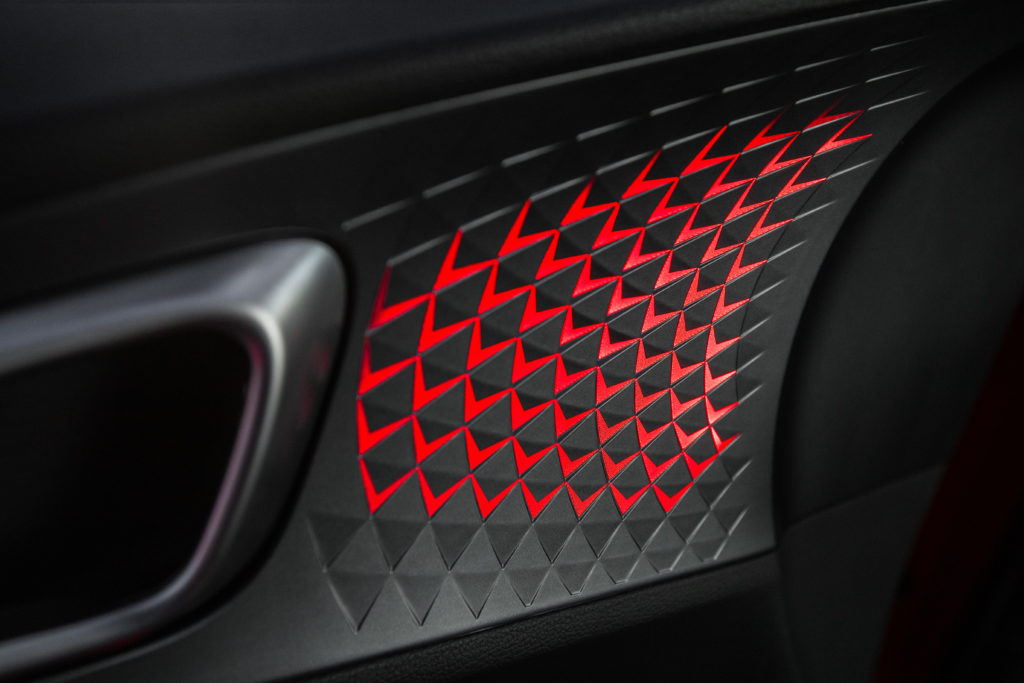 • The door panels are "sculpted," increasing the size of the opening.
• Advanced driver assistance systems aren't available on the LX base trim, but they begin to grow standard soon after. The second-lowest X-Line trim has lane-keeping, blind-spot warnings and rear cross-traffic warnings standard. The S, EX and EX Designer trims add forward collision avoidance (which appears to include autobraking), lane change assist, and driver attention warnings standard. The GT-Line 2.0L makes some of these features optional, while the GT-Line 1.6T makes all of them standard but upgrades the collision warning to included pedestrian detection and adds adaptive cruise control.
• Kia indicated the new platform upgraded the suspension. "Engineers designed suspension geometry to help quell noise, vibration and harshness while also improving handling and comfort in a variety of conditions," the OEM wrote. This means customers might be more likely to notice errors if you fail to restore the vehicle correctly.
Soul EV
Kia also reported Nov. 28, 2018, it will sell a fully electric 2020 Soul EV. It wrote in a news release that the battery-powered vehicle will have "the same architecture" but carry "unique styling."
This included different front and rear bumper fascias, a "(s)olid front grille insert with charging door conveniently located on driver's side," LED headlights and different fog lamps, and an independent rear suspension.
Of course, while the overall architecture is the same, the demands of an electric vehicle could still require some changes to the body and exterior construction. (We didn't discuss the Soul EV with Kia, only the regular Soul, so unfortunately we can't provide any details for now on this front.) Obviously, check those repair procedures.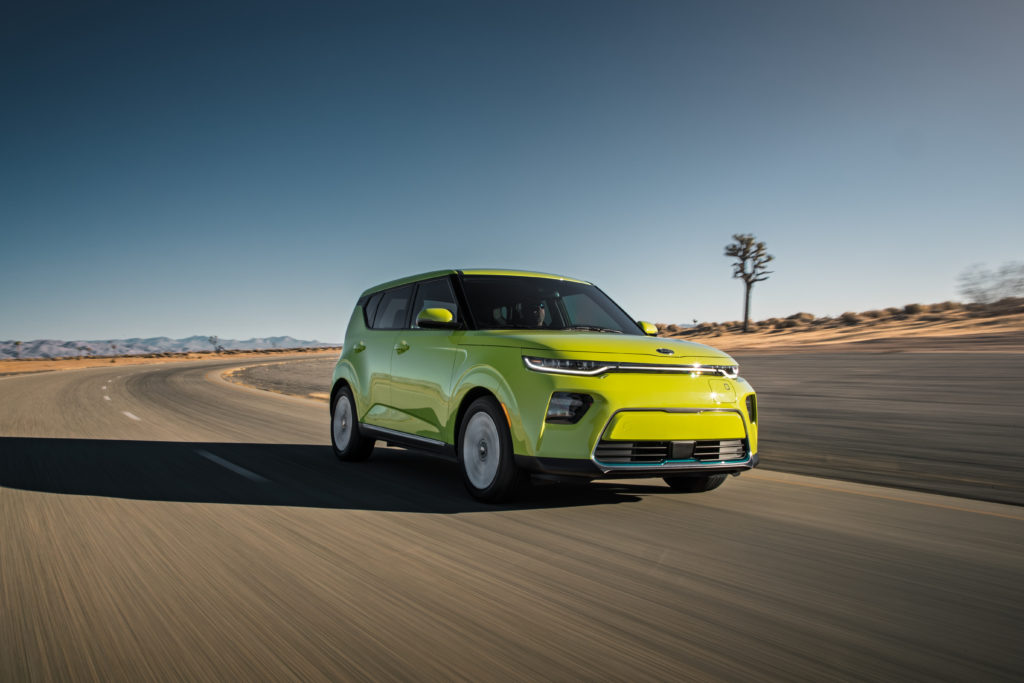 A bunch of ADAS comes standard, and other ADAS features are available on the electric vehicle too. Kia also says the Soul EV will come with UVO telematics able to notify emergency services if a panic alarm activates; it'll be interesting to see if this would expand to Kia-certified shops as well.
Shoppers can buy either the base EV or the Soul EV Designer Collection, which sounds as though it could make life interesting for painters with the two-tone paint jobs "Gravity Grey with a Platinum Gold roof; Cherry Black with an Inferno Red roof; and Neptune Blue with a Cherry Black roof."
More information:
"A BETTER WAY TO ROLL: 2020 KIA SOUL MAKES WORLD DEBUT IN LOS ANGELES"
Kia, Nov. 28, 2018
"ALL-NEW 2020 KIA SOUL EV COMBINES SOUL-FUL VIBE WITH ALL-ELECTRIC BUZZ"
Kia, Nov. 28, 2018
Images:
From left, the 2020 Kia Soul EV, 2020 Soul X-Line and 2020 Soul GT-Line are shown. (Provided by Kia)
The 2020 Soul X-Line is shown. (Provided by Kia)
The 2020 Kia Soul offers the option of "sound mood lighting" yielding "soft light from the center door panels and a unique 3D pattern surface on the upper door panels, with the ability to synchronize to the beat of the music playing through the Soul's audio system," according to Kia. (Provided by Kia)
The 2020 Soul EV is shown. (Provided by Kia)
Share This: