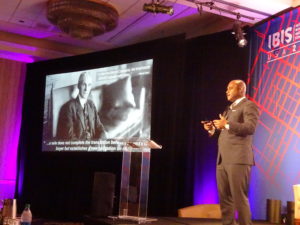 His OEM recently having announced plans to use the dynamic pricing system MyPriceLink, Ford global customer service division Vice President Frederiek Toney on Thursday described a desire for Ford to compete on parts.
Toney in a presentation to the International Bodyshop Industry Symposium quoted Henry Ford, who said, "In the Ford Motor Company we emphasize service equally with sales. It has always been our belief that a sale does not complete the transaction between us and the buyer, but establishes a new obligation on us to see that his car gives service."
Toney said Ford in the past ceded to others the duty of caring for customers, but "no longer."
If the company sold a Ford, "we're gonna back that car up, and oh yes, we would like you to use original equipment Ford parts on those cars," Toney said.
He said there are many reasons for that, particularly as technology changes and the car must be restored to the original condition.
But it wasn't just about maintenance and repair, he said.
"For years, we neglected the collision business," he said. In fact, Ford long ago thought it had captive parts in collision.
However, there's "no such thing," he said.
Failing to deliver great service and products meant someone would fill the void, he said.
MyPriceLink was about modernizing the way Ford went to market, Toney said.
"We're gonna use this to drive results," Toney said. "Look, I'm not ashamed to tell you, we intend to grow in this space."
Most OEMs only retain about 30-35 percent of the car part business, he said.
Toney suggested using OEM parts could help remove waste from the system.
Imagine if a kit could be sold that would have 99 percent of the parts needed in a front-end collision, Toney said. Or Ford could send a kit for a fender based on the information it received at the time of the crash from a telematics-enabled vehicle. The shop would install the parts it needed and return what it didn't.
"That would be transformative," he said.

Something like that could be built by sitting in a room with stakeholders, Toney said.
"Price gouging" was the last thing Ford desired. "We want to compete," he said.
Taking advantage of form and fit of OEM parts could get the vehicle out of the shop more quickly, which would lower an insurer's rental expense, Toney said. He suggested looking at a "total system."
Ford couldn't design such a thing by itself, he said.
Toney said it was incumbent on everyone to put the past behind them. "We're deadly serious" about improving, he said.
The customer is dissatisfied if they don't get the right repair, and Ford didn't think customer satisfaction was the same if OEM parts and materials weren't used.
He said Ford wanted to win through collaboration, and he would rather negotiate terms than dictate them.
Featured image: His OEM recently having announced plans to use the dynamic pricing system MyPriceLink, Ford global customer service division Vice President Frederiek Toney on Feb. 14, 2019, described to the International Bodyshop Industry Symposium a desire for Ford to compete on parts. (John Huetter/Repairer Driven News)
Share This: