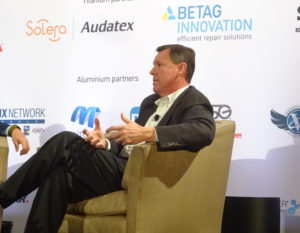 Caliber Collision CEO Steve Grimshaw on Friday described the thinking behind the monumental Caliber-ABRA merger and what the marketplace could expect going forward.
His comments to the International Bodyshop Industry Symposium came a day after Penfund revealed it and other investors provided at least $2.75 billion in potential capital which could be tapped to pay for the merger.
Though the new company will be called Caliber Collision and led by Grimshaw, ABRA parent company Hellman & Friedman actually bought Caliber from Leonard Green Partners and OMERS Private Equity. Caliber's old owners will still keep minority shares in the new company.
"Finally, one of the rumors about the MSOs merging came true," Grimshaw joked Friday.
The merger
He noted that in most industries, two of the largest competitors merging often means the industry is slowing down or has little growth opportunity. Merging to produce synergy is one of the plays you've got left to eke out more value, he said.
Such a scenario had "nothing to do with this merger whatsoever," Grimshaw said.
Internal discussions prior to the merger noted ABRA was a great company that led in many client metrics, and Caliber had been a success as well, according to Grimshaw. (Caliber had averaged adding more than 100 locations a year for five years, and it posted company-record metrics across the board in 2016 — and then set new records in 2017 and 2018, he said.)
Neither company actually needed to merge, Grimshaw said. The question was whether a combined entity would do better than either individually, and the answer was "unequivocally yes."
Penfund said Thursday it kicked in $150 million of a group of lenders' $600 million second-lien debt credit line for the deal. Hellman & Friedman also had a $1.85 billion first-lien loan and a $300 million revolving line of credit for the deal, according to Penfund.
Obviously, with Caliber not disclosing details of the merger's terms, there's no way of telling if H&F spent more or less than the $2.75 billion in credit discussed here. But Penfund's information provides an intriguing glimpse into what one of the big guns in the industry costs and demonstrates investor confidence in the industry.
For context, the Boyd Group, which owns hundreds of shops across the U.S. and Canada, had a market capitalization of $1.84 billion USD Friday afternoon. The company remains the No. 2 collision repair business in the U.S. following the Caliber-ABRA deal.
Two years ago, the Blackstone and Carlyle Groups were considering selling another major Caliber rival, Service King, in a deal that could have commanded more than $2 billion, according to a 2017 Bloomberg report.
As the Wall Street Journal observed in 2014, consolidating a fragmented industry can be a money maker for private equity. Ron Kuehn, president of Collision Business Solutions and ironically a former ABRA vice president, last year also said cash flow made the industry attractive.
Kuehn on an October 2018 Elite Body Shop Solutions webinar recalled being told once that "this is one of the best cash flow businesses."
If a repairer is efficient with the business, they can turn dollars over multiple times before they must pay bills, and this "cash velocity" translates into more borrowing power, according to Kuehn. Since insurers don't usually bounce checks, the business looks even better to Wall Street, he said.
Penfund has invested a combined $300 million in Caliber over four occasions, the company said Thursday.
"Penfund is excited to support the merger of these two best-in-class businesses and looks forward to continuing its long relationship with the Caliber team," partner Jeremy Thompson said in a statement.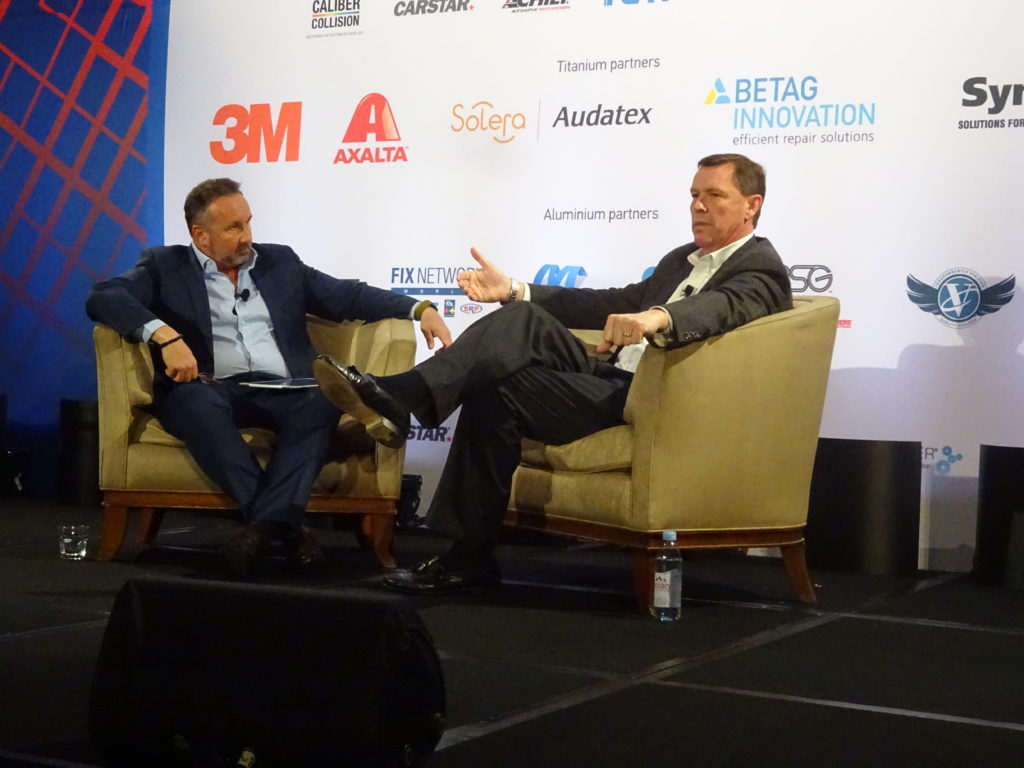 What's next
Grimshaw on Friday said the merged company would by the end of 2019 operate as a single entity under the Caliber brand, based out of Caliber's corporate headquarters in Lewisvile, Texas.
Grimshaw said it wasn't that Caliber was a better brand than ABRA.
"I'm not saying that at all," he said.
Caliber had a consistent brand and feel over the course of years, while ABRA was only a year into its rebranding process, Grimshaw explained.
He said leaving part of the company under a different brand would have been a mistake.
"They'll never feel like they're part of the overall organization," Grimshaw said. Grimshaw said he's seen it play out that way too many times.
The company will also have a single operating model by the end of the year, according to Grimshaw.
"This is the part that we're excited about," he said.
Both companies had good operations, and the new Caliber was trying to figure out a system leveraging the best of both.
"We won't go backwards on anything," he promised customers and insurers.
Customers would receive convenience, choice and consistency in virtually every U.S. market thanks to the reach of what Grimshaw said was 1,064 shops as of Friday.
Grimshaw said carriers would benefit from the expansion to all major markets of Caliber's "premium capacity model" which segments shops based on factors like damage, metal and brand. An insurer cutting a deal with Caliber for a market would activate the ability to fix any vehicle in that market at a competitive quality and level, he said.
"You'll see a dramatic expansion on that behalf," he said.
Regarding suppliers, Grimshaw said that much inefficiency exists in an industry where everyone tailored their business model to an individual center relationship, be that a DRP program or anything else.
Caliber absorbing ABRA meant suppliers could rewrite their plan around a national, 1,064-shop company where you could deal with a single decision maker, he said.
Though suppliers will probably have to change the way they did business, long-term, it'd be the best thing for the vendor and Caliber, Grimshaw said, citing what he said were plenty of examples of such success.
He promised suppliers, stakeholders and partners that if an action wasn't mutually beneficial for both Caliber and the counterparty, Caliber wouldn't do it.
"We're not gonna leverage our size at your expense," Grimshaw said.
Anyone who adapted to the new Caliber would do well, while those who fought to stay with a business-to-location strategy will probably struggle, Grimshaw said.
More information:
"Penfund Announces US$150 Million Investment in Caliber Collision Centers"
Penfund, Feb. 14, 2019
"Private Equity's Latest Fix: Auto-Body Repair"
Wall Street Journal, July 23, 2014
Images:
Caliber Collision CEO Steve Grimshaw talks Feb. 15, 2019, at the International Bodyshop Industry Symposium. (John Huetter/Repairer Driven News)
International Bodyshop Industry Symposium CEO Jason Moseley, left, listens to Caliber Collision CEO Steve Grimshaw on Feb. 15, 2019, at IBIS. (John Huetter/Repairer Driven News)
Share This: