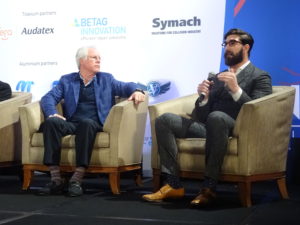 BMW paint and body technical specialist David Sosa on Thursday drew industry attention to the existence of PUMA, a means for collision repairers to have BMW engineers answer questions for cases which fall outside of OEM repair procedures.
Sosa, a panelist at the U.S. International Bodyshop Industry Symposium, told the audience BMW repair procedures cover "most any repairs," but sometimes a scenario won't be captured in them. For example, damage on a quarter panel just outside a sectioning point, he said. That's where PUMA (a German-language acronym, according to Sosa) comes into play.
PUMA involves the shop submitting photos, measurements and information about an unusual piece of damage to the OEM. The system is available to all shops — not just the independents who've taken BMW training or BMW dealers with collision operations — but they have to submit the inquiries through a dealer, Sosa said.
A popular topic is floor damage, he said — "there's always a situation" where something tears the floor, and BMW doesn't have a repair procedure, according to Sosa. It seems like a total, but at the same time, the damage doesn't look that bad, he said.
Body engineers in Germany will examine the shop's inquiry and provide repair procedures specific to that VIN and damage, Sosa said. (Assuming the vehicle can be repaired.)
BMW sends the instructions back with the expectation the repairer has the training to know how to execute them properly, Sosa said. The VIN-specific procedures follow the car, and if someone notices the repair later, they can confirm with BMW that the repair had been approved by the manufacturer, he said.
Sosa said the time difference can mean some inquiries are addressed as quickly as overnight (it's the workday in Germany while it's the middle of the night here), while other cases can take a few more days, even up to two weeks. The engineers might need to consult CAD files or run crash test simulations, according to Sosa. BMW has been known to help carless customers during this process, he said.
That's a great resource for a shop, and according to Sosa, it's not the only support BMW has given with regards to repairs.
BMW also has looked closely at repair/replace guidance, according to Sosa, who noted that more expensive repair bills mean BMW owners must pay more in insurance. It doesn't make sense to have a car sit, tied up waiting for parts, if it could be repaired, he also noted.
The automaker has invested in more tools and equipment to support panel repairs, including heavy investment in paintless dent repair training. He gave the example of BMW approving a BETAG tool which allows a quarter panel repair despite the lack of backside access.
"We're definitely doing our part," Sosa said.
Sosa said this has been a shift for the company and drawn questions from BMW collision managers: "'We're not replacing these things anymore?'"
BMW understands that sometimes vehicles aren't engineered with regards to collision repair, and it will listen to feedback on repairability, Sosa said. For example, if there's a complaint about radar sensors on bumpers, perhaps the sensors are moved to the molding.
"For us, feedback is important," he said. (Sosa did note that North America requires more dialogue and BMW interpretation regarding repair procedures. Other countries just do what BMW says, according to Sosa.)
More information:
Featured image: Right, BMW paint and body technical specialist David Sosa speaks Feb. 14, 2019, to the International Bodyshop Industry Symposium while Pride Collision Centers President Randy Stabler listens. (John Huetter/Repairer Driven News)
Share This: