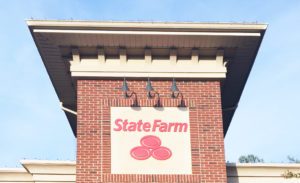 Late last year, we reported how a new version of State Farm's labor rate survey asked collision repairers to input a single labor rate for "all material types i.e. steel, aluminum, fiberglass, etc." instead of an unspecified body rate.
That tip came from a source in California. However, sources in two Midwestern states recently reported the new language does not exist in their surveys, while a California source recently confirmed still seeing a request to input "Body Repair: (includes all material types i.e. steel, aluminum, fiberglass, etc.)," instead of filling in a field one of the Midwest sources said simply asked for "Body Repair."
So one wonders if the different language might be a response to 2017 regulations regarding insurer labor rate surveys in California. The new rules — approved in 2016 and effective in 2017 — don't require insurers to complete labor rate surveys at all, but provide direction for those who do.
A California source provided us with a 2017 letter from the nation's No. 1 auto insurer declaring it polled shops for "body, refinish and frame/unibody labor rates with the understanding these rates consider the repair of multiple material types (e.g.; plastic, aluminum, steel, high strength steel, etc.) commonly found in today's vehicles." But the actual survey question wording apparently wasn't revised to drive this point home until 2018, according to examples of the 2017 and 2018 surveys provided to Repairer Driven News.
"Specialty repair processes and techniques not common in the market may be considered at a higher rate on a case by case basis without regard to surveyed rates," State Farm wrote in the 2017 letter. It's unclear which states received that document besides California.
The CDI's suggested survey template and survey methodology defines a market area as a region extending a mile out from a six-shop cluster of survey respondents closest to or including the shop whose rates are being compared to the average (assuming the shop completed the survey).
An insurer who used that definition of a market could receive a "rebuttable presumption" they were acting in good faith on labor rates. However, carriers also can try another market definition and see how the CDI felt. In fact, the agency has approved other geographic areas, according to an April 2018 analysis for the California Assembly Insurance Committee by Mark Rakich.
"It bears noting, however, that in the past year DOI has, in fact, accepted other methodologies," Rakich wrote. "… With respect to size of geographic areas, the 80 Assembly district option … compares favorably from a repair shop perspective to many of the surveys actually accepted by DOI, where the number of geographic areas used by insurers typically ranges from the high 20's to the high 30's."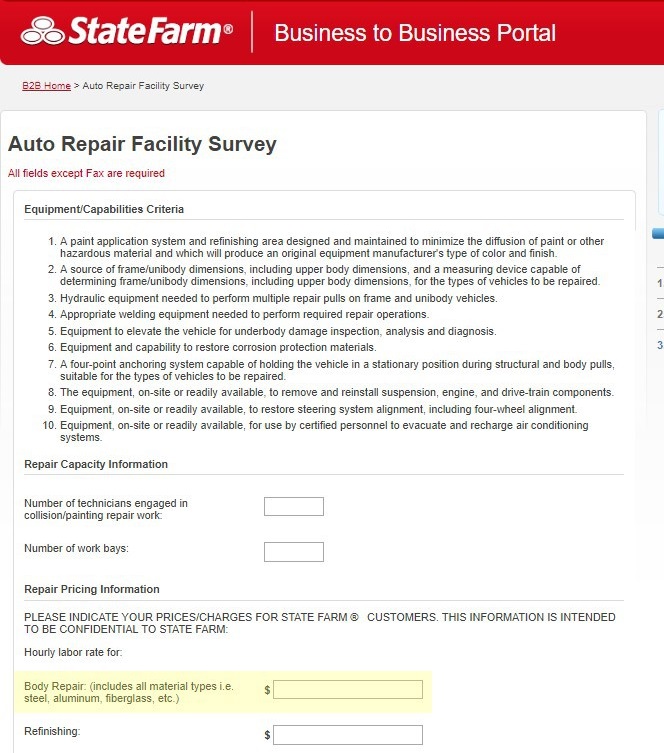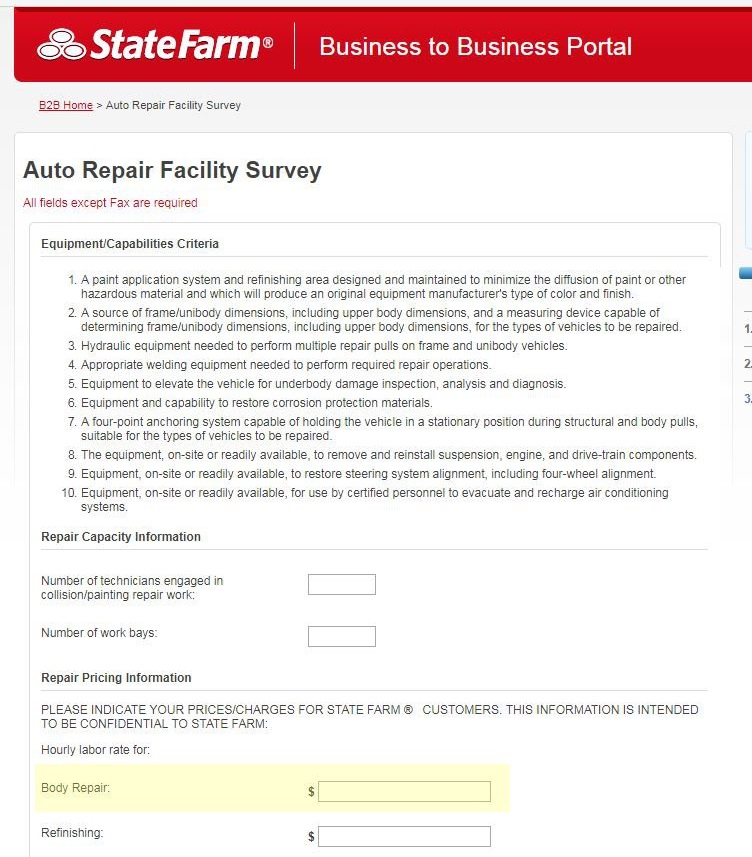 The suggested survey from the CDI asks shops about  "Aluminum," "Auto Body/Sheet Metal," "Carbon Fiber," "Fiberglass," "Frame," "Mechanical," "Refinish" and "Structural Labor" rates. Again, carriers aren't required to use the CDI's survey form or questions, but those who do will have a "rebuttable presumption" of good faith.
"The CDI has not and currently does not approve labor rate surveys," the CDI wrote. "Each labor rate survey is evaluated if a public complaint is filed that alleges an insurer has unfairly capped or limited a labor rate of the repair shop chosen by the claimant for a collision repair estimate. Unless the insurer conducted a Standardized Auto Body Labor Rate Survey pursuant to the 2017 regulations, there is no set geographic area, survey format, or specific method that is in itself acceptable. It depends on the totality of the survey, how each method impacts other methods, and whether the prevailing rate results in a fair and equitable settlement. For example, one insurer may use a certain geographic area, but other components of the survey (i.e. sample size, use of discounted rates, old data, etc) may be flawed. Another survey may have reasonable methods for the other components of the survey, but may have a flawed or biased geographic area."

So State Farm can certainly try and use the survey data it collects using the language reported to us. However, the CDI clearly and publicly throughout 2016 opposed the idea of lumping all materials together.
"Aluminum repair labor accounts for the repair of vehicles that are composed of aluminum," the agency wrote in March 2016 regarding an initial version of the regulation. "Specifying this type of labor rate is reasonably necessary to account for this type or repair which is distinct from the other types of labor rates."
In October 2016 — after having since expanded its proposed survey to even more substrates — the CDI even tied specialty materials to the concept of geography.
"The Department disagrees that a remote shop with the five closest shops would lead to illogical survey results," the CDI wrote in its response to Insurance Industry Coalition comments. "If a shop offers a special aluminum repair in Barstow, a consumer will consider the closest shops to that shop that offers the same type of repair. It would not be illogical for that person to consider driving to another shop that is further away in their consideration of the market area for a specialty repair rate."
The CDI also supported different rates for different materials in a response to comments from Karen Chadd, office manager of Phil's Auto Body.
"It must take into account the special equipment and training for Frame repair, Mechanical repair, and Aluminum repair, for which many do not currently pay a different hourly rate," Chadd wrote.
"The proposed regulations addresses this issue by including opportunities to survey different rates for a variety of specialty repairs, such as different metals," the CDI replied.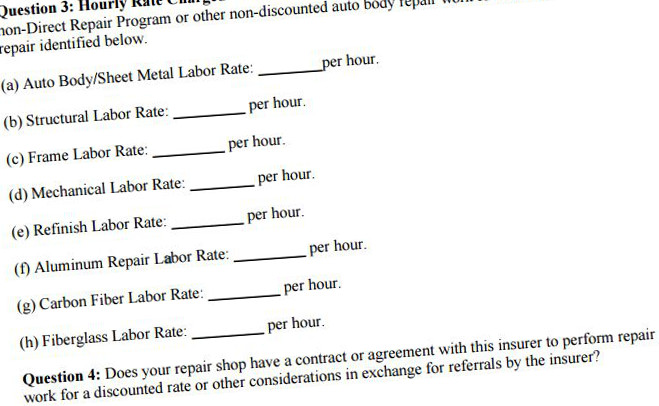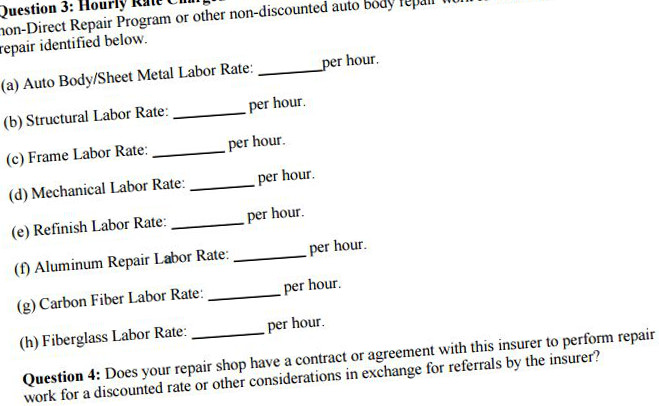 Finally, the CDI said that material rates were a fairer way to do the survey than "subjective" OEM-specific rates. It was responding to National AutoBody Research CEO Sam Valenzuela, who had argued a shop certified by Mercedes for structural aluminum shouldn't be compared to just any other shop.
"The proposed standardized labor rate survey methodology does take into account different labor rates for work done on different, objectively identifiable materials," the CDI replied. "The commenter's example regarding certification from a specific automobile manufacturer is in regards to an obviously subjective placement of value on a name brand. The commenter's comments clearly indicate that ultimately the only objectively identifiable difference in the work conjectured upon is a different metal; this type of work on an objectively identifiable different metal is allowed for in the proposed methodology."
CDI hasn't yet responded to inquiries last week asking for confirmation that a survey soliciting a single uniform rate, regardless of metal, would be unacceptable.
We asked State Farm if the language was used in different states and the rationale for changing it. We also asked them about the suitability of using it in California if the change was done in response to the CDI's new regulation.
We also asked for response to the notion that asking for a uniform labor rate covering all substrates would at best imprecisely deflate or even inflate the body rate and at worst be bad faith given both State Farm's knowledge of the market and the CDI's guidance on a separate aluminum rate.
"Any shops with questions should reach out to their regular State Farm contacts for assistance," State Farm corporate spokesman Chris Pilcic wrote in an email. "We have nothing further to share with RDN."
The October 2016 "Who Pays for What?" survey by CRASH Network and Collision Advice found a few hundred uncertified shops reporting insurers — including State Farm — agreeing to pay them more to repair nonstructural aluminum then steel.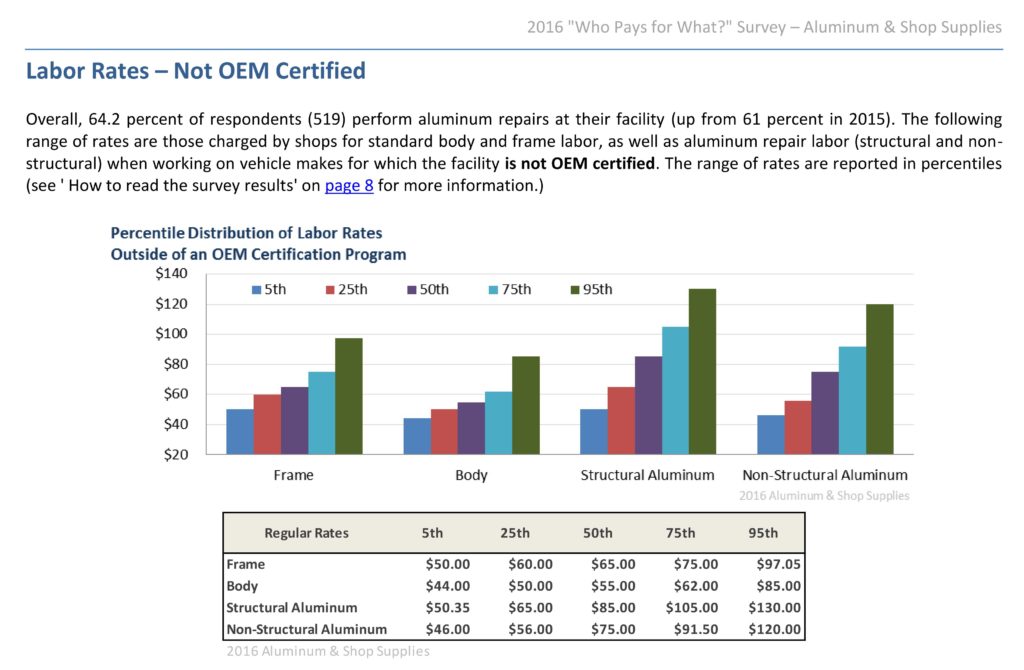 Images:
A State Farm agency is seen in Birmingham, Ala., Jan. 23, 2018. (TennesseePhotographer/iStock)
A new version of State Farm's labor rate survey asks collision repairers to input a single auto body labor rate for "all material types i.e. steel, aluminum, fiberglass, etc.," according to a screenshot provided to Repairer Driven News. Highlighting by Repairer Driven News. (Screenshot from b2b.statefarm.com provided to Repairer Driven News)
A new version of State Farm's labor rate survey asks collision repairers to input a single auto body labor rate for "all material types i.e. steel, aluminum, fiberglass, etc.," according to a screenshot provided to Repairer Driven News. The old version of the site, according to an Oct. 7, 2018, Google Cache file, is shown here. Highlighting by Repairer Driven News. (Screenshot of Oct. 7, 2018, Google Cache version of b2b.statefarm.com)
A California Department of Insurance sample version of a collision repair labor rate survey. (Provided by California Department of Insurance)
The October 2016 "Who Pays for What?" survey by CRASH Network and Collision Advice found a few hundred shops reporting insurers agreeing to pay them more to repair nonstructural aluminum then steel. (Provided by Collision Advice and CRASH Network)
Share This: