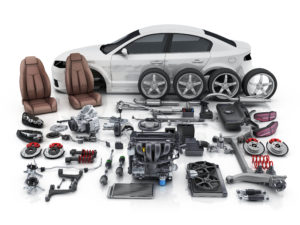 The Bureau of Automotive Repair last month confirmed that the term "OEM crash part" as defined in California Code didn't address "newness, packaging, seller, or warranty," only the part's creator.
The BAR recently rewrote its regulations to clarify that parts could only be classified as new, used, rebuilt or reconditioned and crash parts must also be characterized as OEM or aftermarket. BAR had already held this position, but vague, non-BAR-approved terms like "LKQ" and "Alt-OE" kept appearing in estimates anyway.

The new California Code of Regulations Title 16, Section 3353 states:
(a) Estimate for Parts and Labor. Every automotive repair dealer shall give to each customer an estimate containing the estimated price for parts and labor for a specific job prior to obtaining authorization. Each part listed in the estimate shall be new unless specifically identified as a used, rebuilt or reconditioned part.
(b) Estimate for Auto Body or Collision Repairs. Every automotive repair dealer, when doing auto body or collision repairs, shall give to each customer an itemized estimate containing the estimated price for parts and labor for a specific job. Parts and labor shall be described separately and each part shall be listed in the estimate. Each part listed in the estimate shall be new, unless specifically identified as a used, rebuilt, or reconditioned part. Each new replacement crash part listed in the estimate shall be an original equipment manufacturer (OEM) part unless specifically identified as a non-OEM aftermarket crash part.
Earlier in the code, 16 CCR 3303 defines "OEM" and "non-OEM" in language left unchanged by the BAR (aside from new letters denoting the subsections):
(o) "Crash part" means a replacement for any of the non-mechanical sheet metal or plastic parts which generally constitute the exterior of a motor vehicle, including inner and outer panels.
(p) "Original Equipment Manufacturer crash part" or "OEM crash part" means a crash part made for or by the original vehicle manufacturer that manufactured, fabricated or supplied a vehicle or a component part.
(q) "Non-Original Equipment Manufacturer aftermarket crash part" or "non-OEM aftermarket crash part" means aftermarket crash parts not made for or by the manufacturer of the motor vehicle.
The California Department of Insurance also agreed last fall that terms like "Opt-OE" couldn't appear on insurer estimates either, since insurers are bound to the same estimating rules as shops.
California's actions appears to have nudged the market to finally move away from confusing terms like "Opt-OE." However, it has raised questions about which category to place new parts sold outside of the official automaker-dealership-shop chain.
Platinum Auto Trends, a third-party importer of OEM parts, had asked the BAR on Dec. 11, 2018, to further explain what the state considered an OEM crash part, according to a Jan. 31, 2019, response by BAR Chief Patrick Dorias.
"Your letter states that there is confusion regarding Original Equipment Manufacturer (OEM) crash parts," Dorias wrote to Platinum President Martin Kim.
Platinum has said it sells new OEM parts in the original packaging but carrying its own warranties instead of an automaker's.
Dorias' reply indicated that 16 CCR 3303(p) didn't exclude Platinum Auto Trends' parts from being classified as OEM in California.
"The definition does not include the part's newness, packaging, seller, or warranty," Dorias wrote. "The definition only includes whether it is made for or by the original manufacturer. Therefore, regardless of whether it is sold by a third-party vendor, or in new packaging, or has its own warranty, if the part is made for or by the original vehicle manufacturer pursuant to § 3303(p), then it would be an OEM crash part."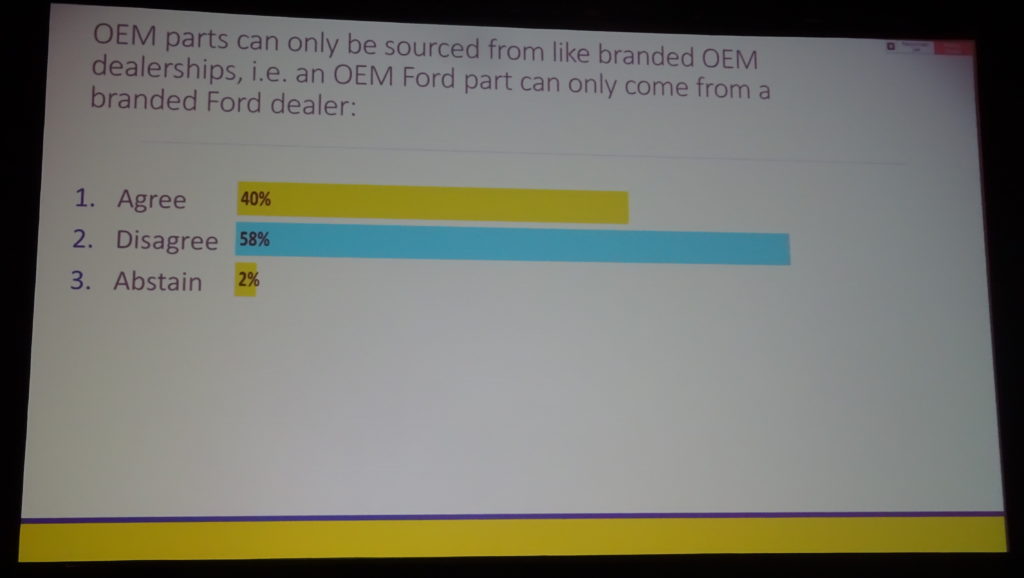 This would put California at odds with how at least one automaker defines new OEM parts. Hyundai has argued in an ongoing lawsuit against importer Direct Technologies International that anything sold outside of the official authorized OEM-dealer chain isn't a "Genuine Hyundai Part" and shouldn't be represented as such — even if Hyundai made the part. (DTI has countersued the OEM, and both parties deny any wrongdoing.)
Dorias on Jan. 31 also noted that the agency couldn't regulate what parts vendors did, merely auto repairers.
"The Bureau regulates automotive repair dealers and does not have jurisdiction over vendors of automotive part," he wrote. "The Bureau does not have regulations addressing crash part warranties, including those offered by third-party vendors."
BAR has in the past noted, however, that while warranties aren't mentioned in the relevant California regulations, consumers probably think an OEM warranty exists.
"Our current regulations do not address the warranty or lack of warranty of a part," BAR Southern California program manager II Jaime Ramos wrote in an October 2018 email. "We can only make a statement that a normal consumer would be under the assumption that a new OEM part would come with a warranty from the vehicle manufacturer."
Discounted parts
The question of parts classification also recently drew input from Collision Advice CEO Mike Anderson.
In a Feb. 11 Autobody News column, he called for recognizing OEM parts price-matched by a repairer with a distinct code in estimating and shop management systems.
"If you price-match a part, you use that new code so your management and accounting systems recognize the sale and cost as an OEM part," Anderson wrote in Autobody News. "You get accurate financial statements without skewing your OEM or alternative parts usage numbers with either an insurer or an automaker."
Calling the part something other than OEM in a customer-facing document was inaccurate, and the term "Opt-OE" had "become so convoluted and misused as a parts type category" that it shouldn't be used, Anderson wrote in Autobody News.
Besides, as the Bureau of Automotive Repair has observed, if shops don't know what Opt-OE means, how could a customer comprehend it?
Coding an OEM part discounted by a shop to an aftermarket price as aftermarket will get a certified shop in hot water with an automaker, while calling it OEM trips an insurer direct repair program metric, Anderson argued last week in the Autobody News column. Artificially misclassifying parts in this manner also creates an "accounting nightmare" in which the business can't easily figure out its gross profit margins on various parts categories, he wrote in the magazine.
CCC also recently took a stand on the definition of a new OEM part with a discount, though its scenario involve a price cut from the manufacturer itself.
CCC quality repair and market development Vice President Dan Risley last fall urged the California Bureau of Automotive Repair to narrowly define "Opt-OE" as new OEM parts sold by an authorized dealership, warrantied by the manufacturer, and carrying an OEM's promotional price.
Risely said CCC desired the narrow definition so it could track promotional pricing for automakers.
The Collision Industry Electronic Commerce Association is examining a variety of codes collision repair-related software could use to sort different types of parts. A committee on part definitions is scheduled to meet today; sign up to participate here.
The neutral inter-industry body develops the standards that allow software developed separately and independently for different stakeholder industries to communicate information back and forth. Whatever CIECA works out could help provide the kind of back-end granular detail Anderson and CCC are describing while allowing customer-facing outputs to use laymen- and regulator-friendly terms.
For example, what Ramos suggested a customer thinks of as OEM parts — brand-new parts bearing the automaker's warranty — could be listed as new OEM on an estimate. Internally, the shop's software could distinguish which of those new OEM parts were sold at MSRP, discounted by the supplier or discounted by the automaker — three scenarios proposed to carry their own codes under a list being examined by the CIECA committee. Another CIECA code on the list described a scenario like Platinum Auto Trends and DTI's: A new OEM part warrantied by the supplier, not the manufacturer.
As of Feb. 1, CIECA's parts list didn't contain Anderson's proposed category of a new OEM part discounted by the shop itself.
More information:
Bureau of Automotive Repair letter to Platinum Auto Trends
BAR, Jan. 31, 2019
"From the Desk of Mike Anderson: It's Time to Create New Parts Code"
Mike Anderson in Autobody News, Feb. 11, 2019
CIECA parts committee Feb. 19, 2019, meeting signup
2019 Bureau of Automotive Repair "Write It Right"
Images:
An illustration of vehicle parts. (vladru/iStock)
An informal Collision Industry Conference poll of more than 100 collision industry players revealed significant disparities in how the audience defined seemingly basic concepts like "OEM part." (Collision Industry Conference slide; photo by John Huetter/Repairer Driven News)

Share This: