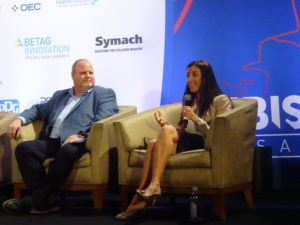 A Caliber Collision executive last month reported seeing more women entering the collision industry, a hopeful sign in a sector that is desperately hurting for talent but tends to attract candidates from only half the workforce.
Caliber talent development Senior Vice President Ty Gammill said during a skills and diversity panel at the International Bodyshop Industry Symposium that many women entered Caliber in administration or office manager roles — but then rose to management or vice president positions, where they "excel."
Asked about the percentage of employees who were female and not in customer service, Gammill estimated that about half the Caliber center managers in the San Diego area — IBIS' venue — were female.
Gammill said he thought that was "pretty regular" in the organization, and Caliber CEO Steve Grimshaw in a separate session that day estimated his company as a whole was almost a third female. (It was unclear if the estimates came from the pre-merger or post-merger Caliber.) Women were "absolutely kicking butt and taking names" in the company, Grimshaw said.
"Fifty percent sounds amazing," said Carl Brabander, Fix Network World global franchise department head, who appeared on a talent panel alongside Gammill. He estimated ownership and management was probably 15-30 percent to his company, with techs "slightly less."
Though a couple of "standout shops" in Canada were entirely female-staffed and -owned, "I don't think we're there yet," he said.
Most of Caliber's women didn't come up on the body shop side, which means they need to support themselves with good teams, according to Grimshaw. But the women do remarkably well in directing employees and fostering the desired behavior, he said.
Caliber annually bestows a CEC award to the top 75 staff out of its 20,000 employees — the "best of the best," according to Grimshaw. It's not unusual for half of them to be women, he said.
Gammill noted that he had recently attended one of Caliber's classes for service advisers. The five women excelled and dominated it — to the frustration of the men, he said.
"It was amazing to watch," he said. He said empathy was such a big part of the collision business, and it was a "natural function" women brought.
He said Caliber has developed a women's leadership group as well.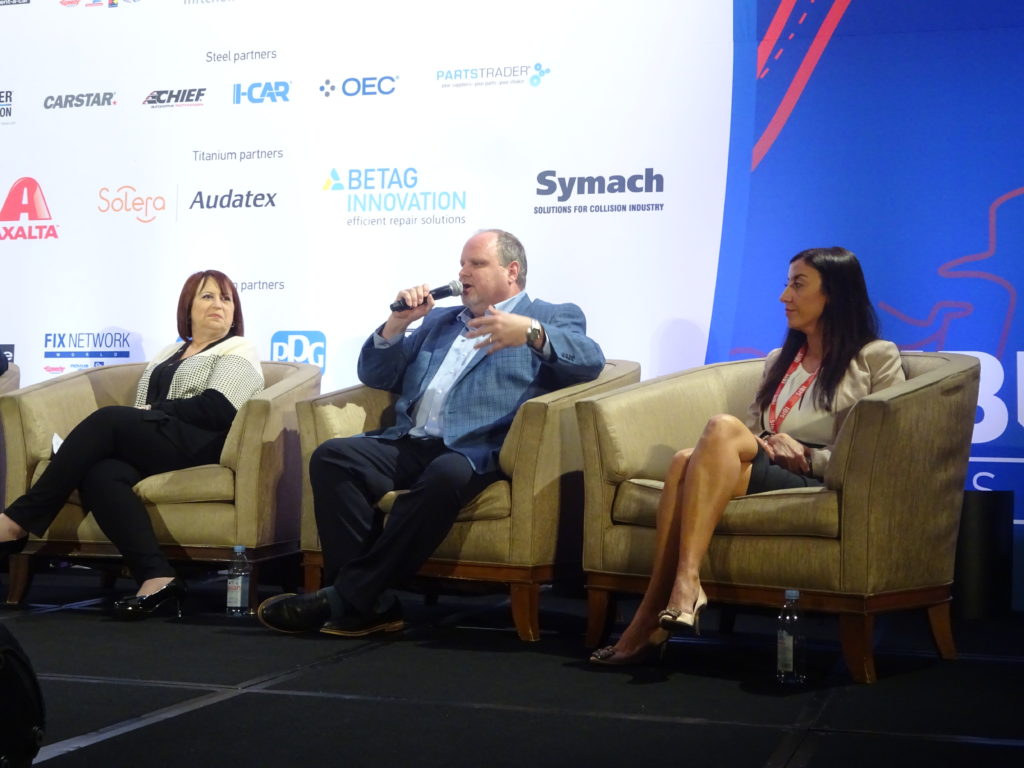 Not there yet
However, as Brabander's estimates and Bureau of Labor Statistics suggest, the industry's not at the point of complete gender diversity. That means it's not fully tapping a population which could help meet a critical labor shortage.
Nationally, the "Automotive body and related repairers" occupation tracked by the BLS posted a merely 1.8 percent female workforce in 2018. "First-line" supervisors of all repair, maintenance and installation industries — which includes the automotive repair sectors — were 6.1 percent female, according to the BLS.
However, it's unclear if the "body and related repairers" captures all remaining potential roles in the industry (estimators, painters, vice presidents, etc.) or just body technicians.
Part of the problem towards bringing women to the industry might be merely a lack of knowledge, according to Stacy Bartnik, industry relations manager for Intertek and a panelist alongside Gammill. She noted Collision Repair Education Foundation scholarship and grant applications in 2016 and 2017 stayed flat at only 13 percent female, and in 2018, that number fell to 8 percent.
Bartnik said this could be attributed to both that "females are not exposed to this industry" and those that do "get a lot of pushback from it." But there's a real benefit hiring women, she said: Women tend to work harder because they "have to succeed," and they bring a different perspective.
Bartnik said the industry had come "a long way" on this during the 40 years she'd worked in the sector but was "nowhere near where it needs to be to get the diversity."
"It is a boys club to some extent," said Bartnik, who was the first female chair of CREF and the second female chair of the Collision Industry Conference. When she worked at CARSTAR five years ago, she was the only female on the executive team, she said.
Fix Auto Moreno Valley and Fix Auto Brea owner Selvi Rizk, another panelist, said when she tells people she owns a body shop, "they're like, 'The lotion place?'"
People don't expect women in the industry, she said, and the perception that one in that sector was odd had to be changed.
Rizk felt this in part stemmed from a lack of promotion. Collision repair had typically been a "family business," where people entered the space because of time spent working on the car with a father or because of a relative in the sector, she said.
Grimshaw made a similar point, stating one of the reasons the industry was so male-dominated was the "old thought process" that one must grow up in a body shop to run one.
"Nothing could be further from the truth," he said, pointing out that he wasn't able to fix a panel. Get a good leader and surround them with the right people, he said.
Rizk also mentioned a statistic noting that women will apply for a job if they meet 100 percent of the listed qualifications, while men will try for it at 60 percent. She said women might overcompensate, and they might be more risk-averse than men and want to be confident they know everything.
Boys club
Still, as Bartnik pointed out, sometimes people in the industry can still be unwelcoming.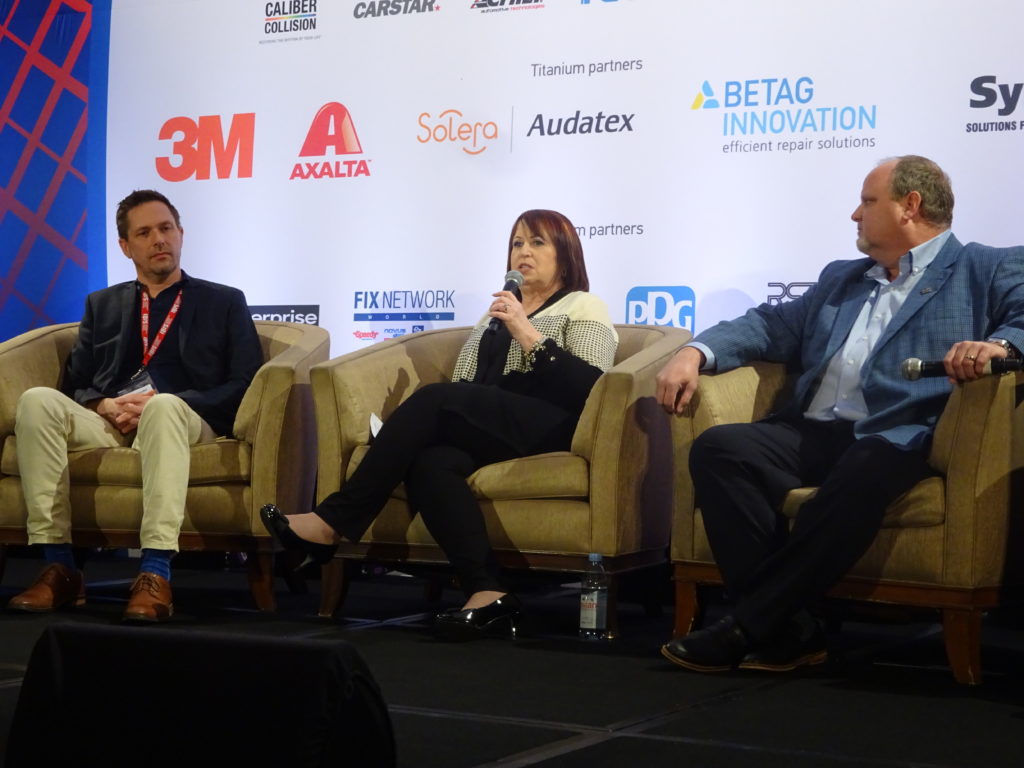 As a female shop owner in her 20s — who looked 16, she joked — Rizk said she had a "struggle" — she had to work harder and assert herself more "to get things done."
Rizk recalled often a lack of eye contact at events because of the misperception she's someone's "plus-one." Bartnik recalled being completely ignored at at a networking event during that IBIS by a man who joined the conversation she was having with two other men.
Rizk also told what should be a cautionary tale for all vendors: She and her shop manager were meeting with a vendor to demo a scan tool. Despite Rizk being introduced as the owner, the vendor must have glossed over it and kept making eye contact with the manager, she said.
Rizk asked a question, and the vendor still responded to the shop manager.
The vendor then asked if they wanted to buy or demo the tool, and the manager pointed to Rizk and said, "'Talk to her. She's the boss.'"
"'I know how that goes,'" the vendor said. "'My wife is the boss at home too."
Correction: An earlier version of this story misidentified a prior employer of Stacy Bartnik, Intertek transportation technology industry relations manager. Bartnik worked for CARSTAR during the anecdote she recounted. The article has since been updated to correct this.
Images:
Caliber Collision talent development Senior Vice President Ty Gammill left, listens Feb. 19, 2019, to Fix Auto Moreno Valley and Fix Auto Brea owner Selvi Rizk at IBIS 2019. (John Huetter/Repairer Driven News)
Stacy Bartnik, Intertek transportation technology industry relations manager, center, speaks during an IBIS 2019 panel on body shop skills and diversity. At left is Carl Brabander, Fix Network World global franchise development head. Caliber Collision talent development Senior Vice President Ty Gammill is at right. (John Huetter/Repairer Driven News)
Center, Caliber Collision talent development Senior Vice President Ty Gammill speaks at IBIS 2019 on Feb. 15, 2019. Stacy Bartnik, Intertek transportation technology industry relations manager,is at left, and Fix Auto Moreno Valley and Fix Auto Brea owner Selvi Rizk is at right. (John Huetter/Repairer Driven News)
Share This: