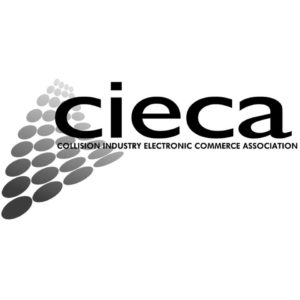 The Collision Industry Electronic Commerce Association will celebrate its 25th birthday with a contest giving repairers, insurers and others the opportunity to design the important national industry organization's next logo.
CIECA will receive all rights to the new design, but the winning artist will win a $500 Amazon gift card and have bragging rights to a logo that will be seen by multiple industries for potentially another 25 years.
"Today, CIECA has a bold new agenda similar to the one the original founders had over 25 years ago when CIECA was established in 1994," CIECA Executive Director Fred Iantorno said in a statement Thursday. "As our industry faces new challenges, once again CIECA is developing new solutions. CIECA's agenda focuses on innovation and workforce trends, and we want to revitalize the CIECA logo to reflect these changes."
Anyone "at least 18 years old and employed in the collision repair and property restoration industries" in the U.S. or Canada is eligible for the competition. Second place wins a $100 gift card, and third place wins $50. Entries are due June 30, 2019. See the full rules here.
You might not be familiar with CIECA, whose current logo appears above, but your shop probably uses daily a product it helped make more convenient. The neutral national organization sets the standards allowing pieces of collision repair, insurance and vendor software to communicate with each other on the back end. It's kind of like how the W3 consortium establishes the rules for HTML that the world can run with to create zillions of unique websites. Learn more here.
In CIECA's own words:
CIECA develops electronic standards, codes and standard messages and provides implementation guides to make the industry more efficient. All standards are developed by members. CIECA membership is open to the collision repair and property restoration industries, and related segments: repairers, insurers, OEMs, parts and material suppliers, information and software providers, car rental companies, towing companies, salvage and recycled parts providers, auto glass replacement facilities, subrogation providers, general service providers and property restoration providers. CIECA's goals are to deliver benefits to all participants through reduced development and support costs, lower cost of implementation, reduced barrier to entry and faster development times.
CIECA also hosts educational "CIECAst" informational webinars on industry issues that you don't need to be a computer programmer to enjoy. Here's the first two for 2019; the next one features Verisk discussing auto claim telematics and is scheduled for March 19.
More information:
"Industry-Wide New Logo Contest Announced"
Collision Industry Electronic Commerce Association, March 14, 2019

Featured image: The Collision Industry Electronic Commerce Association's logo. The organization is offering a $500 Amazon prize to the winning designer in a contest to create the next version of the logo. (Provided by CIECA)
Share This: