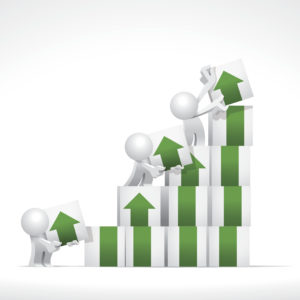 The National Association of Insurance Commissioners' release of 2018 private passenger auto market share data sees the Top 10 insurers stable in terms of rankings but GEICO and Progressive continuing to gobble up share.
The annual data, which captures about 98.77 percent of the industry, reveals the auto insurance industry also paid out less out of every premium dollar on actual losses as well as losses plus defense and cost containment efforts last year. This doesn't include other overhead such as staff adjusters or advertising.
On the whole, insurers only paid out 64.4 cents of every premium dollar on the actual losses (repair bills, total costs) in 2018 — down from 68.71 in 2017 — and 66.95 cents on losses, defense and cost containment, down from 71.19 (a category that used to be called Allocated Loss Adjustment Expenses.) That leaves around a third of the bill for companies to spend on other items besides just reimbursing policyholders for the costs of restoring or replacing their vehicles.
No company reported paying out more than it took in for either of these categories. In 2017, AAA affiliate Automobile Club of Michigan had exceeded a ratio of 100, which means they were potentially losing money on every premium they bring in. (However, an insurer with expense ratios over 100 might still come out ahead or break even thanks to their ability to invest "float" — premiums just sitting around until someone gets in a crash and needs to be reimbursed.)
"Personal auto results were helped in large part by a slowdown in claim frequency across collision, property damage liability and comprehensive," CCC wrote in its 2019 "Crash Course" earlier this month, citing ISS Fast Track Plus data. "Auto claim frequency has trended down for many decades, but recently rose with the recovery after the Great Recession. In 2017 and 2018, it began to fall again.
"According to the ISS Fast Track Plus™ reports, private passenger auto collision frequency closed out CY 2017 down flat versus CY 2016, and the four quarters ending Q3 2018 show collision frequency down another 1.3 percent. Private passenger auto property damage liability frequency also declined 1.7 percent in CY 2017 from CY 2016, and the four quarters ending Q3 2018 show liability frequency down another 3.9 percent."
State Farm remained No. 1 at 17.05 percent of the U.S. and Canadian market, down more than a percentage point despite price cuts in many states last year. No. 2 GEICO grew 0.61 points to 13.44 percent, and No. 3 Progressive rose more than a percentage point to 10.99 percent of the market. Allstate leveled off at 9.21 percent after tumbling to No. 4 last year. No. 5 USAA grew 0.18 points to 5.88 percent of the market.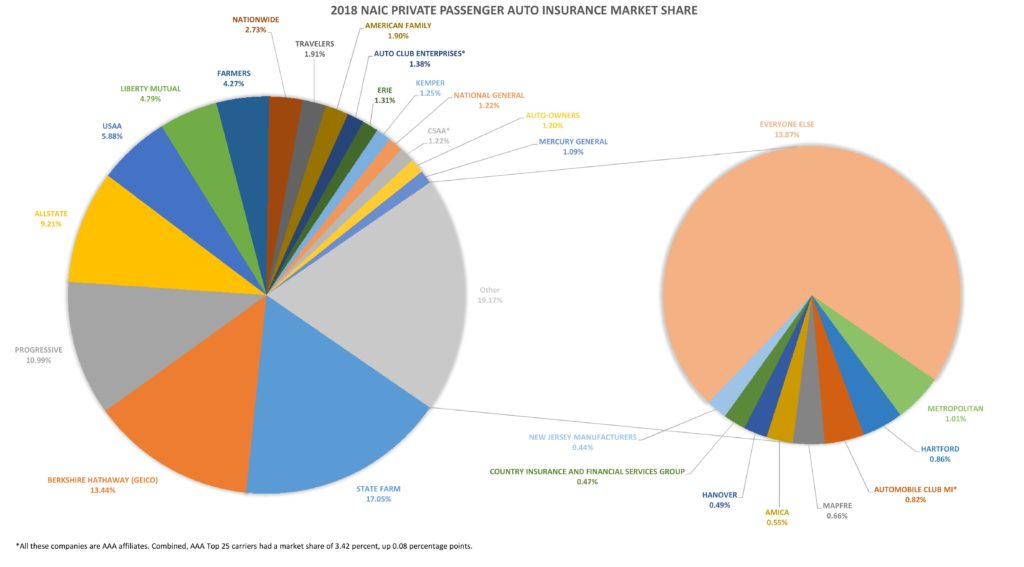 However, Allstate also was the most profitable by far of the Top 5 carriers, paying out less than 60 cents on the dollar in the categories mentioned above — including just 56.38 on the actual direct losses. GEICO, meanwhile, paid out 70.65 cents on the premium dollar in direct losses, and USAA's ratio was even higher, at 77.49 cents.
AmTrust, which had been No. 13 in 2017, disappeared from the rankings altogether and National General popped up suddenly at No. 14.
AmTrust appears to have exited the private passenger auto business altogether, and it sold its personal lines management system to National General for $200 million in fall 2017. However, National General said Wednesday it hadn't bought any policy books themselves from AmTrust. The carrier didn't elaborate beyond that on its sudden appearance on the Top 20.
Another big ranking gainer was Kemper, which blew up from No. 21 to No. 13 with a 0.64-point increase to 1.25 percent of the market. Nationwide was a notable share loser, dropping 0.45 points to 2.73 percent but remaining No. 8. Liberty Mutual and Farmers also dropped more than 0.2 points but stayed Nos. 6 and 7, respectively.
The three AAA affiliates Auto Club Enterprises, CSAA and Auto Club of Michigan are technically separate companies and take up three of the Top 25 spots. However, were they a single company, they'd be No. 8, displacing Nationwide with a combined share of 3.42 percent (up 0.8).
From a shop perspective, the market share data provides a few resources.
One is a means of educating customers about the idea that their insurer might be making money off of premiums prior to reinvesting the "float" — and therefore have no grounds to seek to capture more profit by arbitrarily denying estimate line items.
Direct repair program shops and shops considering joining a DRP also benefit from the perspective on how much work might be coming or not coming in 2018 from a particular carrier.
Finally, the standings also offer an industrywide perspective on which insurers a shop is likely to see more or less of in 2018 — and perhaps how worried they might be about losing customers.
"NAIC Releases 2018 Market Share Data"
National Association of Insurance Commissioners, March 4, 2019
NAIC 2018 property and casualty insurance market share data
National Association of Insurance Commissioners, March 25, 2019
Images:
An illustration of market share. (vuifah/iStock)
The National Association of Insurance Commissioners' release of 2018 private passenger auto market share data sees the Top 10 insurers stable in terms of rankings but GEICO and Progressive continuing to gobble up share. (John Huetter/Repairer Driven News, using NAIC data)

Share This: