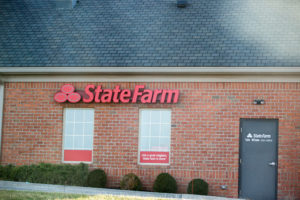 Communications with shops shared with Repairer Driven News show repeated denials of scanning by State Farm, more than three years after insurers and collision repairers woke up to the need for the procedures.
The accounts from Idaho and what appear to be two other separate states suggest the issue might go beyond a couple of rogue adjusters in a single market. They follow a customer's report of State Farm's repeated refusals — though it has since relented — to pay for post-repair scans on a 2017 Honda Civic in Ohio.
The reports come following premium cuts in numerous states by State Farm, raising the question of if the carrier is attempting to offset the decreased revenue with denials on the claims side — regardless of what OEM procedures dictate or what at least one State Farm executive has learned from automakers.
For example, State Farm in April said it cut personal auto rates in Ohio by 2.9 percent, making $34.9 million less in premiums. The same month, it said it would cut Idaho rates an unspecified percentage for a combined $3.7 million reduction in revenue.
Asked about these reports and whether they are meant to alleviate the financial burden of the premium cuts, State Farm spokeswoman Anna Bryant wrote in an email, "State Farm has nothing to share with Repairer Driven News."
State Farm's rationale for the denials and its understanding of scans appear to be all over the board. In one email this year, a total loss claims associate acknowledges OEM repair procedures but disregards them.
Regarding pre-scans on vehicles, this is the position of State Farm Estimatics (the same team that review teardown requests): State Farm does not owe for pre or post scan. While it is recognized that most vehicle manufacturers mandate this operation: it is State Farm's position that this is a diagnostics procedure: and not within State Farm's obligation to pay. Though State Farm will not cover this charge: it does not prevent a repair facility from performing this service.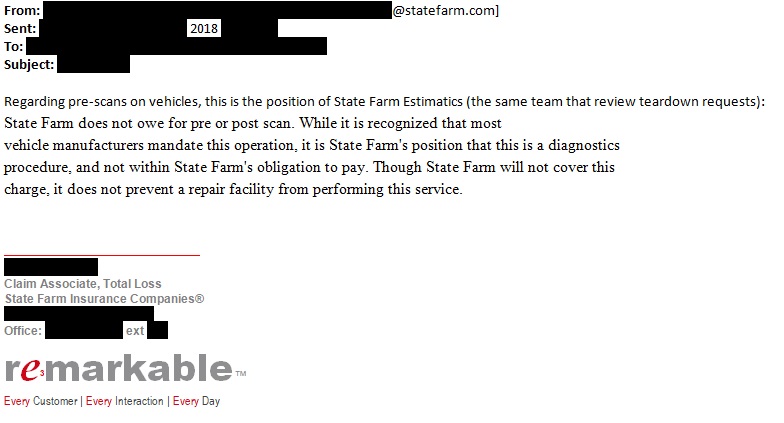 In a letter to a shop, the carrier insists that it — not the vehicle owner — must give a shop permission to perform work. It also claims that a scan is only required if "electric damage" is found during the repair.
This email is in response to your request for payment to pre and post scan of the vehicle owned by above named mentioned and insured by State Farm insurance Companies. The scans were done without permission from State Farm Insurance Companies and are normally required when there is electrical damage found while vehicle is being repaired.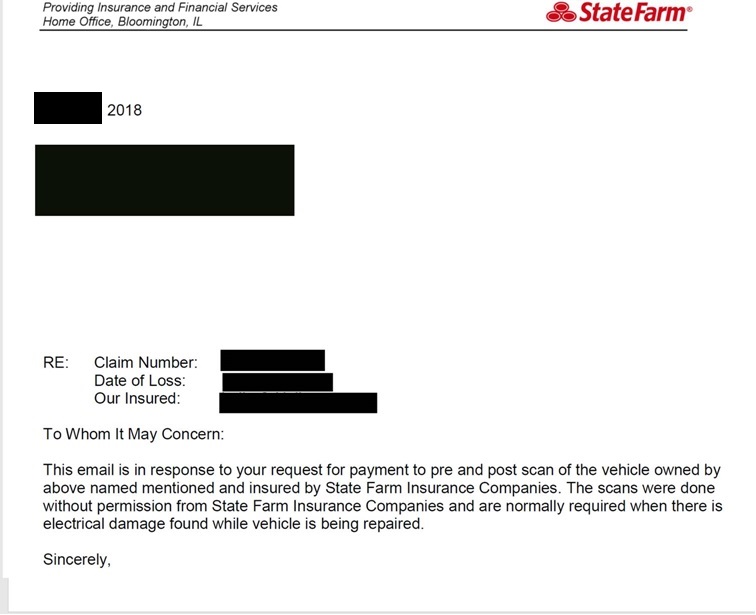 The source who sent these to us said they thought the documents represented two separate shops in two separate states but wasn't positive.
As far back as July 2016, just when the scanning issue was beginning to catch fire with the industry, State Farm was the insurer most likely to consistently pay diagnostic scans when asked, based upon a "Who Pays for What?" poll of hundreds of shops.
About 31.6 percent of the 587 shops which responded said State Farm "Always" paid scanning. Another 15.4 percent said it did "Most of the time."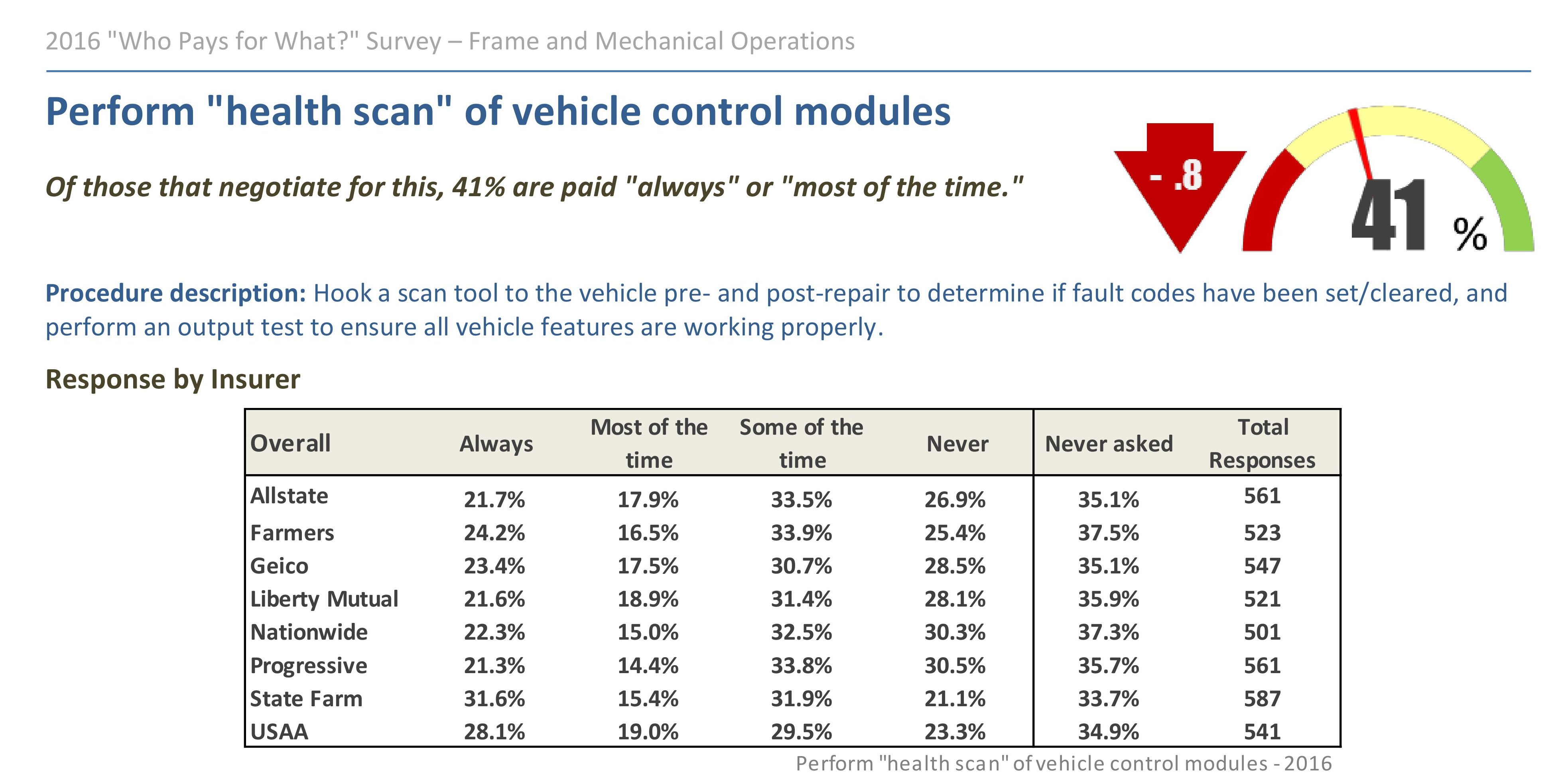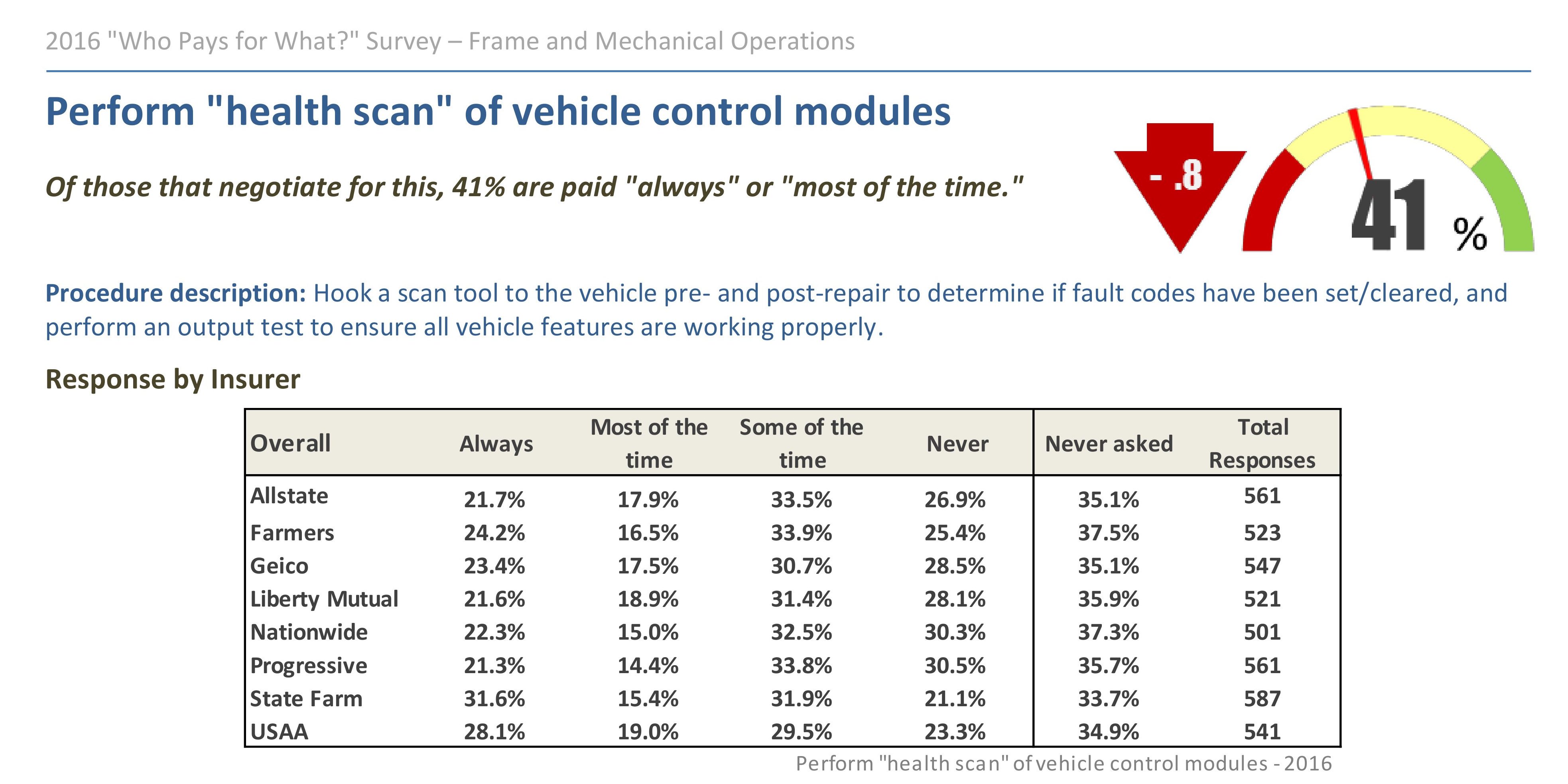 Rick Cope, owner of Idaho-based Cope Collision, recounted three other incidents with State Farm.
One involved a 2010 Honda CR-V with 5.5 hours of quarter panel repair, a bumper R&I and a right taillamp replaced with a used one. State Farm refused to cover neither the pre- and post-repair scanning nor the occupant detection system check, which ensures the passenger airbag works correctly. Both are typically required in collision repairs, according to a 2017 Honda position statement which states:
It is the position of American Honda that all vehicles** involved in a collision* must have the following minimum diagnostic scans, inspections, and/or calibrations done to avoid improper repair:
• A preliminary diagnostic scan during the repair estimation phase to determine what diagnostic trouble codes DTCs may be present, so proper repairs may be included. See Background on Scan Requirements for more information.
• A post repair diagnostic scan to confirm that no DTCs remain.
o Any repair that requires disconnection of electrical components in order to perform the repair will require a post-repair diagnostic scan to confirm if the component is reconnected properly and functioning.
o Damage that requires body parts replacement will always require a post-repair diagnostic scan. (Emphasis Honda's. Minor formatting edits.)
Honda defines a collision "as damage that exceeds minor outer panel cosmetic distortion." Its definition of "all vehicles" is " any model year Honda or Acura vehicle that is capable of being scanned," a population which includes "all 1996 to current model year vehicles" and some even older.
Asked about the "minor outer panel cosmetic distortion" threshold, Cope said the quarter panel took 5.5 hours to repair.
"That's a little more than minor," he said. He said he interpreted the threshold as more like a scratch or door ding.
---
Learn more about ADAS calibration during Repairer Driven Education
Seeking more insight on scanning and calibration? Learn more during the SEMA Show in Las Vegas with "Understanding Shop Liability in this new Era of Diagnostics, Calibrations and Programming" with Michael Quinn and Chuck Olsen of AirPro, Aaron Clark of Assured Performance, Scott Kaboos of Honda, Nick Notte of I-CAR, Jack Rozint of Mitchell and Todd Tracy of the Tracy Law Firm, and "The importance of ADAS system resets when performing wheel alignments during the collision repair process" with John Shewbridge of Hunter. The sessions are part of the Society of Collision Repair Specialists Repairer Driven Education Series Oct. 29-Nov. 2. Register here for individual RDE classes or the series pass package deal.


---
Honda also wrote in the position statement that an occupant detection system check "must be done after any collision, regardless of damage, even if no airbags deployed." (Emphasis Honda's.)
"The check confirms sensor operation and that no binding or damage exists in the relationship between the seat frame, weight sensors, and floor pan," Honda wrote.
Cope shared a phone message from a State Farm representative named Matt, who informed the shop that after reviewing the claim with the State Farm "estimatics team" and "management here, in our office," the carrier decided it wouldn't cover the scans.
"It is now determined that we are not in fact going to be covering that pre- and post-scan," he said. "Now, the reasoning behind that is the fact that a position statement that has been set forth by Honda does not necessarily dictate the validity of a pre- and post-scan to be done from an insurance standpoint. There are other intangibles that do go into that when we're looking at things like point of impact, severity of impact, things of that nature are not only in line with the reason that the pre- and post scan needed to be completed."
State Farm's position here appears to be that it knows more about collision repair than not only a body shop but also the company that built the car and developed the collision repair procedures.
Cope also said State Farm said it didn't think the ODS check wasn't a safety issue.
Another issue arose with a 2016 Subaru Outback, which State Farm denied scans on the grounds it lacked technology requiring the work. Cope Collision pointed out that the vehicle had the Subaru advanced driver assistance system suite EyeSight (which includes safety features like autobraking), according to Cope. Ultimately, it took an insurance agent getting involved before the carrier would cover the work, Cope said.
However, the carrier has since omitted the scans on documentation sent to the shop, and the shop has resent a supplement containing the work.
A 2017 Subaru position statement said the OEM recommends scans on every vehicle dating back to the 2004 model year. On Oct. 18, amid another Cope Collision dispute with the carrier over scanning a 2017 Outback, Subaru toughened that statement's language to "require" scans.
"For Subaru vehicles from model year 2004 and forward involved in a collision, Subaru collision repair procedure requires that pre-repair scanning be performed," Subaru wrote. "Pre-scanning will reveal DTCs for items that are not functioning properly in the vehicle. It allows a shop to identify any issues early in the estimate process, allowing a more complete estimate and encompassing repair process.
"Additionally, Subaru collision repair procedure also requires that post-repair scanning be performed on these vehicles. Post scanning is critical in ensuring the malfunctioning items have been repaired and there are no remaining DTCs. It may also assist in assuring the appropriate calibrations and reinitializations have been performed."
"Subaru decided to change the language on our scanning position statement because we wanted to reinforce our belief in the importance of evaluating a vehicle after a collision," Subaru national wholesale parts manager John Lancaster wrote in an email this week. "Not doing so can have a direct effect on how that vehicle operates putting the safety of the customer at risk. We received some feedback that our position was not totally clear, we wanted to change that."
Cope said the 2017 Outback lacked EyeSight but did include Vehicle Dynamic Control. VDC is Subaru's version of the electronic stability control required on all cars since 2012, technology the IIHS says "cuts in half the risk of a fatal single-vehicle crash."
After more discussion with State Farm, Cope Collision said the carrier has approved the shop moving forward on repairs, and the shop planned to check if that includes scanning, Cope said.
But shops and State Farm policyholders — who would have to go out-of-pocket unless the shop does pro bono scanning — might ultimately prevail in such disputes.
Gerald "Frankie" Spradlin, the consumer who saw State Farm deny a post-repair scan and occupant sensor work at Three-C Body Shop in Ohio on a 2017 Honda Civic, told us this week that the carrier has agreed to both procedures in the third-party claim. The payment came after he filed a complaint with the Ohio Department of Insurance.
Correction: An earlier version of this story incorrectly identified Cope Collision's location. The shop is based in Idaho. The article has since been corrected to reflect this.
Images:
A State Farm logo is shown March 3, 2018, in Pennsylvania. (helen89/iStock)
A source shared these 2018 communication between State Farm and shops regarding scanning. (Provided to Repairer Driven News; one redaction by RDN, others done prior to our receipt.)
Data from the July 2016 "Who Pays for What?" survey from Collision Advice and CRASH Network shows which insurers are reimbursing shops more consistently for scans. (Provided by Collision Advice and CRASH Network)
Share This: