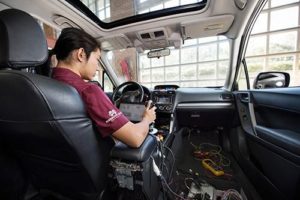 The Mississippi State University Center for Advanced Vehicular Systems on Tuesday, Oct. 30, will reveal its autonomous, electric and off-road-capable "Halo Project" vehicle to SEMA attendees at the Society of Collision Repair Specialists' booth.
The unveiling will occur at 10 a.m. in SCRS' No. 11173 booth.
The "Halo Project" vehicle has what SCRS called an "advanced electric powertrain" with an all-wheel drive. It is designed to drive off-road by itself and collect data while doing so.
The unveiling and research center's presence in the SCRS booth provides both a taste of the automotive future and insight into a collision repairer's role in that future.
"We believe the exploration of how advanced technology is applied, will also carry over to a better understanding of how repair specialists will interact with a future-state of the industry that has a greater prevalence of autonomous vehicles and how autonomous vehicles will present different challenges for collision repair professionals," CAVS associate director Matthew Doude said in a statement.
In addition to tapping CAVS' expertise on advanced vehicle brains, repairers will also appreciate the chance to explore the cutting edge of body construction with the CAVS team and "Halo Project" vehicle. CAVS' focus areas include topics like automotive metals and joining, and SCRS' news release indicates the "Halo Project" vehicle will show off this knowledge.
"The Halo Project is the combination of a variety of CAVS' capabilities, such as using in-house material inspection capabilities with C.T. X-ray scanning to ensure sound welds, materials research, and more," SCRS wrote.
"The Halo Project was designed as a concept vehicle to give us a platform to display a majority of the complex capabilities that CAVS houses, and allows an opportunity for those generally doing restricted research to highlight their work," Doude said in a statement. "The vehicle being revealed in the SCRS booth serves as a platform for our researchers to demonstrate their expertise on a real-world, high-performance vehicle, while exploring the future of automotive technology applications."
If you can't make it to the SCRS booth at 10 a.m., check out the reveal on the CAVS and SCRS Facebook pages and on Twitter with @CAVS_MSSTATE.
There's something coming to a university near you! What has MSU created this time? @msstateCAVSE #MSUHaloProject pic.twitter.com/qKfKCNu9af

— Mississippi State (@msstate) October 29, 2018
Also, don't miss the chance to see Doude again on Friday, Nov. 2, during SCRS' IDEAS Collide showcase, a collection of 10-minute, make-you-think presentations similar to TED Talks. He'll be examining how autonomous vehicles might reduce lower-speed crashes but continue to get into higher-speed collisions, prompting OEMs to alter vehicle crash protection from what repairers see today. Register online or on-site.
The IDEAS Collide Showcase,  Repairer Driven Education series classes and individual OEM Collision Repair Technology Summit sessions are $85. The best deal is the full-series pass for $400. It grants the repairer access to every RDE class, all three sessions of the Thursday, Nov. 1, OEM Collision Repair Technology Summit, the Sky Villa afterparty in Elvis' old Westgate penthouse that night, and IDEAS Collide.
More information:
"MSU's Center for Advanced Vehicular Research to Unveil 'Halo Project' Vehicle in SCRS Booth at SEMA"
Society of Collision Repair Specialists, Oct. 29, 2018
"CAVS Uses Supercomputing for 'Halo Project' Driverless Supercar"
Mississippi State University Center for Advanced Vehicular Research, Jan. 31, 2018
Featured image: Mississippi State University senior David Zhu was among those who worked on the MSU Center for Advanced Vehicular Research "Halo Project" vehicle, which will be revealed on Tuesday, Oct. 29, 2018, at SEMA. (Megan Bean/Provided by MSU)
Share This: