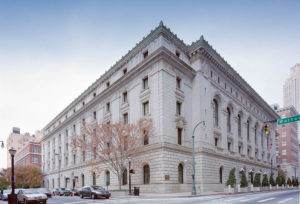 Collision repairers in four states and multiple major national carriers on Tuesday engaged in oral arguments before the Eleventh Circuit Court of Appeals, which had agreed to rehear the case as a full court following a 2-1 decision by a smaller panel.
The appellant shops in Missouri, New Jersey, Virginia and Kentucky were among the dozens of repairers nationwide who'd sued insurers in 2014-15 alleging steering and antitrust violations. Their five lawsuits and 17 others filed in a combined 19 states had been placed in the Middle District of Florida to avoid federal court repetition.
Middle District of Florida Judge Gregory Presnell issued a variety of rulings against the shops in the 22 lawsuits. Some cases were dismissed with prejudice, and some were dismissed but allowed to be amended and refiled.
The repairers in five of the cases — Campbell v. State Farm (Kentucky), Lee Pappas v. State Farm (Virginia), Quality Auto Painting v. State Farm and Ultimate v. State Farm (New Jersey) and Concord v. State Farm (Missouri) — appealed together to the Eleventh Circuit, urging the Eleventh Circuit to clear up what attorneys at Eaves Law Firm called the murky status of just how specific any federal lawsuit had to be. Presnell stayed some of the other lawsuits pending the outcome of the appeal.
Though other state-level torts were alleged in those initial Kentucky, Virginia, New Jersey and Missouri lawsuits, the appeal only dealt with five counts: federal price-fixing and boycott Sherman Antitrust Act allegations and state-level tortious interference, quantum meruit and unjust enrichment claims. (The Concord case only alleged four of these — it did not accuse the insurers of quantum meruit.)
Tortious interference is a legal term relevant to allegations involving steering. Quantum meruit and unjust enrichment relate to allegedly receiving a benefit without paying for it.
In September 2017, Eleventh Circuit Judge Charles Wilson and sitting District Judge Barbara Rothstein voted that Presnell was wrong to dismiss the shops' allegations.
"The automobile insurance and repair industries have customs and practices that the public frequently encounter and endorse," Wilson wrote in the majority opinion. "The public's level of familiarity, however, has no bearing on whether such customs and practices have been employed for the benefit of a long-term scheme designed to thwart antitrust and tort laws. Wary of the prejudicial effect of preconceptions about these industries, assuming as true only those facts within the four corners of the complaints, and drawing inferences from those facts only in favor of the body shops, we determine that the shops pleaded enough facts to plausibly support their federal antitrust and state tort claims. We reverse the dismissal of those claims. …
"At no point did the body shops claim to know when, where, and how the insurance companies agreed to fix a market rate and to boycott those who charged more—nor did the shops have to. The body shops have supplied enough allegations to raise such a reasonable expectation. The body shops have consistently alleged the existence of parallel conduct and of plus factors allowing a plausible inference of an illegal agreement. And the allegations have sufficiently established the body shops' state tort claims of unjust enrichment, quantum meruit, and tortious interference. We reverse and remand for further proceedings consistent with this opinion."
Judge R. Lanier Anderson filed a lengthy dissent declaring that only the tortious interference allegations met the threshold to stand as a worthy claim — the others were rightfully dismissed. He also felt that Wilson and Rothstein's analysis of why the tortious interference case should stand was incorrect, even if he agreed with the result.
The full Eleventh Circuit Court of Appeals in April asked the shops and insurers to focus their arguments upon the shops' federal antitrust allegations of price-fixing and boycott. One wonders if this is a sign they agree with the majority in preserving the state-level allegations of tortious interference, quantum meruit and unjust enrichment.
The entire court asked both sides to examine for both counts if "any asserted inference of agreement or conspiracy is 'just as much in line with a wide swath of rational competitive business strategy prompted by common perceptions of the market,' quoting the 2007 Supreme Court ruling in Bell Atlantic Corp. v. Twombly.
It's not illegal for companies in the same industry to behave similarly, so long as they're not colluding on it. For example, let's say McDonald's charges $1 for a cheeseburger. It's not illegal for Burger King to lower its cheeseburger price to $1 from $1.25 to avoid losing sales to McDonald's. But it is illegal if McDonald's and Burger King have a meeting and agree to only charge $1.
As such, the Supreme Court had ruled in the Twombly case that an antitrust lawsuit must go deeper than pointing out that two companies are doing the same thing, or else it can't withstand a motion to dismiss.
The shops had alleged that many major insurers had agreed not to reimburse above a certain amount and were boycotting shops "through their repeated actions of steering customers away from the Plaintiff through allegations and intimations of poor quality work, of poor efficiency in performing work, of questionable business practices, of overcharging, impugning integrity, and similar actions so as to withhold and\or enlist others to withhold patronage from the Plaintiff," as the Quality case states.
The repairers had also argued that the issue before the Eleventh Circuit wasn't whether their federal allegations of price-fixing and state allegations of unjust enrichment, quantum meruit and tortious interference were strong enough to prevail in a full-blown trial. They merely had to meet the lower plausibility threshold necessary to allow a case to survive a motion to dismiss, the shops wrote in their appeal brief.
"The standard at this point in the litigation is not whether these alarming allegations are true, but whether the body shops will be given the fair opportunity mandated by the American justice system to prove to an impartial trier of fact that they are true," the shops wrote in their en banc appeals brief.
State Farm, in one of the separate insurer briefs to the en banc court, alleged that the shops hadn't met the Twombly test.
"Second, even if the naked, group-pleaded allegation that other Defendants state they will pay no more than State Farm were credited, it would establish nothing more than rational, independent, and permissible 'follow the leader' conduct, a common occurrence in many industries and insufficient to plausibly suggest conspiracy at the pleading stage," State Farm wrote.
State Farm pointed out that it and other insurers had done business with the shops, so there wasn't a boycott.
"Plaintiffs have also failed to allege any refusal to deal at all," it wrote. "They admit the various Defendants do business with them, just not at the prices Plaintiffs would like."
It also said that even if the various insurers were independently steering customers away shops, that wouldn't constitute a group boycott.
"Second, even if Defendants were alleged to have used 'identical tactics' to steer insureds from Plaintiffs' body shops, Plaintiffs have failed to show that such tactics would not plausibly arise from 'independent responses to common stimuli,'" their brief states. "Plaintiffs' steering allegations boil down to the claim that Defendants prefer to refer their insureds to low-cost providers over high-cost ones, which does not require any conspiracy at all. Rather, such allegedly 'identical' tactics would just as likely result from independent conduct by Defendants implementing a rational and competitive business strategy. Thus, the Complaints do not plausibly allege an agreement among any Defendants to engage in a group boycott."
Besides the briefs filed by various insurers, the Washington Legal Foundation and U.S. Chamber of Commerce filed "friend of the court" briefs in support of upholding Presnell's decision. The Chamber wrote that it feared an onslaught of vague antitrust complaints.
Law.com publication Daily Report reported Wednesday that collision repairer attorneys Mark Shurtleff (Shurtleff Law Firm) and John Eaves Jr. faced some "skeptical" Eleventh Circuit judges on Tuesday. The news service reported:
Several judges were skeptical, with Chief Judge Ed Carnes asking how the insurance companies' behavior in matching each others' rates was any different from other businesses.
"It happens in about every case," said Carnes. "One raises it, they all raise it."
Shurtleff pointed to the "uniformity of prices" demanded by the insurers, noting that uncooperative body shops were targeted for criticism and boycotted.
Judge Stanley Marcus wondered whether commonplace business activity, such as an insurer recommending one shop and disclaiming another, was enough to "nudge your case across the line" into illegal price fixing.
More information:
"11th Circuit Considers Whether to Reinstate Auto Insurance Price-Fixing Claims"
Law.com (Daily Report), Oct. 24, 2018
Featured image: The Eleventh Circuit Court of Appeals is pictured. (Provided by Eleventh Circuit)
Share This: