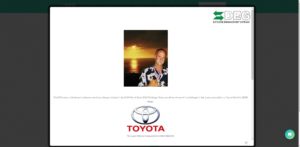 Donating to the Database Enhancement Gateway led to a Mercedes-certified Ohio collision repairer winning a free year of Toyota OEM repair procedures in a raffle Monday.
Randall Blanchard, owner of Plain City, Ohio-based True Performance, was selected by DEG Administrator Danny Gredinberg as the victor of the challenge running the entire month of March and honoring the late March Taylor.
The DEG and Toyota had partnered to offer a year's standard subscription to the OEM's official Technical Information System website to the winner drawn from a pool of DEG users and donors.
"365 days of awesome information available on their technical website for reapir information," Gredinberg described the prize Monday. He gave a "big thank you" to Toyota, and he also thanked the sponsors that made the DEG — a free industry resource — itself possible.
Each inquiry submitted to the DEG between March 1-31 meeting certain criteria earned the user a ticket in the drawing to win an annual Technical Information System (TIS) standard subscription, which ordinarily costs $480. Users submitting multiple entries could earn multiple tickets. Repairers and insurers also could enter the drawing multiple times through donating to the DEG.
Gredinberg said he'd received 248 valid entries.
Blanchard's winning ticket was among those generated by donations, but Gredinberg described the shop owner as also having submitted at least one inquiry in the DEG's long history.
"Big thank you for your donation," Gredinberg said. "Big thank you for participating and using the DEG. I've seen your name come across in using this program."
The DEG allows repairers and insurers to submit online inquiries and suggestions regarding Audatex, CCC and Mitchell methodology and labor times at no cost. The inquiries can help catch inaccuracies or omissions in the times and refine the information used to generate estimates. They also can help clarify who's right when repairers and insurers dispute what's included and what's a manual entry. (Such answers often can be found through a closer reading of the P-pages as well.)
Nearly 14,000 inquiries had been received as of early Monday afternoon. In fact, the first inquiry of April has already been received and answered.
"It is becoming more and more important to protect electrical connector plugs during the body repair process," the user wrote in the inquiry regarding CCC. "Dust, metal shavings, welding, moisture, etc. When a part is removed that exposes an electrical connector plug, the process of 'capping' or 'protecting' these connectors is not found as an included operation during R and I of these parts. Should additional time be considered as a separate operation? For example, using tape to cover the opening or a bag or plastic to protect these fragile connections, when a headlight is removed?"
The DEG itself responded to this one. (Gredinberg is a trained luxury repairer with experience on all three estimating services).
"When disconnecting electrical connectors, the time to set back, mask, protect wire harness ends or complete wiring is NOT INCLUDED in component labor time unless specifically called out in the footnotes of the component you are working on," the response states of CCC.
"Time and materials for this process would be an on the spot evaluation."
Gredinberg thanked the other DEG users in his video broadcast of the drawing Monday and encouraged them to submit more questions.
"Every inquiry is a valid inquiry here," regardless of whether it changes the estimating system, he said.
The monthlong March promotion honored DEG "godfather" March Taylor, a Hall of Eagles member and the late owner of Auto Body Hawaii. Taylor's work with the estimating services laid the foundation for the DEG, and the free industry resource is dedicated to him.
More information:
"2019 March Taylor DEG Challenge"
Database Enhancement Gateway YouTube channel, April 1, 2019
Database Enhancement Gateway database
Toyota "TIS" OEM repair procedure website
Toyota TIS tutorial video (no subscription required)
Featured image: A donation to the Database Enhancement Gateway led an Mercedes-certified Ohio collision repairer winning a free year of Toyota OEM repair procedures in a raffle Monday. Randall Blanchard, owner of Plain City, Ohio-based True Performance was selected by DEG Administrator Danny Gredinberg, top right, of the challenge running the entire month of March. A popup on the DEG's website April 1 promotes the winner. (Screenshot from www.degweb.org)
Share This: