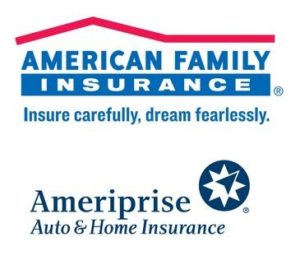 American Family announced Tuesday it would buy Ameriprise Auto & Home for $1.05 billion, a move that seems likely to shake up the auto insurer Top 10 and could affect both DRP and unaffiliated collision repairers used to dealing with one or the other company.
However, Ameriprise will be a subsidiary and continue to be called Ameriprise until regulators approve a new name, according to American Family. The company said it plans to keep Ameriprise's employees, and Amerprise's customers "will retain their policies with no change in coverage or service."
"This is about serving more customers through channels they prefer, and strengthening our ability to protect them," American Family CEO Jack Salzwedel said in a statement.
"American Family exclusive agents continue to have great success. Our direct-channel companies are growing. And last year, we merged with a company that offers products through independent agents."
"With this acquisition, we expand our efforts to reach customers who prefer to acquire insurance through relationships they have with other entities. By doing this and continuing to grow in our other channels, we build scale, capabilities and financial strength to provide greater value to our customers."
Contacted Wednesday about how American Family would handle Ameriprise's direct repair program shops as well as its own, media relations director Ken Muth wrote in an email: "Operational issues will not be discussed until after closing, which is expected in the second half of the year." The deal is subject to regulatory approval.
Ameriprise is a smaller company but is in 43 states compared to American Family's 19. (American Family noted this could help hedge its risk of storm claims.) Ameriprise's profile also is elevated by a deal to sell insurance to Costco's members on the retailer's website, and American Family said it and Costco have a letter of intent to keep that going. Ameriprise financial advisers will also continue to refer customers. (Ameriprise will keep its advice and asset management businesses.)
The deal might be felt significantly by collision repairers in California, where American Family specifically noted it had a small presence compared to Ameriprise.
"Ameriprise Auto & Home's largest premium state is California, where it reported 2017 direct premium written of $377 million," American Family wrote in a news release. "Of that, more than 80 percent is auto premium. This acquisition will provide access to a very large customer base in a state where American Family group does relatively little business today."
California Department of Insurance records put American Family's private passenger auto physical damage market share at about 0.23 percent and Ameriprise's at 1.11 percent in 2017. For context, State Farm's auto physical damage share was 14.57 percent that year in California.
American Family said it had $9.6 billion of direct premium, compared to Amerprise's $1.1 billion — about 70 percent of which ($770 million) came from auto insurance. National Association of Insurance Commissioners market share and premium data put American Family at No. 10 in 2018 with about $4.4 billion in direct premiums written — and separated from No. 9 Travelers by a mere $15 million.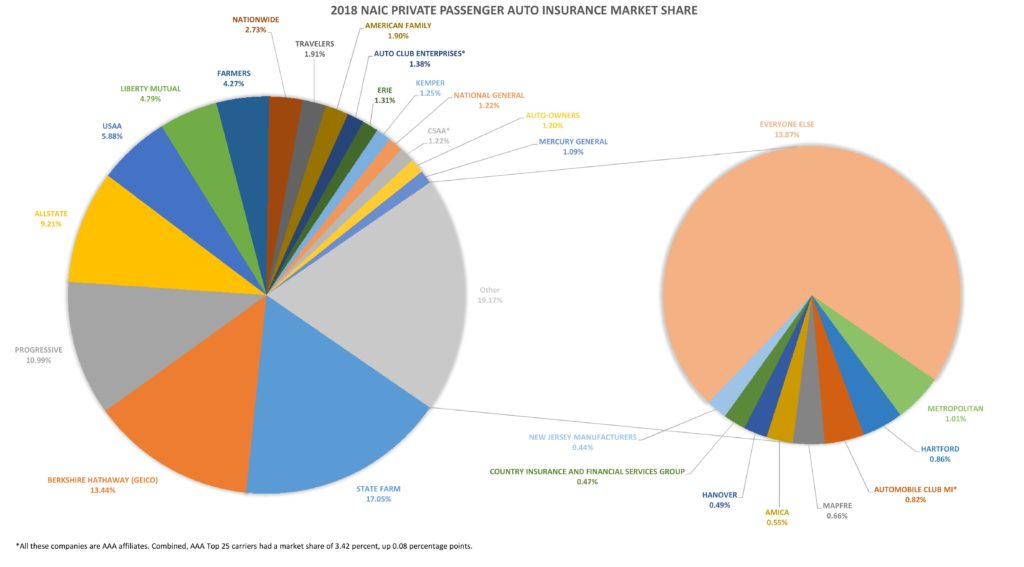 More information:
"American Family enterprise adds customers, spreads storm risk with acquisition of Ameriprise Auto & Home"
American Family, April 2, 2019
"Ameriprise Financial Announces Agreement to Sell Auto & Home Business to American Family Insurance for $1.05 Billion"
Ameriprise, April 2, 2019
Images:
American Family on April 2, 2019, said it would buy Ameriprise Auto & Home for $1.05 billion. (Provided by American Family Insurance)
The National Association of Insurance Commissioners' release of 2018 private passenger auto market share data sees the Top 10 insurers stable in terms of rankings but GEICO and Progressive continuing to gobble up share. (John Huetter/Repairer Driven News, using NAIC data)
Share This: