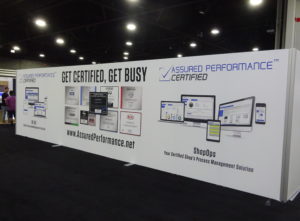 Assured Performance on Tuesday announced it had achieved 100 percent primary and secondary market coverage with 2,971 certified auto body shops across the U.S. and Canada.
The company, which handles U.S. collision repair certification for FCA, Hyundai, Infiniti, Kia and Nissan and Canadian certification for FCA, Kia, Nissan and Toyota, said it projected to grow sales 20 percent this year and span nearly 3,600 shops. Assured Performance said it posted 8 percent growth in the first quarter of 2019 and 20 percent growth in 2018.
Body Shop Business last year reported Assured Performance had 2,800 shops enrolled and targeted 3,600 by the end of 2018.
"We use both increase in shop participation and certification," CEO Scott Biggs explained in discussing growth in an email Wednesday. "2,971 is the growth in total number of shops 'certified' on multiple programs.  We also include from time to time refer to number of shops "enrolled" which is a real number, but it always takes shops time to get through the process and not all make it.  Both numbers are relevant and real."
Asked about sales growth, Biggs attributed it to that "shops each year add more OEMs to their portfolio and use more of what we offer" rather than price increases. He wrote that this was particularly the case when another OEM signs on to the program.
Assured Performance also reported it had "expectations to add more OEM partners" despite the recent loss of Ford, which decided to handle certification in-house.
"There are several that do not have a program that represent a decent segment of the vehicle UIOs," Biggs wrote. "There are also several that may elect to enhance their program and modify their approach."

In addition to a presence in 361 metropolitan areas and 195 secondary markets, Assured Performance's said its network spanned 88 percent of 1,451 suburban markets and "slightly over 80% of rural markets above 20,000 in population."
"The unique Assured Performance market strategy has been to achieve full and complete demographic and geographic coverage of North America with a Certified Repair Provider in every community which is essential to consumer referrals and insurance carrier needs," the certifying entity wrote Tuesday.
"Demographic and geographic coverage is essential," Biggs wrote.
Assured Performance's model involves a set of baseline requirements which, once met, automatically qualify the shop for certification under any of the participating OEMs the shop desires. The shop must only meet some other OEM-specific requirements and pay "a fraction of the cost" of other OEM certifications. Not surprisingly, its average certified shop has 5-6 brands.
It said Nissan counted 2,100 certified body shops and "essentially 100% market coverage" for their U.S. fleet. FCA and Hyundai are close with nearly 2,000 shops, according to Assured Performance.
For certified and uncertified shops seeking to benchmark their own businesses, Assured Performance reported the average certified location had sales of more than $4 million. It reported the entire 2,971-shop network did "nearly $14 Billion in annual gross sales, $5 billion in parts purchases, and nearly $1 billion in paint and materials purchases annually," which works out to around $4.7 million in sales, nearly $1.7 million in parts purchases and $336,587 in paint and materials per shop. (Though there's probably an exchange rate to consider on the Canadian Assured Performance shops.)
MSOs and certification
Assured's data shows that the industry is certainly responding to the idea of OEM certification. National collision repairer chains also recently indicated they're taking the idea seriously.
Boyd Group CEO Brock Bulbuck — whose company's revenue is heavily tied to subsidiary Gerber Collision — said in November 2018 that the repair conglomerate plans to increase its penetration of OEM certifications.
Bulbuck told analysts Nov. 14 his company believes "OE certification will continue to grow" and have an influence in where "collision repair work gets repaired."
The Boyd Group began an initiative in 2017 to increase OEM certification penetration and continued the effort in 2018, according to Bulbuck.
"We are on track with that initiative," he said.
Caliber CEO Steve Grimshaw at the International Bodyshop Industry Symposium in February described the company's strategy (which presumably will be spread to all the ABRA shops) of segmenting repair capabilities in a market. The vision involved all OEM certifications, "including high-line" in each market, he said.
Grimshaw mentioned the idea of working with automakers to define "what does a great OE certified program look like" that guarantees overall quality, the safety of the vehicle and the car being as close to preaccident condition as possible.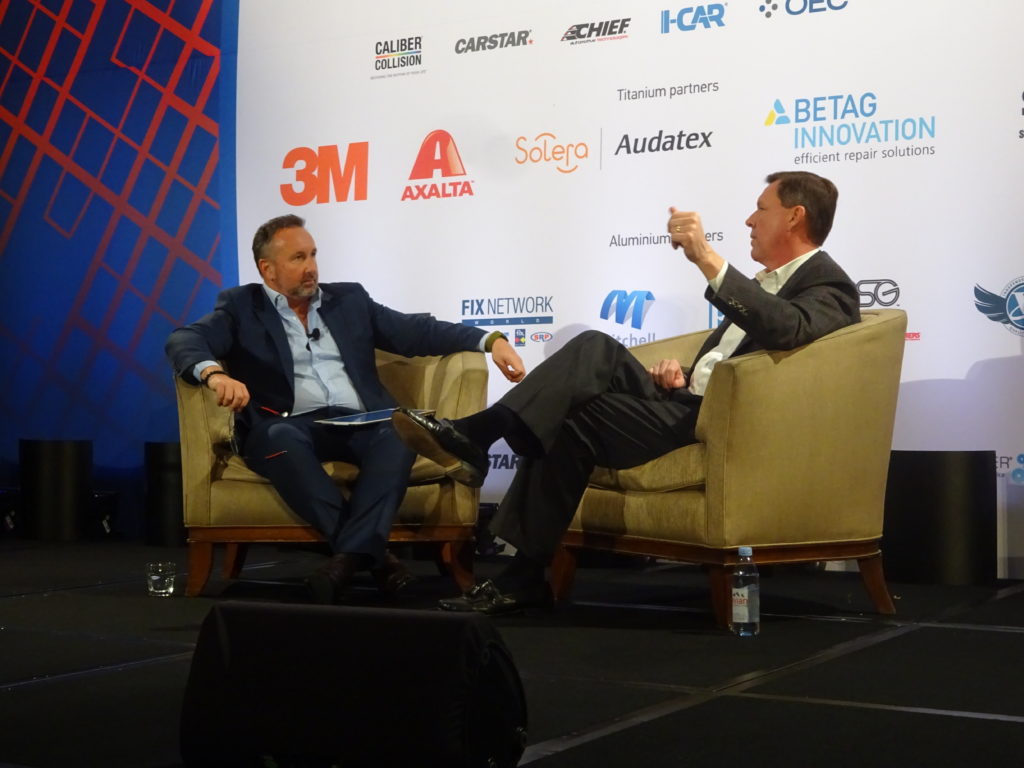 He argued that Caliber should be able to certify an entire network if it can prove its minimum level of quality exceeds the OEM's certification standard.
"It's very inefficient to certify an individual center at Caliber," Grimshaw said.
He said Caliber was examining a scenario with OEMs which would include third-party verification. The OEM in theory would have enough confidence in Caliber's system that it wouldn't have to visit and certify all 1,064 facilities, according to Grimshaw.
CARSTAR Chief Operating Officer Dean Fisher in January recalled during comments about certification walking into Ford for a meeting and seeing a consolidator leaving.
He also observed that the company being a franchisor could help dealerships manage certification without having to sell their business, as a consolidator would demand. He said the company's existing EDGE system "follows their certification process" pretty well, and items CARSTAR built to meet insurer direct repair program demands translate to automaker programs.
CARSTAR tried to obtain a green light for self-certification but was rejected out of fox-guarding-henhouse concerns, according to Fisher. "I get that to some degree," he said.
However, asked if customers are more educated about certification, Fisher described it as merely "a little bit."
Customers were more concerned about proper repair of advanced driver assistance systems they were seeing on commercials, according to Fisher.
CARSTAR projected this would improve and customers become more aware sometime within the next 1.5-2 years, Fisher said.
Fisher said he wasn't sure if dealers are really educating consumers about certification at the sales level. He recalled getting a letter from Audi about a Liberty Mutual policy for his new vehicle, but the Audi dealer didn't talk about an OEM policy or certification at all.
"'You aren't selling at all,'" he remembered thinking.
However, he noted that in their defense, it was "premature" to plug certification if the OEM lacked the network to manage it.
Fisher also said he worried about OEMs behaving like direct repair programs by capping network participation, describing the issue as customers having to travel out of town to see someone. He gave the example of State Farm's 15-mile DRP protocol — in some areas, 15 miles could be a 45-minute drive to the consumer.
But he also saw OEMs self-correcting on this point.
Images:
The Assured Performance booth at NACE 2018 is shown. (John Huetter/Repairer Driven News)
International Bodyshop Industry Symposium CEO Jason Moseley, left, listens to Caliber Collision CEO Steve Grimshaw on Feb. 15, 2019, at IBIS. (John Huetter/Repairer Driven News)
Share This: