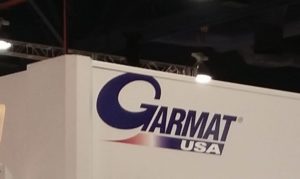 Garmat USA warned the collision repair industry Thursday that the 2018 National Fire Protection Association spray application standard No. 33 bars collision repairers from using a temporary membrane spray booth, such as an inflatable one, more than once.
"Spray application operations and processes within the enclosure shall only be permitted for the workpiece for which the enclosure was erected," states NFPA 33 18.1.2, which is accessible for free with registration on the NFPA site. The language is also present in at least the 2016 edition.
"This means one project only," Garmat control systems and compliance engineer Anthony Demarest wrote Thursday on the refinish vendor's blog this week.. "The membrane enclosure cannot be reused." (Emphasis Garmat's.)
NFPA's "Annex" information for the similar NFPA 33 A.18.2.1 requirement in the membrane enclosure chapter agrees with Garmat's assessment.
"The repeated use of a temporary membrane enclosure where the item being painted is removed and another is placed in the enclosure is not allowed by this chapter's requirements," NFPA 33 A.18.2.1 states. "This is to say that the equipment or vessel being painted within a membrane enclosure can be painted in stages to include prime and finish painting as well as painting of areas or sections of the equipment or vessel."
According to the code, you only had 180 days to complete that single paint job before the inflatable booth has to come down anyway regardless. Demarest also drew attention to this point.
"Membrane enclosures shall be erected for 180 days or less," NFPA 33 18.2 instructs.
Demarest wrote that membrane booths have a tendency to overstay their welcome at body shops.
"Membrane enclosures have been used in body shops and refurbish centers to provide additional spray areas," he wrote this week. "They are often considered a temporary solution but subsequently used beyond the code provisions."
Demarest also drew repairers' attention to other requirements of the chapter.
–Membrane structure shall be maintained at negative pressure to the surrounding environment.
–The concentration of vapors is limited to 10% of LEL (Lower Explosive Limit) instead of the 25% allowed in a traditional spray booth.
–This concentration shall be monitored by equipment and interlocked to stop all spraying operations if this level is reached or exceeded.
–No drying, curing or fusing operations are permitted.
–Portable fire extinguishers required.
Demarest also explained that such booths "should not be confused with structures using NFPA 701 approved Curtains for containment."
We'd encourage repairers using or considering using membrane booths to check out the entire chapter (for that matter, any other NFPA documents applicable to the industry). It's possible there's even more items that would apply to your membrane booth use case.
"Many of the same limitations as for a spray booth applies such as electrical classifications, welding, and egress requirements," Demarest wrote.
Painters and shop managers unfamiliar with the NFPA should take these codes seriously. Safety and compliance risks might occur otherwise.
"Virtually every building, process, service, design, and installation is affected by NFPA's 275+ codes and standards," the NFPA writes.
More information:
2018 NFPA 33: "Standard for Spray Application Using Flammable or Combustible Materials"
National Fire Protection Association, 2018
"NFPA Provisions For The Use Of Membrane Enclosed Temporary Paint Booths"
Garmat, April 18, 2019
Featured image: The Garmat USA logo appears on an aluminum isolation station at SEMA 2016. (John Huetter/Repairer Driven News)
Share This: