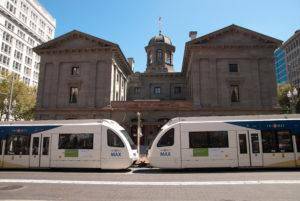 The Ninth Circuit Court of Appeals next week will hear an appeal by an Oregon repairer who sued GEICO after it refused to cover diagnostic scans on his 2017 GMC Sierra 3500.
U.S. Oregon District Court Chief Judge Michael Mosman last year threw out the class-action case sought by Leif Hansen with prejudice, prompting the appeal.
Ninth District oral arguments in Hansen v. GEICO are scheduled for May 13 at 9:30 a.m. PT.
According to Hansen's complaint, despite General Motors' directive to pre- and post-repair scan all vehicles, GEICO wouldn't pay for $100 pre-repair and post-repair scans of the 3500 by Artistic Car Body because of the absence of a dash light. The truck had received rear bumper damage during a crash.
"I do find that the complaint in this case fails to state a claim. For breach of contract, I think it's a fairly straightforward analysis," Mosman said April 5, 2018, according to a transcript of the hearing containing his ruling. "Some loss or damage that wasn't paid for has to be alleged. And the contract does not on its express terms promise any more than that. It doesn't promise to pay for diagnostics, and external events such as manufacturer's requirements can't really plug much into the contractual analysis.
"Certainly, in context, the terms itself in context I don't think mean much different than they do just on their simple expression of the words. It doesn't really, as I look at it in context, mean anything other than to pay for the loss or damages. And so without that, I don't believe that a claim is properly stated."
Hansen, who was acting as a policyholder in this case, sued for breach of contract and breach of the implied covenant of good faith and fair dealing.
The case could have ramifications for repairers and consumers in Oregon and across the Ninth Circuit's Western U.S. jurisdiction. The idea that work to identify the scope of the loss isn't reimbursable by the carrier under a policy like Hansen's means shops must either eat the cost or bill the consumer directly for the expense of the work. By Mosman's interpretation, common and necessary procedures ranging from test welds to measuring a vehicle to a test drive all could be removed as insurer's responsibilities.
Mosman appeared sympathetic to the idea that a good-faith effort would include work like a scan, but ruled ultimately the contract reigned supreme.
"I mean, the manufacturer's requirements or ASA requirements, for example, might go a long way towards establishing the reasonable expectations of the parties," Mosman said, according to the transcript. "But that's actually not really necessary here because I find that the complaint itself at the motion to dismiss stage adequately states that it's the reasonable expectations of the parties in this kind of case to get this kind of diagnostic tool. You don't really need much more than that at this stage.
"But what you also need for good faith and fair dealing is the violation you allege, the fair dealing that you say did not take place is essentially a performance that you think good faith and fair dealing requires, but it has to be a performative act that's not inconsistent with the terms of the contract. Even if it is a reasonable expectation of the parties, it still has to not add a term to the contract."
"And, of course, one good way to think of that is does it require in a contract like this one to pay for something that the contract never promised to pay for. And here I think it is a new term, inconsistent with the express terms of the contract. I think read as a whole, when you promise to pay for certain things, then good faith and fair dealing can't get you to promise to pay for more than the things you said you'd pay for. That's an inconsistency when the nature of the contract is fundamentally a promise to pay."
Hansen's contract stated, "We will pay for collision loss to the owned auto or non-owned auto for the amount of each loss less the applicable deductible." (Emphasis GEICO's.)
It defines "loss" as "direct and accidental loss of or damage." It defines the limits of liability as either the cash value of the property or whatever amount "will not exceed the prevailing competitive price to repair or replace the property at the time of loss, or any of its parts, including parts from non-original equipment manufacturers, with other of like kind and quality and will not include compensation for any diminution of value that is claimed to result from the loss. Although you have the right to choose any repair facility or location, the limit of liability for repair or replacement of such property is the prevailing competitive price which is the price we can secure from a competent and conveniently located repair facility. At your request, we will identify a repair facility that will perform the repairs or replacement at the prevailing competitive price." (Emphasis GEICO's.)
"Hansen does not allege any damage that could not have been (or was not) repaired with the payment GEICO made to him, plus his deductible," GEICO wrote to the Ninth Circuit. "Nor does he allege a scan would restore his Truck to pre-loss condition. Instead, he asks the Court to interpret 'repair' to require different, additional acts—inspecting the Truck to determine if there is any undetected damage to repair, and inspecting the Truck again to confirm all damage was repaired."
Hansen in his brief to the Ninth Circuit said the "repair or replace the property" obligation included scans.
"The policy does not define 'repair' but, in the context of the policy and case law, 'repair' means any non-excluded cost or service necessary to restore a car to its pre-collision condition. As alleged in Hansen's complaint, diagnostic scans are necessary to identify any latent damage in a modern car after a collision, and the policy does not exclude them. GEICO also conceded that it sometimes pays for scans under Hansen's policy. Whether scans actually are necessary to restore Hansen's truck to its pre-collision condition is a question of fact for a jury that must be answered in Hansen's favor at the motion to dismiss stage."
"Part and parcel of repairing a car to pre-loss condition is ascertaining what's wrong with the car," Hansen's attorney Paul Conable (Tonkon Torp) told Mosman, according to the transcript. "We wouldn't be here if the question was whether, for example, GEICO had to pay for the amount of labor required for a technician to lift the hood or to pull off a fender to look and see or to measure. There's something about — they focus their argument on the possibility that a scan won't reveal damage. But when a manufacturer says that part of repairing a car, a mandatory part of repairing the car is to conduct these scans, that is part and parcel. It's like saying you don't have any damage for your broken leg, for the x-ray for your broken leg because the x-ray might have ended up not showing anything. No. The scan is indivisibly part of the repair."
GEICO also used a medical example in its motion to dismiss, arguing "a hypochondriac may prefer a CAT Scan to diagnose the cause of an earache when a physical exam of the ear with a speculum would do."
Hansen said Oregon courts examining insurance policies "have repeatedly treated the term 'loss' as broader than visible physical damage." He quoted Rossier v. Union Automobile Insurance: "It is common knowledge that the nature and extent of damage to a car may be such that [mere] replacement or repair of broken parts will not compensate the insured for his loss."
GEICO, meanwhile, pointed to Hansen's own citation of a Fifth Circuit Court of Appeals ruling in Sonnier v. State Farm. That case found an insurer didn't have to pay for seatbelt inspections recommended by an OEM or I-CAR as those plaintiffs didn't "further identify anything broken that needs to be fixed."
"The fact that Appellants' automobile manufacturers and the Inter–Industry Conference on Collision Repairs recommend such an inspection does not change our analysis," the Fifth Circuit wrote in Sonnier. "We are solely guided by the policy language before us, which requires State Farm to pay Appellants for loss to property based upon the cost of repair."
Hansen in his reply countered that Sonnier supported his case because the damage there would actually have been visible to the naked eye. That wasn't the case with the kind of damage a scan would reveal.
"A software malfunction may present itself to the insured only when, for example, an air bag fails to deploy, a blind-spot detector fails to identify a car in the next lane, or a lane-departure warning system fails to alert a dozing driver who drifts across the center lane," Hansen wrote. "GEICO cannot require drivers to endure these additional harms before agreeing to identify and fix latent collision damage."
Hansen also wrote also said that the Louisiana law interpreted by the Fifth Circuit in 2007 more narrowly defined "repair" than Oregon does.

Featured image: A Trimet MAX light rail train has stopped in front of Pioneer Courthouse in Portland, Ore., in August 2013. The Ninth Circuit Court of Appeals' Oregon headquarters is housed here. (jdornoff/iStock)
Share This: