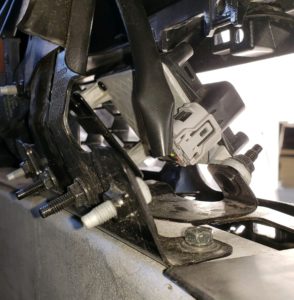 Editor's note: Diagnostic Network President Scott Brown earlier this month posted a fascinating case study on Diag.net about the effect a misdirected front-facing radar had on a rental 2019 Nissan Altima SL with adaptive cruise control. Though the rental company said no record of collision work existed on the vehicle, the story still carries lessons for the auto body repair industry on precision and road testing, and we've shared it here with minor edits. Brown's point about aerospace law on "return to service" is also an interesting one for auto body shops and even regulators to consider.
By Scott Brown
I'm sharing a recent experience here that I think some might find interesting. A couple of weeks ago, one of my technicians and I traveled to North Carolina to attend the Mobile Tech 2-day ADAS training event advertised here:
It was recommended that attendees renting vehicles should try and secure a vehicle with ADAS. We arrived Friday the 26th of April in Charlotte and had about a 3+ hour drive to Wilmington. While walking the parking lot of National, we came across a vehicle equipped with Nissan's ProPILOT Assist which appeared to be a good candidate: a 2019 Nissan Altima SL 2.5L.
After departing the airport, we headed for the highway, and this is where we encountered our first anomaly. With every advanced feature on, we engaged the ICC (Intelligent Cruise Control) with intelligent lane intervention system, and the vehicle locked on to the vehicle ahead and the lane markings. Now, although the system states that it can handle moderate sweeping turns, the first one we came across challenged the vehicle, which failed to stay in the lane! A little later, we reengaged the system and it did pretty well in moderate to stop-and-go traffic. Then while in stop-and-go traffic, the speed picked up to about 40-50 where we were all moving along nicely. Then about 2 minutes later, traffic ahead began to stop, but my vehicle wasn't planning on it, which required driver intervention. This was very odd because my trust factor has increased due to its past performance. At this point, I thought, "Wow, how could this vehicle miss all that?"
Approximately 10 minutes later while in open traffic and ICC engaged, a warning light came on along with the following message letting us know that ICC was no longer available: (disregard the mileages recorded in these images, these were captured later after learning more about the failure modes)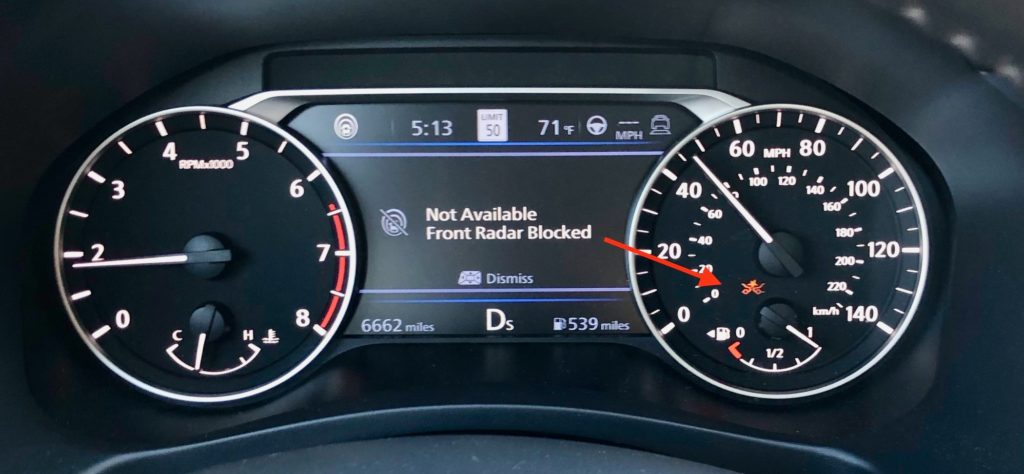 We pulled over and performed a visual to see if we could detect anything amiss, which we came up negative. After a key cycle, the system re-enabled and allowed us to re-engage the system. A short while later (10-12 min.), the same message appeared, and the following status was shown each time you attempted to engage the ICC.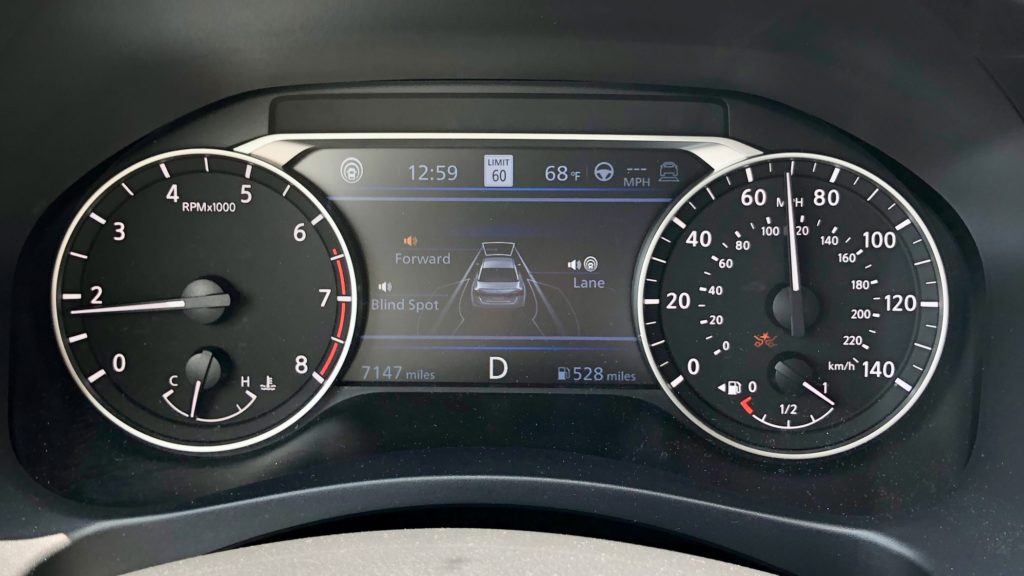 The next day at class, I informed the instructor that we had a real live problem in our hands and that I would like to learn more about this vehicle. He proceeded to have one of his technicians perform a query using the Nissan Consult-III and then printed all the factory service information we would likely need to analyze and diagnose the vehicle. (I assume that his technician looked at this and had it figured out fairly quickly.)
The following DTC was the only one stored: C1A16-97 RADAR STAIN [CMP/SYS OPR OBST OR BLKD]
After performing a visual inspection we found that the front facing radar was not pointing straight-ahead level with the ground: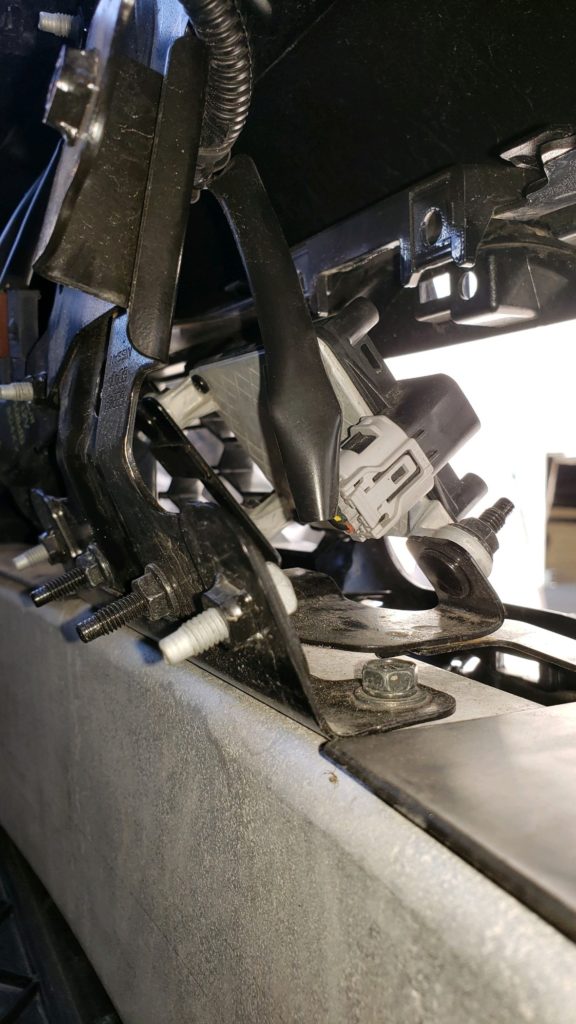 (All of us working through this issue came to the consensus that this vehicle had recently had some collision work performed on the front end.)
This is the normal position of the radar sensor: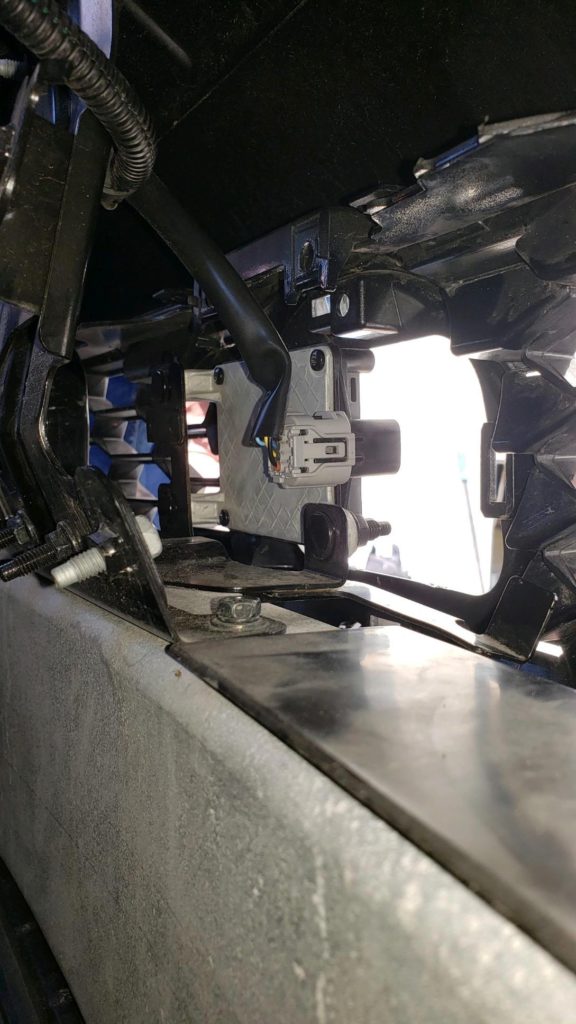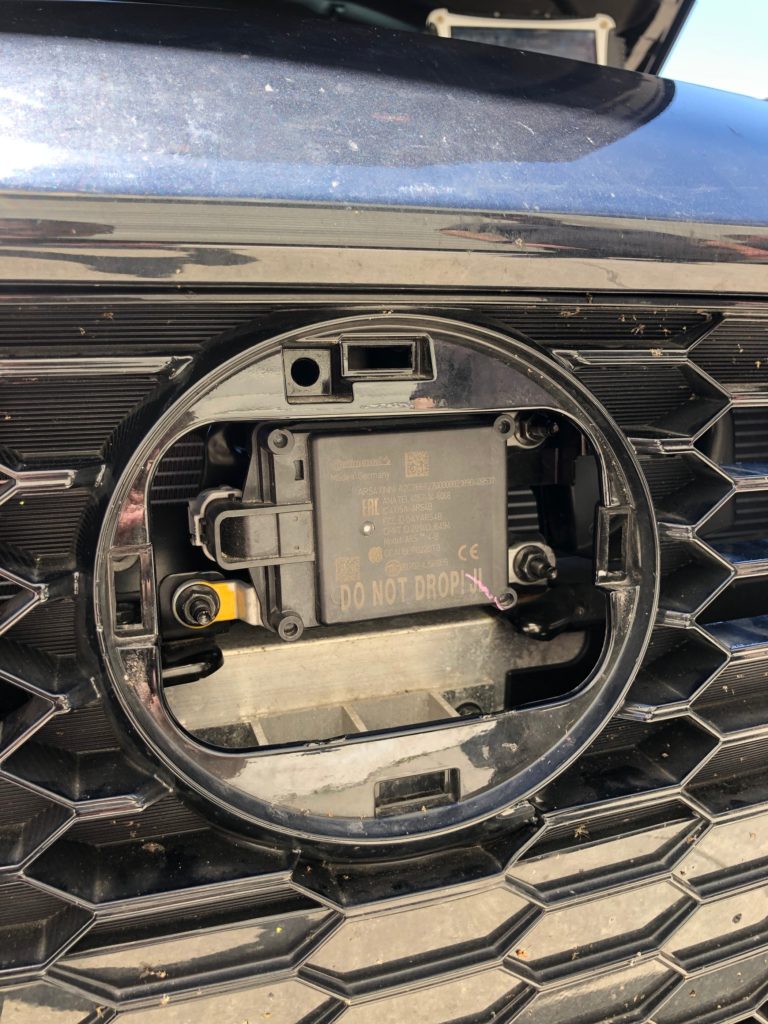 For the class, we temporarily bent the bracket forward to the proper position and performed the sensor calibration: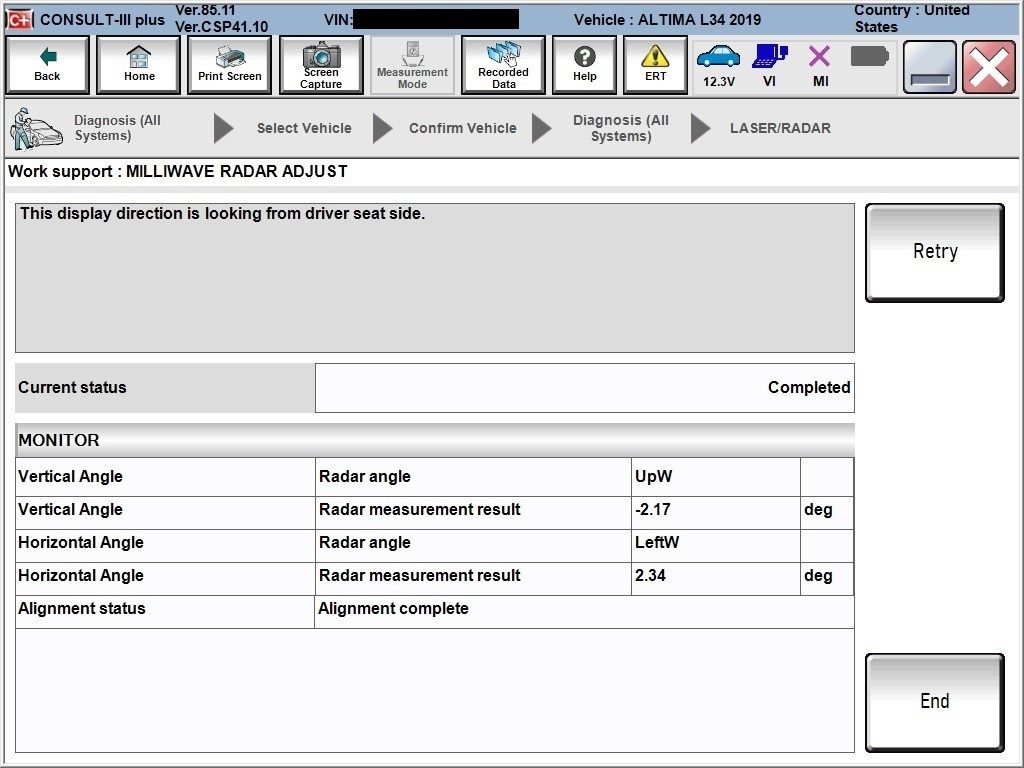 Following that, four of us went for a test drive and recorded the following data: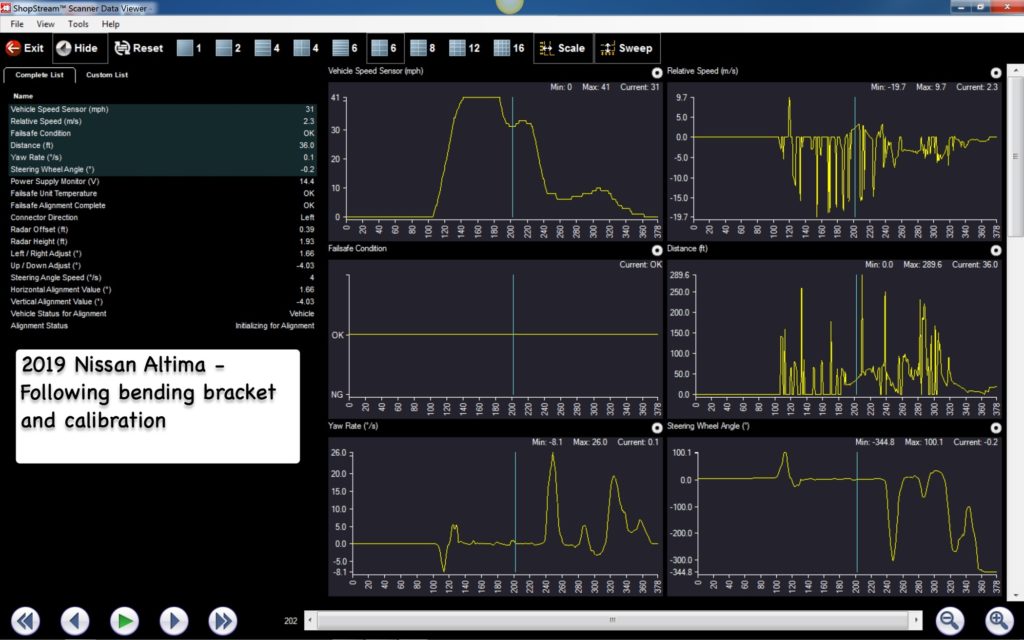 Near the end of the second day, we decided to return the bracket back to its original incorrect orientation and logged more data: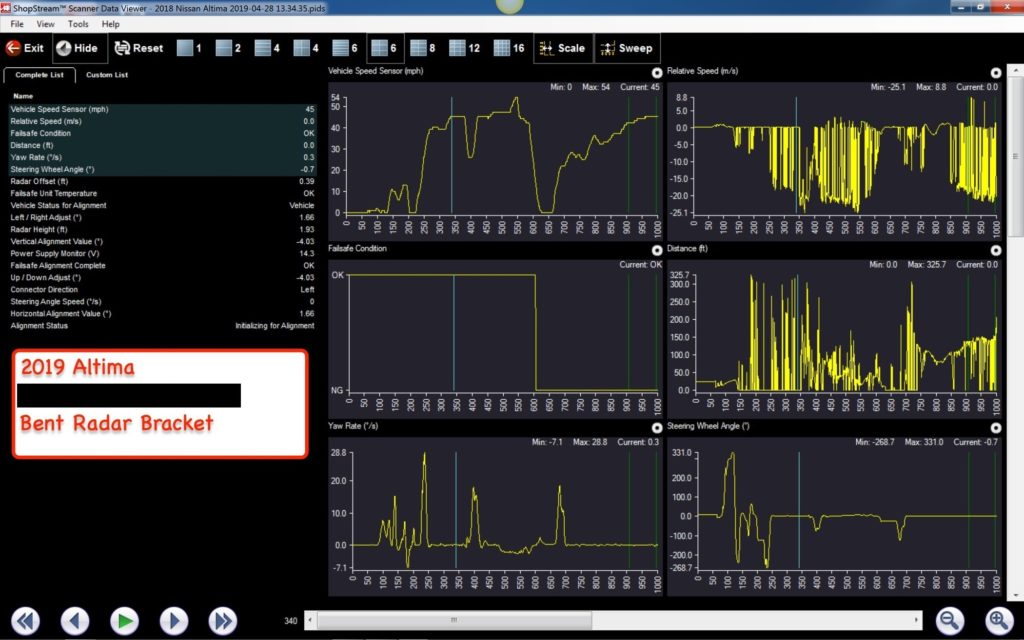 Further, we road-tested the vehicle and made several observations. The following two pictures show how the radar sensor is able to pick up a higher-profile vehicle over a lower-profile one with a bent bracket.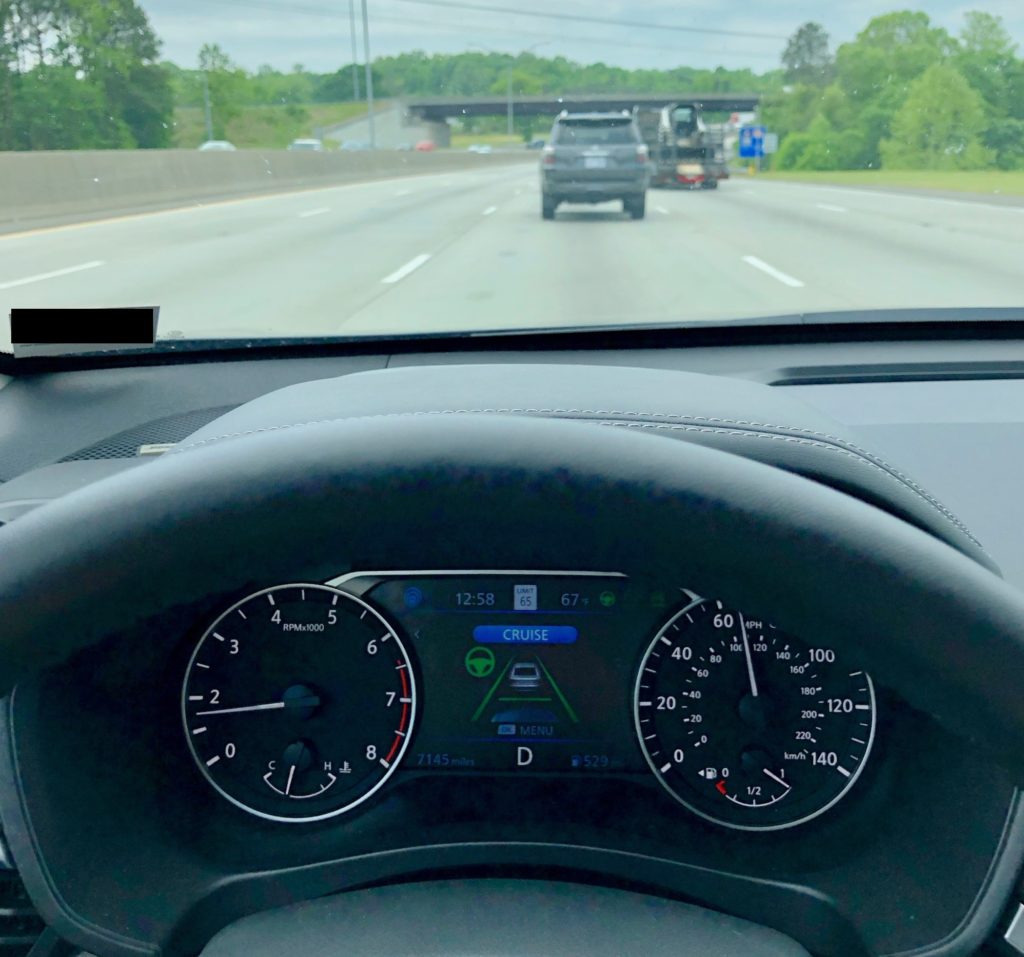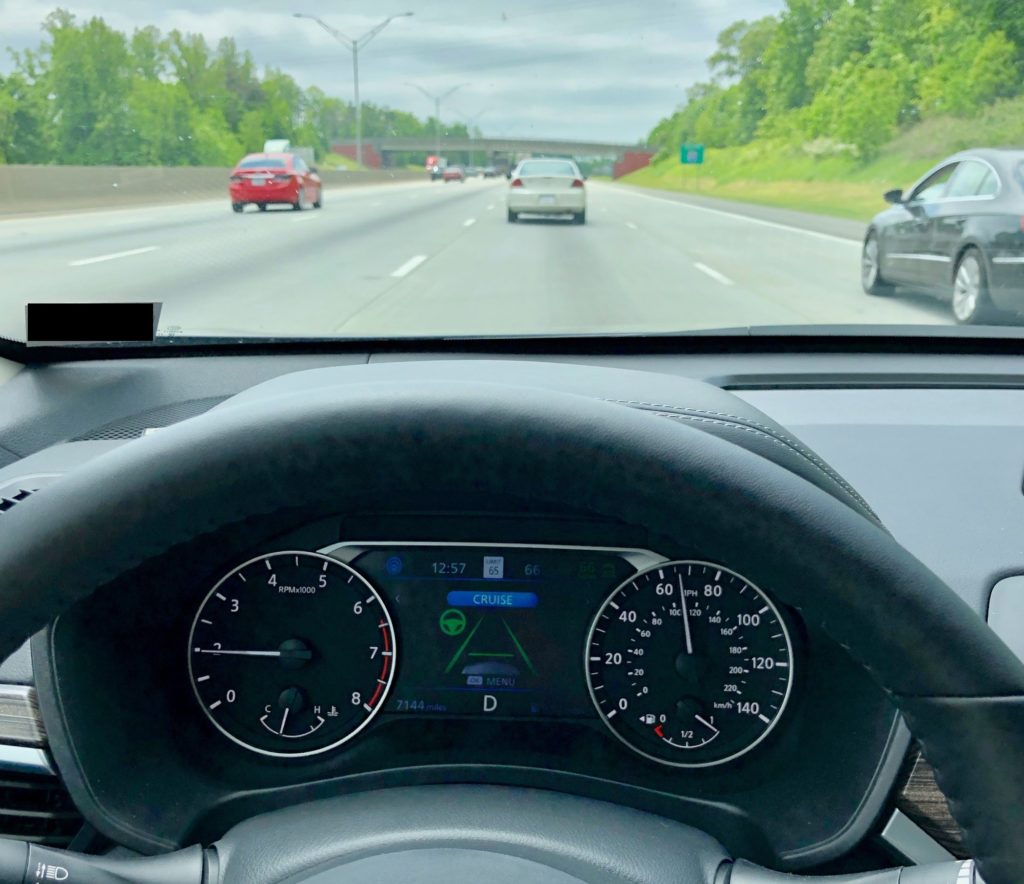 In closing, I'd like to reflect on the "Return to Service" found in my subject like which makes reference to the FAA:
14 CFR § 43.5 – Approval for return to service after maintenance, preventive maintenance, rebuilding, or alteration.
How are we as an industry validating that the vehicles you service with ADAS are approved to be returned to service? We're all aware of the pre- and post-scan position statements, however, If this vehicle was followed up with a post-scan, it likely passed as long as the vehicle wasn't taken on an extended road test. I'm interested in hearing your thoughts on this.
P.S.: I had a conversation with the manager at the National Car Rental at CLT about the vehicle and how it appeared that there had been some recent collision repair which likely resulted in the bent bracket. While I was on the phone with them, they reviewed the vehicle service history and stated that the only logged entry was one oil change in 6,000 miles. I returned the vehicle to the center and was assured that it would not be placed back into service until the issue I reported had been properly repaired. They also refunded my rental charge.
Scott Brown is president of Diagnostic Network.
More information:
"Return to Service – An ADAS Case Study"
Scott Brown on Diagnostic Network, May 9, 2019
Nissan collision repair procedures website (use Internet Explorer)
"POSITION STATEMENT: Required Radar Recalibration Post-Repair"
Nissan, June 20, 2016
Images:
This 2019 Nissan Altima SL's radar bracket was bent, leaving the radar in an incorrect position. (Provided by Scott Brown/Diagnostic Network)
A 2019 Nissan Altima SL warning message about Intelligent Cruise Control being unavailable. (Provided by Scott Brown/Diagnostic Network)
A 2019 Nissan Altima SL warning message about Intelligent Cruise Control being unavailable was unaccompanied by this status message when a driver tried to use the Intelligent Cruise Control. (Provided by Scott Brown/Diagnostic Network)
This 2019 Nissan Altima SL's radar bracket was bent, leaving the radar in an incorrect position. (Provided by Scott Brown/Diagnostic Network)
According to Diagnostic Network President Scott Brown, this is the correct position for a 2019 Nissan Altima SL's radar bracket. (Provided by Scott Brown/Diagnostic Network)
Calibration results on a 2019 Nissan Altima SL with a misdirected radar sensor bracket bent back into the proper position. (Provided by Scott Brown/Diagnostic Network; redaction by Repairer Driven News)
Data captured on a test drive of a 2019 Nissan Altima SL with a misdirected radar sensor bracket bent back into the proper position. (Provided by Scott Brown/Diagnostic Network)
Data captured on a test drive of a 2019 Nissan Altima SL with a misdirected radar sensor bracket. (Provided by Scott Brown/Diagnostic Network; redaction by Repairer Driven News)
A 2019 Nissan Altima SL with a bent radar sensor bracket picked up this high-profile vehicle for adaptive cruise control purposes but didn't "see" a lower-profile one. (Provided by Scott Brown/Diagnostic Network; redaction by Repairer Driven News)
A 2019 Nissan Altima SL with a bent radar sensor bracket didn't see this lower-profile vehicle for adaptive cruise control purposes but did "see" a higher-profile one. (Provided by Scott Brown/Diagnostic Network; redaction by Repairer Driven News)

Share This: