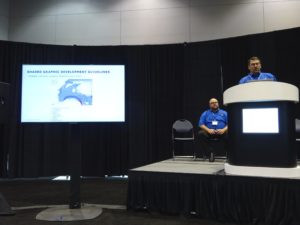 General Motors confirmed Tuesday it had removed the PDFs of collision repair procedures it had been providing for free, noting that they alone weren't enough for a body shop to produce a "safe and proper repair."
The documents had been housed on GenuineGMParts.com. Other site content such as position statements and general technical documents remain there.
The free PDFs only contained body repair instructions — they lacked the "mechanical" service and repair information also typically necessary to fix modern vehicles. Hyperlinks within their pages indicating other instructions repairers might wish to reference weren't active.
Repairers can still find the necessary body repair information — and all those other procedures they'll need — along with live hyperlinks and even videos on the paid ACDelco GM procedure site. It's $20 for three days, $150 a month and $1,200 a year.
GM body structure service engineering advanced serviceability of design team leader Bob Hartman had already said in July 2017 that the OEM's free auto body repair procedures site was not enough to correctly repair a vehicle. Shops needed to use the paid ACDelco site, he said then.
"General Motors recently removed the downloadable PDF collision repair procedures previously hosted on genuinegmparts.com," General Motors said in a statement Tuesday. "The procedure information previously posted to the site was limited and did not represent the full details necessary for a safe and proper repair.
"Complete, accurate and up to date procedures are available to the market through GM Service Information (GMSi). It is the comprehensive collection of vehicle service repair information for all General Motors vehicles. GMSi is available to repair professionals here on the ACDelco for professionals site and is available to Collision Repair Network facilities through their Mitchell Cloud Estimating subscription. Collision repair facilities interested in the GM Collision Repair Network visit GenuineGMParts.com (click on the "For Professionals" tab) to enroll and learn more about the network."
It was generous of GM to provide the free documents as long as it did — nearly all other OEMs don't. But as repairers shouldn't have been relying solely on those files, one can see the logic in removing the temptation and confusion their presence might have caused.
Hartman back in July 2017 had already indicated the need for mechanical and other repair information contained on the pay site had grown so great that GM was considering deleting the free site, as its existence might mislead shops into assuming everything they need for a proper collision repair exists there,
The free site didn't even have all of the repair procedures related to a body-on-frame vehicle's frame, Hartman pointed out then (though he was at that point seeking to change that).
Directions related to airbags, hybrid vehicle safety, and all the diagnostics and calibration that are hot topics in collision repair weren't present either on the Genuine GM Parts free site, only the ACDelco paid site. While a warning related to welding too close to a sensor on a bolt-on part might exist on the free site, procedures related to the actual sensor would only exist on the pay site, Hartman said at the time.
Hartman said in July 2017 that when GM first gave out free collision repair procedures a decade and a half prior, it was enough. He said he could be comfortable a shop could make a full repair with just those free procedures.
"Today, you can't," he said then, and earlier observed that "I can't stress enough" the difference.
FCA might be the only major OEM left providing body repair manuals for free. However, a Collision Advice webinar in March 2018 demonstrated that auto body shops will still probably need the full repair information on FCA's Tech Authority paid site to do proper work.
More information:
General Motors ACDelco full OEM repair procedure website
Featured image: GM body structure service engineering advanced serviceability of design team leader Bob Hartman, right, July 27, 2017, at NACE discusses the expanded content GM at the time was planning for repair procedures. (John Huetter/Repairer Driven News)
Share This: