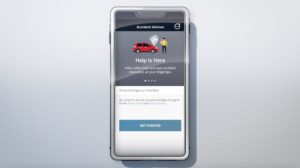 Volvo on Tuesday made good on an initiative its partner CCC revealed earlier this year, announcing the OEM would assist drivers to "better manage the overall post-collision process" after telematics detect a crash.
Volvo Car Accident Advisor is free for Volvo users and "will be available automatically for model year 2015.5 and newer Volvo Car vehicles via the in-car SOS communications system." A CCC spokeswoman confirmed the system is tied to in-vehicle telematics rather than telematics contained in a smartphone or dongle.
"For years, Volvo Cars has been immediately communicating with drivers and passengers as soon as a crash sensor is activated in the car to accelerate the emergency response process," Volvo USA customer care Vice President Scott Doering said in a statement Tuesday. "Now with Volvo Car Accident Advisor, the application can guide drivers on what to do next after the driver has confirmed to Volvo Customer Care that they are safe and without injury."
Volvo will text the customer a link to launch the Web-based software. Owners of older Volvos can also receive such a link; they'll just need to call Volvo Car Customer Care to start the process, according to the OEM.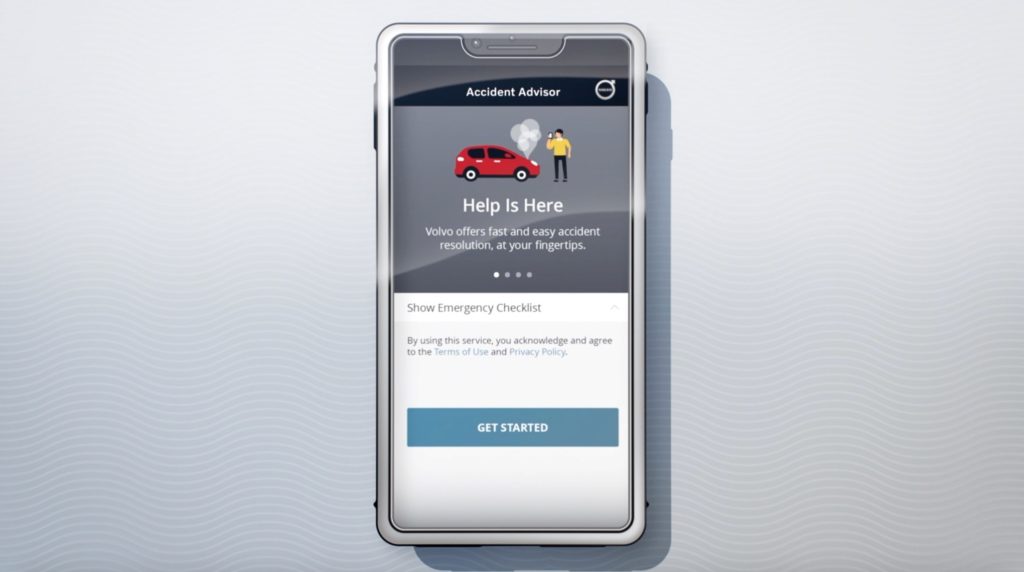 "Volvo Car Accident Advisor will prompt drivers to capture facts and photos of the accident scene, offer them the option to digitally notify their insurer and to search for collision repair shops, helping to speed claims handling, reduce repair-cycle time, and better manage the overall post-collision process," Volvo wrote in a news release.
A Volvo promotional video posted Tuesday showed Volvo Car Accident Advisor providing a locator map to nearby body shops. A detail page for one facility showed a repairer with check marks indicating they were both "Volvo Certified" and "In Network," the latter possibly a reference to a direct repair program.
A system recommending Volvo-certified shops could really shake up who receives Volvo customer volume. By doing so, it might also indirectly change expectations regarding a proper repair. All certified shops must use 100 percent new OEM parts and will be monitored for repair procedure usage, Volvo Certified Collision Program manager Kenneth Park said in November 2018.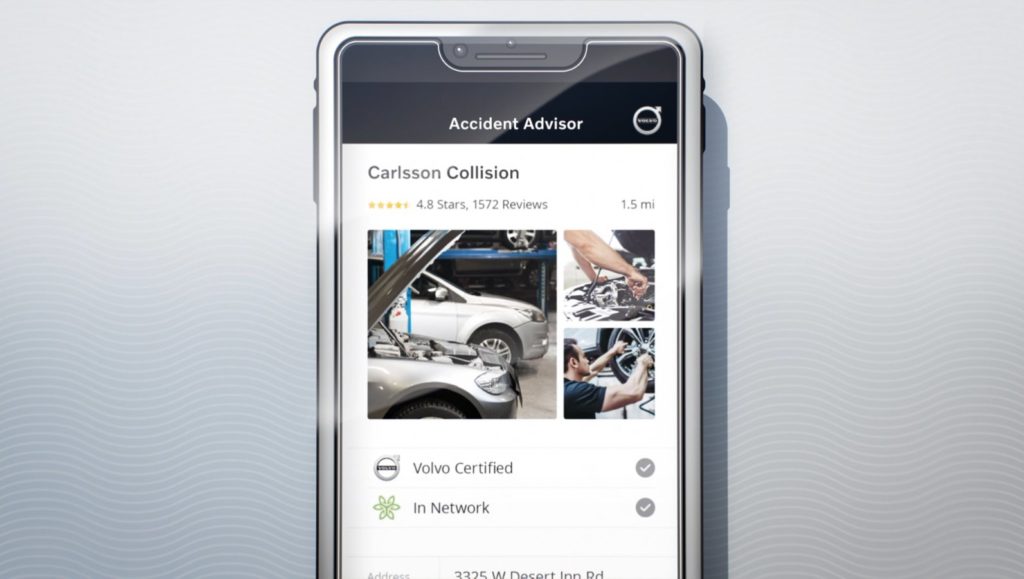 "We work hard with in-vehicle technology to eliminate or reduce the impact of crashes as much as possible," Doering said in a statement. "In the event that an accident happens, we now have Volvo Car Accident Advisor that can walk Volvo Car owners through the entire process, from data gathering and insurance claim management all the way through collision repair. This program not only provides tremendous convenience, but will also help to ensure the car is repaired to Volvo Car's stringent safety standards."
Volvo's discussion of capturing accident photos is interesting given what CCC has said it can do with crash damage imagery.
CCC Smart Estimate analyzes images of crashed cars and automatically populates an estimate with the parts it determines to be damaged. The system can also predict whether the part is repairable or needs replacement based on a combination of estimating logic and the lessons of countless past CCC estimates.
CCC Smart Total Loss can with a single photo determine with more than 90 percent accuracy if a car is a total loss, according to the information provider.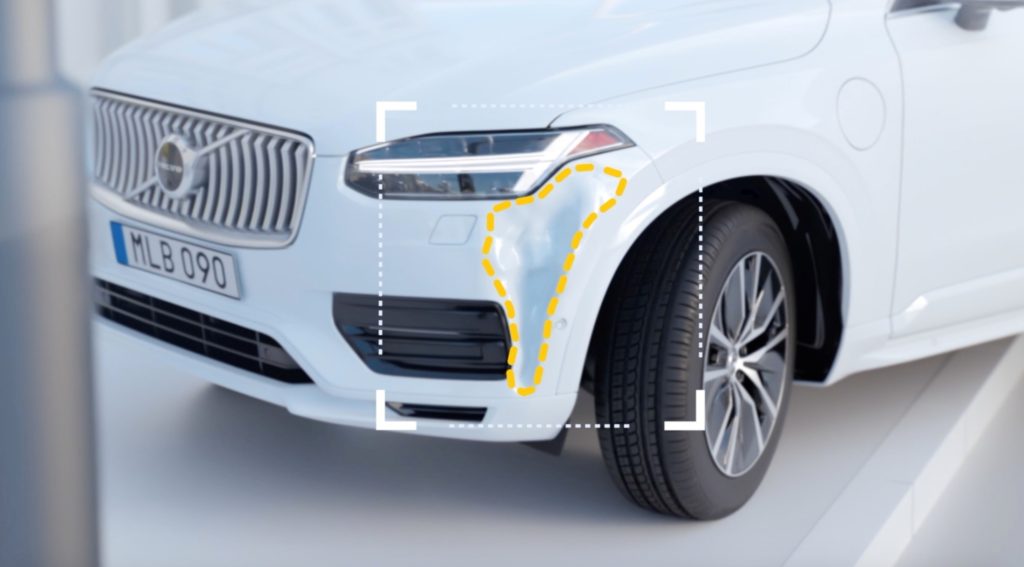 Volvo did not immediately respond to a request for more details about the program, including whether a subscription to a broader telematics service was still necessary to use the new free feature. Volvo's existing literature is unclear on the topic.
Volvo Roadside Assistance itself is free for four years, as is Volvo On Call if you buy a 2018 Volvo.
"If you choose not to renew your Volvo On Call subscription, you will still have the in-car access to the SOS and On Call buttons to initiate Roadside Assistance," Volvo tells consumers, and says this refers to "emergency call for life/crash notification." However, it's unclear if the Accident Advisor feature would be provided in this case; other On Call perks cease when the On Call subscription ends.

On the other hand, the average repairable vehicle in 2018 was 5.9 years old, with the average totaled vehicle coming in at 9.66 years, according to CCC's estimate databases. So even if Volvo only provides four years of free Accident Advisor, the feature has potential to disrupt a significant part of the market for Volvo repairs.
CCC in January said Volvo was the first OEM to use its Accident Advisor system.
"(W)e are in active conversations with many OEMs and expect additional announcements shortly," CCC spokeswoman Kiley Ribordy of Walker Sands wrote in an email Tuesday.
More information:
"Volvo Car USA Launches Post-Accident Guidance Service"
Volvo, May 14, 2019
Images:
A Volvo promotional video posted May 14, 2019, showed Volvo Car Accident Advisor providing a locator map to nearby body shops. A detail page for one facility showed a repairer with check marks indicating they were both "Volvo Certified" and "In Network," the latter possibly a reference to a direct repair program. (Provided by Volvo)
A screenshot of Volvo Car Accident Advisor, a piece of software accessible through a text message hyperlink Volvo can send after it detects a crash. (Provided by Volvo)
Volvo Car Accident Advisor can guide a Volvo owner through documenting collision damage with photos. (Provided by Volvo)
Share This: