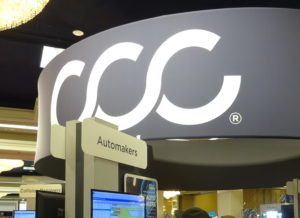 CCC on Tuesday announced Volvo would be the first automaker to adopt the information provider's Accident Advisor technology, which allows OEMs and insurers to receive details of a crash and contact the customer.
Volvo had already planned to refer customers to certified shops through its Roadside Assistance program. However, that system demands that customers contact the OEM and provide information after a crash. CCC's Accident Advisor appears to use vehicle telematics to detect a crash remotely and immediately open the lines of communication between automaker and driver.
"Using the OEM's telematics crash data to provide actionable insights, CCC empowers OEMs to immediately connect to drivers after an accident by texting a link to the Accident Advisor app," CCC's Accident Advisor website states. "Then, drivers can begin to capture and collect post-collision data."
"For participating telematics-enabled vehicles, crash data is transmitted to automakers in real-time," CCC wrote in a news release. "CCC, through its CCC XTM data exchange, will convert that data into actionable insights so automakers can proactively connect with their vehicle owners via their smartphones. CCC Accident Advisor will allow automakers to guide their customers through the steps following an accident and digitally connect them with participating insurers and collision repairers. Over time, CCC plans to add other ecosystem participants as well as its proprietary injury detection technologies to Accident Advisor, further improving the overall post-collision experience for participating drivers. …
"Powered by artificial intelligence (AI), Accident Advisor will prompt drivers to capture facts and photos of the accident and offer them the option to digitally notify their insurer of the accident. Drivers will be able to search for collision repair shops and in conjunction with other CCC offerings can in many instances even get text message status updates as their vehicle moves through the repair process. Participating insurers will be able to receive accident documentation from their policyholders with unprecedented immediacy and insight, which can help the insurer improve claim handling time and the policyholder experience."
CCC said the system would include "emergency services and checklists, guided accident documentation, and digital claims and repair services to keep drivers safe, informed, and in control in the minutes following an auto accident."
"Working with CCC to bring Accident Advisor to Volvo owners is another way we can make life less complicated for customers," Volvo customer service Vice President Scott Doering said in a statement. "By guiding customers through the post-accident process we can support them through one of the most emotional events of vehicle ownership, while ensuring cars are repaired to the safety standards that Volvo is known for."
If the system is set up to recommend Volvo-certified shops — and it's hard to see why Volvo wouldn't want to do this — the tech could really shake up who receives Volvo customer volume. By doing so, it might also indirectly change expectations regarding a proper repair. All certified shops must use 100 percent new OEM parts and will be monitored for repair procedure usage, Volvo Certified Collision Program manager Kenneth Park said in November 2018.
Asked if the OEM would recommend certified shops, the duration Accident Advisor would be available to customers, and if any automated crash detection had existed before, Volvo product, tech and brand communications senior manager Jim Nichols wrote: "At the moment, we do not have any additional details about our CCC integration plans, but will release more information soon."
"CCC is proud to support Volvo Car USA as it looks to incorporate mobile in new ways and with the goal of protecting the well-being of their drivers," CCC OEM services group general manager and Senior Vice President Andreas Hecht said in a statement. "From a consumer standpoint, we're in an era of 'digital-firsts' where consumers use their smartphones to direct their experiences.  The Accident Advisor technology is a natural extension of our core, which has always been about making it easier for automakers, insurers, collision repairers, and parts dealers to deliver important services when their customers need them most."
OEMs aren't the only ones who could begin funneling customers to a collision repair network at the moment of loss with CCC technology like Accident Advisor. The information provider in September 2018 announced that it had successfully detected a crash using telematics and connected a customer with State Auto. In December 2018, it reported that State Auto had joined its CCC X data exchange, which:
Ingests telematics data from enrolled vehicles and provides additional analytics to help identify when an enrolled State Auto-insured vehicle is involved in an accident. Information regarding the potential accident is shared automatically with a State Auto first notice of loss representative, initiating the first steps in a comprehensive claims experience. State Auto can use this data to inform its decision-making in real-time, including vehicle routing and preferred method of inspection (based on carrier guidelines).
CCC has marketed Accident Advisor to insurers as well as OEM, and it observed Tuesday that "Many of the industry's leading national insurers are committed to leveraging CCC's accident resolution technology."
More information:
"CCC™ X Data Exchange Powers Telematics Innovations for State Auto"
CCC, Dec. 17, 2018
"CCC Introduces World's First End-to-End Connected Safety Experience"
CCC, Jan. 8, 2019
Images:
The CCC SEMA 2018 booth is shown. (John Huetter/Repairer Driven News)
Share This: