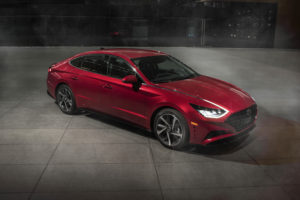 Hyundai this spring announced its 2020 Sonata and Elantra would carry autobraking standard across all trims, two of the most recent popular models to add the feature all OEMs have committed to make standard by 2022.

All 2020 Elantra and Sonata buyers will also receive automatic lane keeping and driver attentiveness warnings standard, regardless of trim. All three features are part of Hyundai's SmartSense suite of advanced driver assistance systems.
Sonata
The next-generation 2020 Sonata (learn about its brand-new body architecture here) made a dramatic leap here from the 2019 model year. Only the 2019 Sonata Limited delivered lane-keeping and autobraking standard. Driver attentiveness (which studies driving patterns to see if you're possibly dozing off) doesn't appear to have been available even as an option that year.
Hyundai Motor America said it sold 105,118 Sonatas in 2018, down from 131,803 but still clearly demonstrating a model highly likely to appear in shops.
The 2020 Sonata also will provide adaptive cruise control and automatic high beams standard across the map, instead of just on the Limited.
Ironically, though 2019 Sonata did come standard across all trims with blind-spot and rear-cross-traffic alerts, a features list for the 2020 Sonata indicates this won't be the case.
"ADAS systems can help the driver perform certain tasks using the car's three radar sensors, 12 ultrasonic sensors and five cameras," Hyundai writes in what is likely a reference to the maximum amount of sensors possible on the highest Sonata trim.
Elantra
Hyundai in August 2018 already had indicated "75 percent of the Elantra lineup" — the SEL, Value, Limited, Eco and Sport — would have the three technologies available as options for the 2019 model year. In September 2018, it said the ADAS would be standard for all those trims.
The new move brings the features to the final 25 percent of Elantras — the SE base trim — and means they will be unavoidable for repairers working on the popular car.
The Elantra was the nation's No. 7 sedan and the No. 22 overall model in 2018 based on sales records, according to Good Car Bad Car.
Hyundai Motor America sold 200,415 Elantras in 2018 — a slight increase despite consumer tastes backing SUVs and trucks.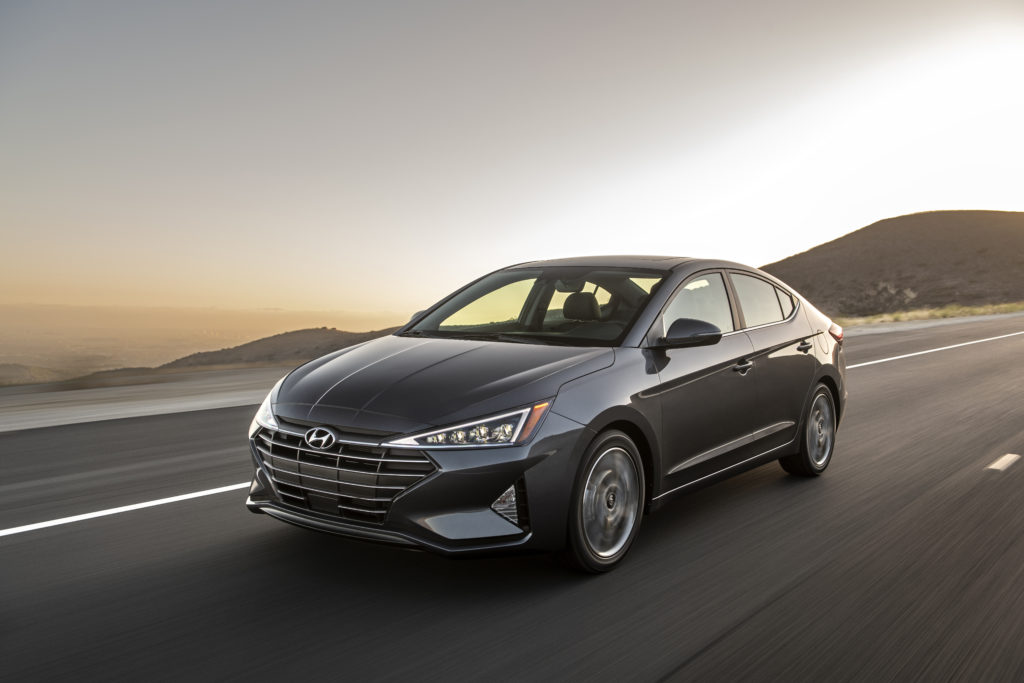 For repairers
While calibration procedures for these new technologies on the Sonata and Elantra can presumably be found in Hyundai's mechanical repair instructions, the OEM has yet to issue collision repair manuals in the U.S. This has led some repairers to argue Hyundais are automatic total losses given the potential liability of body repairs done solely through educated guess. In this regard, the issue could moot.
Hyundai in 2017 promised repair procedures would be coming soon, and the Society of Collision Repair Specialists and I-CAR have been working with the OEM on the issue.
However, the wave of Sonatas and Elantras now actively working to avoid other vehicles certainly could create another issue for the collision repair industry besides calibration: loss of volume.
The Insurance Institute for Highway Safety estimates that forward collision warning plus autobraking will cut 50 percent of front-to-rear crashes. Lane departure warning alone will cut 11 percent of various crashes.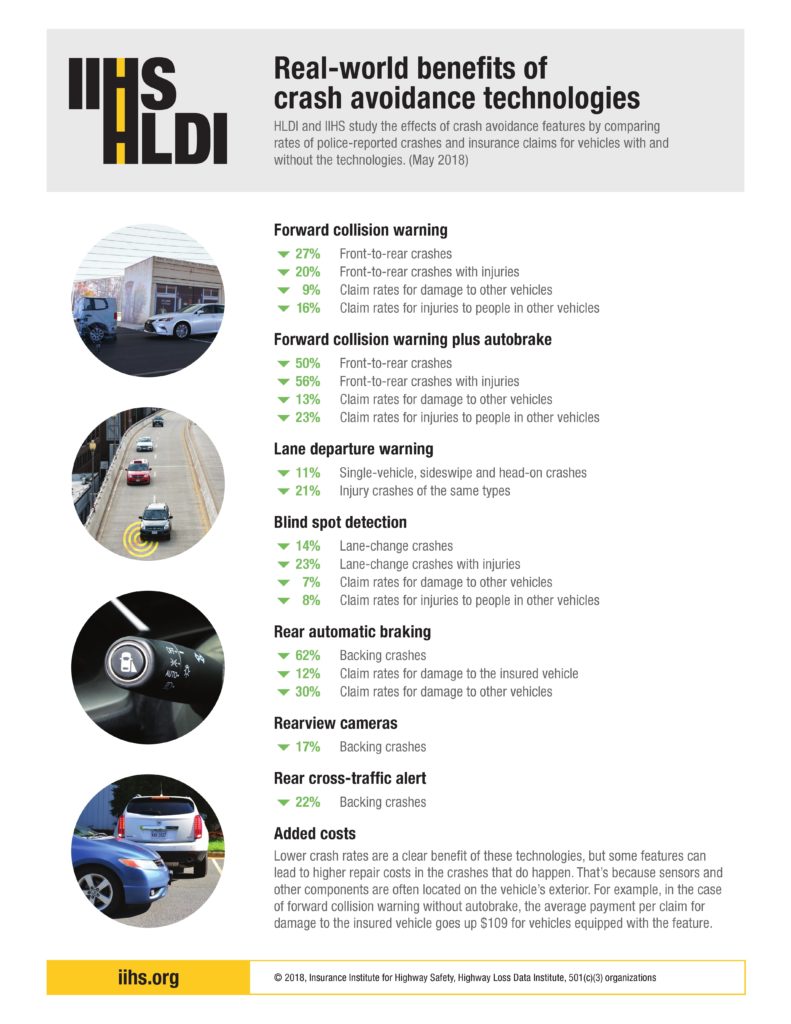 The IIHS and NHTSA reported in March that about half of the vehicles produced by 20 key OEMs between Sept. 1, 2017, and Aug. 31, 2018, came with autobraking — up from less than a third the year before.
Hyundai and Genesis combined had the technology on 18 percent of their fleet for that time. However, Consumer Reports estimated that statistic would rise to 62 percent of all Hyundai and Genesis models delivering the technology standard for the 2019 model year.
A features lineup for the 2019 Elantra also suggests that every version but the SE trim carried blind-spot and rear-cross-traffic alerts standard as well. The release for the 2020 Elantra said those still aren't even options on the base 2020 Elantra SE.
The Limited trim also has an "Ultimate Package" option which adds adaptive cruise control using a radar "mounted on the lower front grille," safe exit alerts (warning you not to open a door if someone is coming from behind) and autobraking which can detect pedestrians too. That autobraking is upgraded from the one found on the other trims; it uses radar in addition to the cameras the other Elantras employ.
The 2020 Sonata makes pedestrian detection standard too. Safe Exit Assist is definitely planned for the model as well, though whether it's standard or an option and on which models is unclear from Hyundai's April 17 Sonata news release and undated features list.
The Elantra also made an intelligent variable transmission standard for the 2020 model year. The Sonata adds a slew of other new features; find out more with Hyundai's April 17 news release.
More information:
"The all-new Sonata embodies Hyundai's Sensuous Sportiness design language with a sophisticated four-door-coupe look"
Hyundai, April 17, 2019
"2020 Hyundai Elantra Improves Fuel Economy and Safety"
Hyundai, May 14, 2019
Hyundai's available OEM repair procedures
Images:
The 2020 Hyundai Sonata is shown. (Provided by Hyundai)
A 2019 Hyundai Elantra Limited is shown. Hyundai for the 2019 model year made autobraking and other SafetySense tech standard on all trims except the base SE. The 2020 Elantra SE will now join the other 75 percent of the Hyundai lineup offering autobraking standard. (Provided by Hyundai)
Insurance Institute for Highway Safety Highway Loss Data Institute research has determined that numerous common advanced driver assistance systems are effective in reducing crashes. (Provided by Insurance Institute for Highway Safety)

Share This: