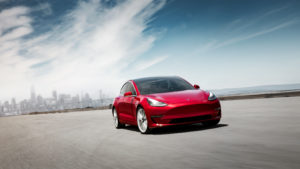 The IIHS and NHTSA reported Wednesday that about half of the vehicles produced by 20 key OEMs between Sept. 1, 2017, and Aug. 31, 2018, came with autobraking — up from less than a third the year before.
The data would seem to suggest a major part of the 2018 model year either came standard with the proven crash-cutting feature or had it ordered as an option by the consumer. AAA recently projected 30.6 percent of 2018 model-year vehicles offered autobraking (also known as "AEB") standard.
Tesla led the industry with 100 percent of its vehicles from that 2017-18 period equipped with autobraking.
"Getting AEB on the road as soon as possible was the main aim of the commitment, and this latest report shows that a significant proportion of vehicles left the factory with AEB on board," Insurance Institute for Highway Safety Chief Research Officer David Zuby said in a statement.
Consumer Reports data provided by the IIHS-National Highway Transportation Safety Administration news release on Wednesday reported many model-year 2019 vehicles already came standard with the technology.
Thirteen of the 20 manufacturers tracked by the IIHS and NHTSA as part of an auto industry pledge to make autobraking standard by 2022 offered it standard on all trims for at least half of their 2019 models based on the Consumer Reports data. Toyota and Lexus were projected to offer it standard on 90 percent of their vehicles, the largest proportion of the mainstream brands.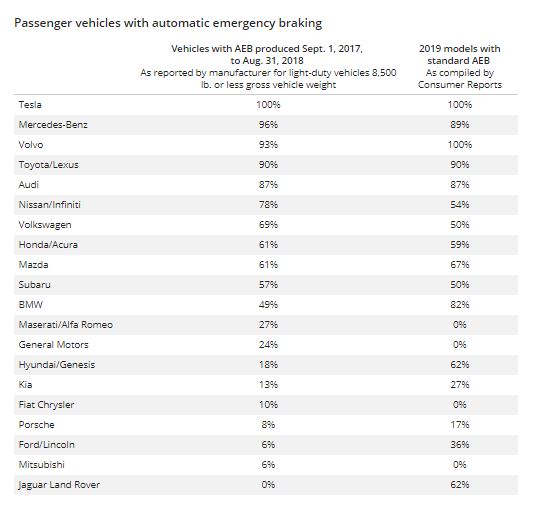 Progress on this pledge matters to the collision industry because it could significantly reduce collision volume in the near future. Rear-ending constituted a third of all 2015 crashes, according to an Insurance Information Institute report using federal data.
However, the collisions which do occur are more likely to require extra calibration labor in the shop or by a third party — which in turn might affect the ability to use aftermarket parts and expose failings in a shop's fundamentals.
The IIHS estimates that AEB systems which can first warn the driver and then hit the brakes autonomously can cut rear-ending by half. Even a mere alert to the driver will cut more than 25 percent of them, IIHS research has found.
The insurance and collision industry will have 28,000 fewer crashes to fix or total in 2025 based upon IIHS projections tied to the OEMs meeting their 2022 promise.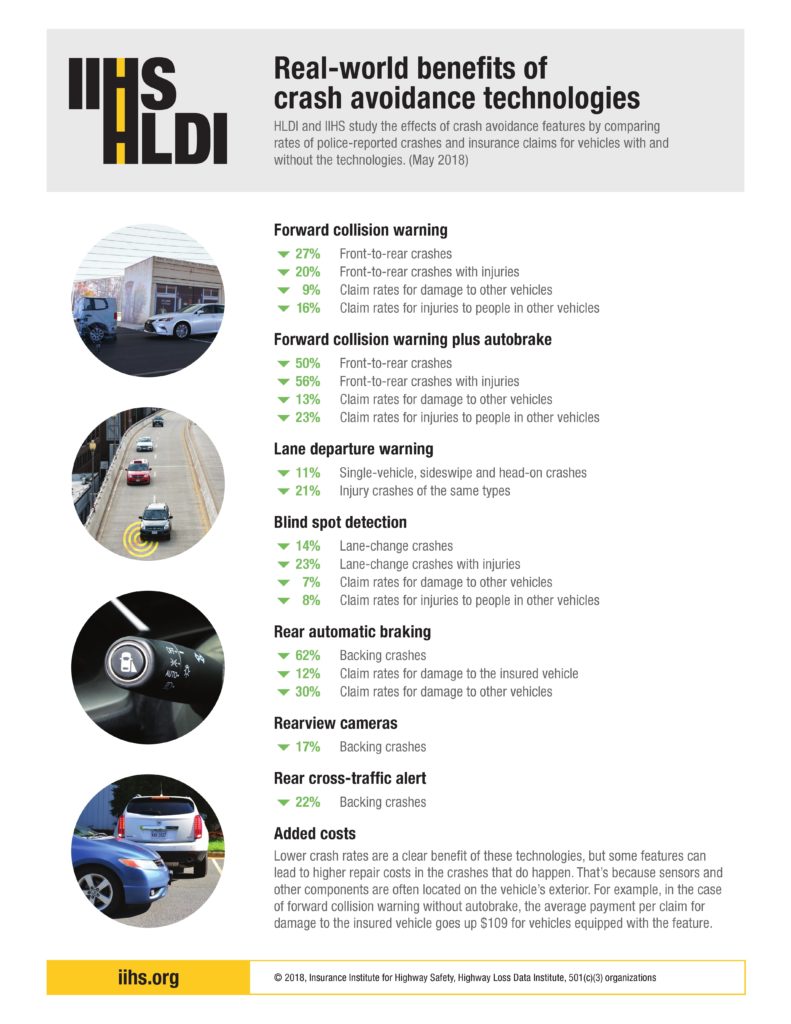 "When it comes to being on track for the 2022 targets, most manufacturers are ahead of the curve, but far too many still need to kick their efforts into gear," Consumer Reports advocacy Vice President David Friedman said in a statement. "It is also encouraging that more than half of models now come with AEB standard, and a third already have more advanced capabilities like pedestrian detection."
If you fix a lot of Fords/Lincolns, Mitsubishis, Porsches, Jaguars or Land Rovers, you might not experience as dramatic a bite at first. Fewer than 10 percent of vehicles they produced between Sept. 1, 2017, and Aug. 31, 2018, had autobraking. Jaguar Land Rover produced none with it during that time.
However, JLR jumps to 62 percent standard for the 2019 model year, Ford/Lincoln rises to 36 percent, and Porsche to 17 percent, according to Consumer Reports.
Of course, the average vehicle on the road was more than 11.6 years old in 2016. That means a large population of vehicles lacking AEB and other advanced driver assistance features is still likely to generate plenty of crashes — including by banging into these ADAS-equipped cars — based on a 2018 CCC projection within the 2019 "Crash Course" published this week.
However, the average repairable and average totaled vehicle were in 2018 were just 5.9 and 9.66 years old, respectively in CCC's data. So it doesn't seem as though it'd take long before volume-focused repairers start feeling a pinch from fewer first-party claims, assuming severity doesn't offset it.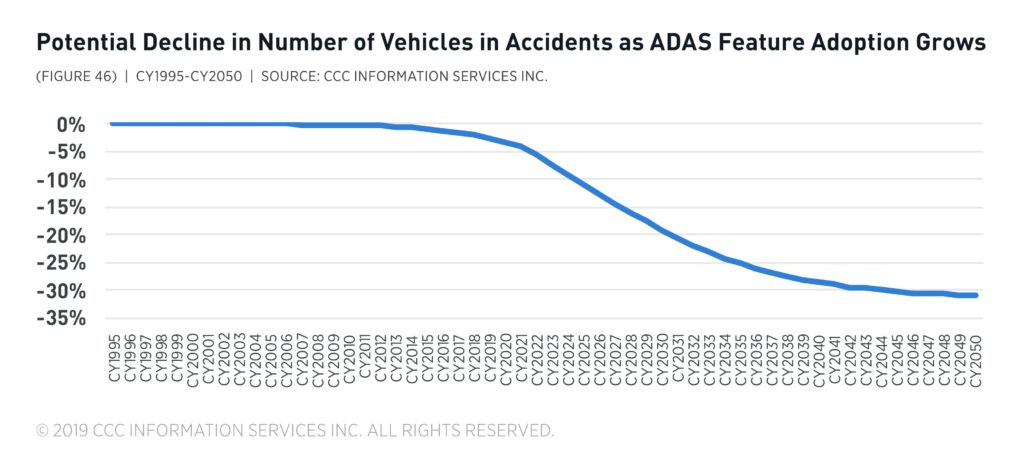 More information:
"10 automakers equipped most of their 2018 vehicles with automatic emergency braking"
Insurance Institute for Highway Safety, March 13, 2019
Images:
A Tesla Model 3 is shown. All Teslas come with autobraking standard, the OEM's website stated on March 13, 2019. (Provided by Tesla)
The IIHS and NHTSA reported Wednesday that about half of the vehicles produced by 20 key OEMs between Sept. 1, 2017, and Aug. 31, 2018, came with autobraking — up from less than a third the year before. Consumer Reports also shared data that the technology is often standard in the 2019 model year. (Provided by IIHS, NHTSA, Consumer Reports)
Insurance Institute for Highway Safety Highway Loss Data Institute research has determined that numerous common advanced driver assistance systems are effective in reducing crashes. (Provided by Insurance Institute for Highway Safety)
This 2018 CCC chart estimates the decline in auto frequency as advanced driver assistance systems become more common. (Provided by CCC)
Share This: