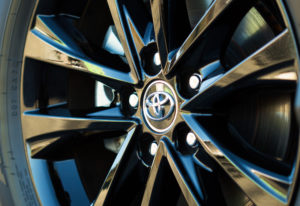 AAA reported last month that nearly a third of all 2018 model year vehicles came standard with autobraking, one of the more effective technologies in terms of crash prevention.
A new study found autobraking ("Automatic Emergency Braking" under AAA's proposed standardized terminology) came standard on 30.6 percent of all 2018 models — up from what Consumer Union said was 19 percent in the 2017 model year.
OEMs also included lane-keeping standard on 13.9 percent of vehicles and adaptive cruise control on 11.8 percent of the 2018 model year.
92.7 percent of new vehicle models on sale as of May 2018 had at least one of these or another advanced driver assistance system available, AAA said. The mix of vehicles in your market might dictate which ones you're likely to see, based on an AAA analysis of features offered by segment.
"ADAS features such as Adaptive Cruise Control, Blind Spot Warning, and Automatic Emergency Braking are now available in at least 80% of vehicles in each of the Midsize, Large, and SUV vehicle segments," AAA wrote. "Lane Keeping Assistance is available in at least 60% of vehicles within 7 of 10 vehicle segments."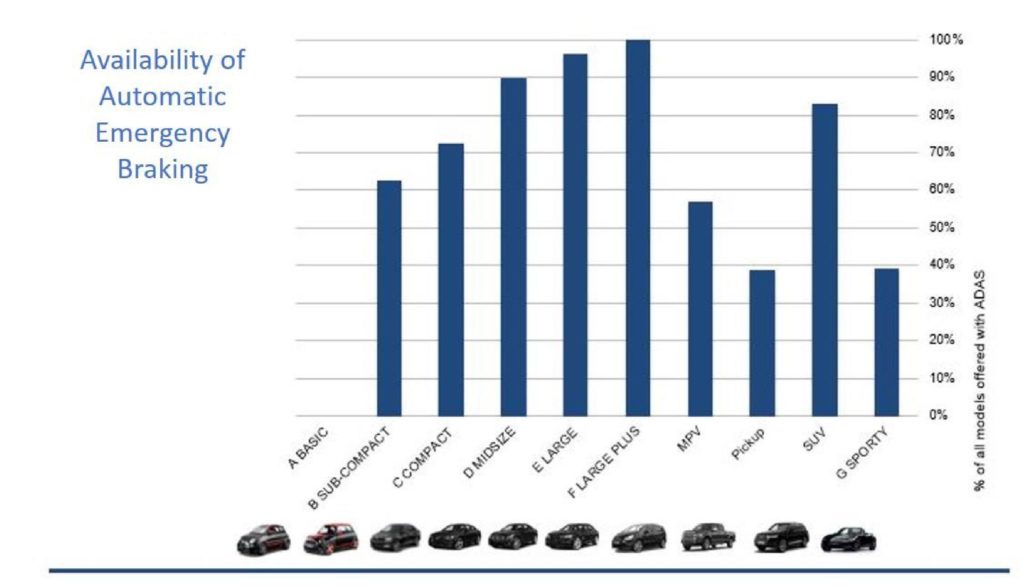 The spread of the technology is significant for collision repairers for two reasons. First, the feature and associated elements on the vehicle (for example, a windshield with an ADAS camera behind it) needs to be properly restored and recalibrated following the crashes which do exist. This bestows an additional level of repair complexity and responsibility upon the shop.
Second, the Insurance Institute for Highway Safety has found at least two of these technologies to reduce crash frequency. Autobraking cuts rear-ending 50 percent and third-party rear-ending claims 13 percent. Considering that rear-ending constitutes the most likely scenario to bring a vehicle to your shop — it represented a third of all 2015 crashes, according to an III report using federal data — this could have a significant effect upon your collision business model.
Mere lane departure warnings to the driver — not necessarily lane-keeping (in which the car steers the vehicle to a better spot in the lane) — cut sideswipe, head-on, and one-vehicle crashes 11 percent, according to the IIHS. (For context, sideswipes made up 12.3 percent of all crashes in 2015.) However, the IIHS in August 2018 found flaws in the more advanced lane-keeping tech.
The IIHS also in August detected flaws with adaptive cruise control systems on the market. However, it noted the existence of an external study which "found that drivers using ACC have longer, safer following distances than drivers who don't use ACC" and said adaptive cruise control had more evidence in its favor then lane-keeping. This suggests it too will cut into a repairer's volume.
Paradoxically, the new technology might also reduce severity as well as frequency by mitigating the significance of the crashes which do occur — a double whammy for a shop. This has been detected by CCC and Honda, and it also appears to be reflected in May 2018 IIHS data. For example, while autobraking cut third-party property damage claims by 13 percent, it reduced claims injuries to folks in other vehicles 23 percent — suggesting the crashes were at a lower speed than they would have been otherwise. Lane departure warning cut 11 percent of relevant crashes — but those kind of crashes which also had injuries by 21 percent.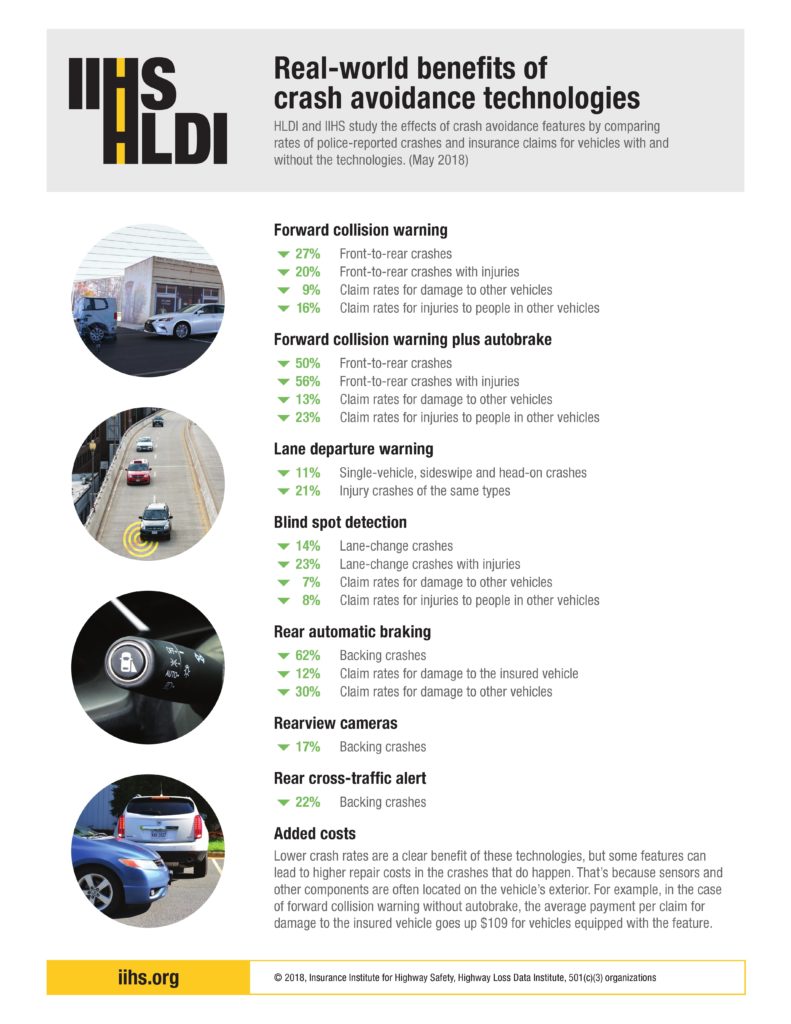 "In addition to being widely available, the costs of driver assistance features are relatively affordable," AAA wrote. "For example, the average price of Adaptive Cruise Control is $1174 as a stand-alone feature and $2283 in an ADAS bundle. The cost of an ADAS bundle is around $1,950 on average according to SBD data. The average new vehicle cost for December 2017, as reported by Kelley Blue Book, was $36,113. This makes the cost of an ADAS bundle approximately 5.4% of the total cost of the vehicle. "
However, 2016 research by IHS Automotive found that consumers globally wanted ADAS more than other features, but they're not necessarily willing to pay much for it. If OEMs don't make the tech standard (which they have pledged to do with autobraking by 2022), various ADAS systems might not spread to the 92.7 percent of vehicles they theoretically could.
"While ADAS systems are most desirable among global survey respondents, consumers do not want to pay for these advancements," IHS Markit wrote in a July 2016 news release. "Traditionally packaged within vehicles as part of optional features like leather seats and high-end infotainment systems, consumers expect advanced safety systems to be included in new vehicles at no charge – since electronic stability control systems and pre-charged brakes have become standard equipment on a global scale.
"However, of the global audience, U.S. consumers are most willing to pay for ADAS features, indicating they would be willing to spend between $427 and $505 at the time of vehicle purchase, depending on the feature. This is in line with current market prices. Consumers in other regions are less willing to pay market prices for these technologies in their next vehicle."
It's unclear if this speaks to paying an extra $427-$505 for an option or if this refers to the maximum tolerated sticker price increase for a car with the tech standard, or both. (Take the KBB $36,113 new car. Would a consumer who'd balk at an ADAS system offered as an optional $1,950 happily have agreed to buy the same car priced at $38,063 containing the bundle standard, perceiving the two prices differently?)
On the other hand, proven results could prompt NHTSA to require the tech be standard, just like electronic stability control (a form of ADAS) or like the agency would probably have done with autobraking if automakers hadn't moved on their own.
More information:
"AAA Recommends Common Naming for ADAS Technology"
AAA, January 2019
"ADVANCED DRIVER ASSISTANCE TECHNOLOGY NAMES"
AAA, January 2019
"Crashes By First Harmful Event, Type Of Collision And Crash Severity, 2015"
Insurance Information Institute using NTHSA, DOT data, date unknown
More information:
A brake on the 2018 Toyota RAV4 Adventure. Autobraking is standard on all 2018 RAV4s. (Provided by Toyota)
AAA reported in January that nearly a third of all 2018 model year vehicles came standard with autobraking. It was available as an option on even a larger percentage. (Provided by AAA)
Insurance Institute for Highway Safety Highway Loss Data Institute research has determined that numerous common advanced driver assistance systems are effective in reducing crashes. (Provided by Insurance Institute for Highway Safety)

Share This: