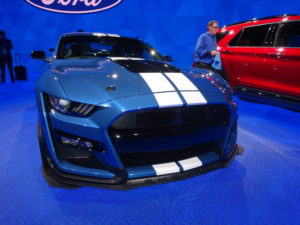 Ford used a new vehicle front and some exotic materials to produce the 2020 Shelby Mustang GT500 coming on the market this fall.
While it's not a vehicle that'll be common to body shops, we thought repairers would still be interested in hearing about the engineering and lightweighting. There's always the potential that techniques Ford used here could trickle down to performance vehicles your shop does see — or even more mainstream vehicles.
"With its supercar-level powertrain, the all-new Shelby GT500 takes the sixth-generation Mustang to a performance level once reserved only for exotics," Ford Performance global director Hermann Salenbauch said in a statement. "As a Mustang, it has to be attainable and punch above its weight. To that end, we've set a new standard among American performance cars with our most powerful street-legal V8 engine to date, plus the quickest-shifting transmission ever in a Mustang for all-out precision and speed."
"Everything from the A-pillar forward is all-new," Ford performance chief engineer Carl Widmann said of the 2020 GT500 after its appearance at the North American International Auto Show.
Those front structures are tailored with an eye to cooling, and the GT500 has 50 percent more opening surface area than the GT350, according to Widmann.
The hood itself needs to deliver a particular look, and to achieve this curvature, "it's actually SMC," he said. The fenders are also composite, Widmann said.
"We can get a lot of shape out of it," Widman said of composite — and also "punch a huge hole in it" for venting for downforce. The hood vent is Mustang's largest ever, according to Ford.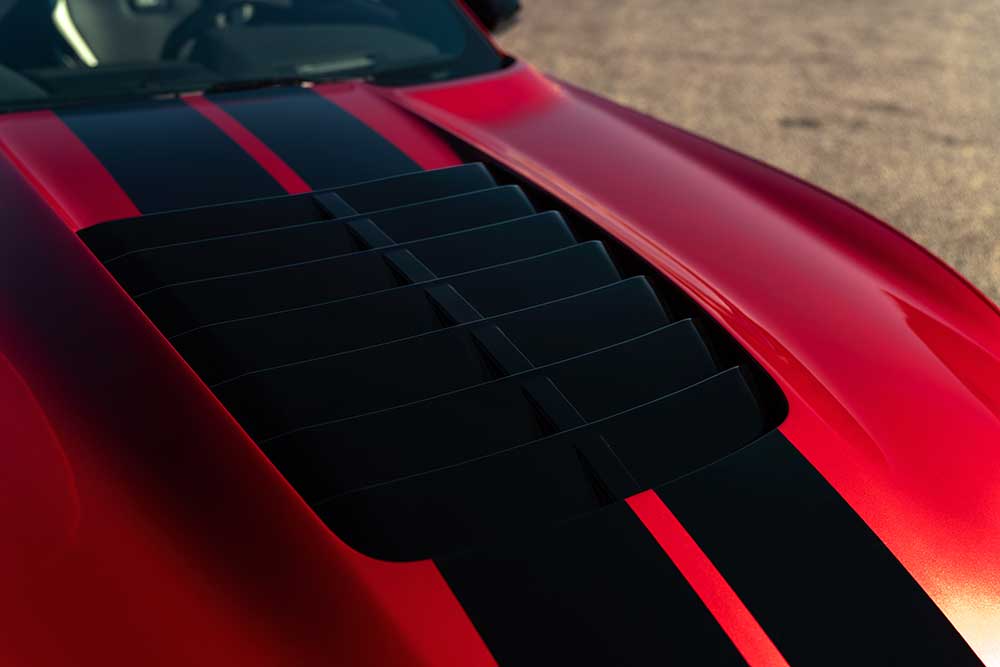 The hood also can be locked down with GT500-exclusive ball joint hood pins, according to Ford.
The bumper fascia is plastic and reinforced with different types of plastic of different strengths, he said.
Carbon fiber also can be found on the grille opening reinforcement, though this also exists on the GT350, according to Widmann.
"It brings the hood down," delivering a lower hoodline, he said.
"Up front and below, a new splitter, new belly pan and reverse wing with side splitters help to channel air in and around the car for track-capable thermal management and reduced lift at high speeds with minimal drag penalty," Ford also writes of the front end.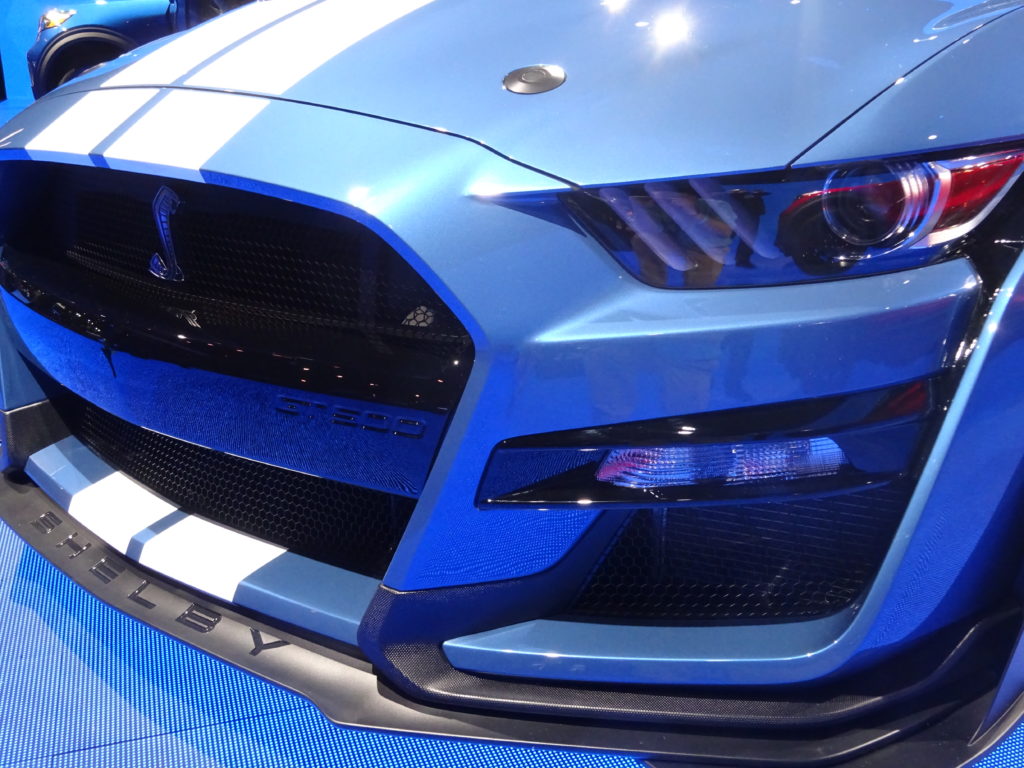 Customers with the Carbon Fiber Track Package also receive front splitter wickets.
"A thin mesh metal grille helps protect radiators from debris while improving airflow," Ford also wrote of the front end. "Dual hot-side thermostats improve coolant flow and increase cooling capacity in extreme operating conditions. A removable rain tray made from aluminum protects the engine from moisture and debris, further aids cooling airflow and reduces front-end lift when removed."
There's a lot going on beneath such surfaces besides the engine. According to Ford, technology potentially damaged during a collision might include:
Behind the front fascia, six heat exchangers are packed neatly with integrated ducting and 16 speeds for more even airflow, and there's a 600-watt brushless fan and pulse-width-modulated electric pump for the air-to-liquid charge intercooler. This system includes two compact high-efficiency radiators first designed for open-wheel racing – auxiliary engine cooling on the driver's side and engine oil cooling on the passenger side. The center stack features the main high-temperature radiator, low-temperature intercooler radiator, and an air conditioning condenser with transmission cooler horizontally mounted below.
Perhaps the most interesting item from a structural perspective is the vehicle's magnesium strut tower base.
Ford couldn't use the traditional Mustang's tower-to-tower brace because of the supercharger in the center of the engine compartment, according to Widmann. Instead, it had to go around the supercharger, creating a "relatively large footprint," he said.
Ford solved this by building the tower out of cast magnesium, permitting the center location of the supercharger while contributing stiffness, according to Widmann.
"Shelby GT500's structural brace is made from lightweight AE44 magnesium alloy containing rare earth elements for maximum stiffness under extreme heat," Ford writes. "The strut tower brace provides a mount for a gas shock for the hood – a Mustang first."
Other items potentially of interest to collision repairers:
• The oil pan mounts to the engine and transmission "for added strength and reduced vibration." It's unclear if this is different from the GT350.
• Three rear aerodynamic possibilities exist. "A performance decklid spoiler comes standard, while an available swing spoiler comes with the Handling Package and a carbon fiber track wing is part of the Carbon Fiber Track Package," Ford wrote. "A new rear diffuser with updated composite materials provides added aerodynamic strength."
The rear swing spoiler appeared on the 2019 GT350 Track Package and can receive a Gurney flap. The carbon fiber wing is exclusive to the GT500.
• Adjustable front camber plates are an option, and packages include custom bushings "built into the camber plates" which "reduce harshness and noise typical of aftermarket plates for more comfortable use on the street," according to Ford.
• Don't order the wrong wheels. The standard aluminum wheels are wider than the GT350's. Ford also offers "hardcore enthusiasts" the option of "all-new staggered 20×11-inch front and 20×11.5-inch rear wheels … for reduced unsprung weight and improved noise, vibration and harshness performance."
One wonders if at least one version of the GT500 would come with an even stricter version of Ford's ban on nearly all wheel repair. According to Ford, the GT500's Carbon Fiber Track Package delivers carbon-fiber wheels seen through "clear epoxy coating that protects the wheels from UV light. It is width-matched to the new sidewall and contact patch on the Pilot Sport Cup 2 tires."
• Don't order the wrong tires either. They're custom.
• New 2020 paint colors include "Iconic Silver," "Twister Orange" and "Rapid Red." Painted stripes are an option.
More information:
"Most Powerful Street-Legal Ford in History: All-New Shelby GT500 Is the Most Advanced Mustang Ever for Street, Track or Drag Strip"
Ford, Jan. 14, 2019
Ford 2020 Mustang Shelby GT500 website
Images:
The 2020 Ford Mustang Shelby GT500 appears at the 2019 North American International Auto Show. (John Huetter/Repairer Driven News)
The hood vent on the SMC composite hood of the 2020 Ford Mustang Shelby GT500 is Ford's largest such opening for a Mustang ever. (Provided by Ford)
Share This: