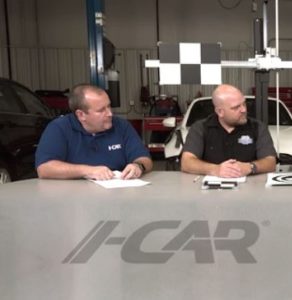 Longtime industry technical relations director Jason Bartanen and six-year director of curriculum and product development Josh McFarlin — perhaps two of the most important and recognizable I-CAR figures for the average shop — have announced they will leave the organization soon.
On May 31, Bartanan announced on Facebook he would depart I-CAR this Wednesday, ending a more than two-decade run at the organization.
"After nearly 23 years, I have made the difficult decision to move on from I-CAR; my last day will be June 12," Bartanen wrote. "While I can't share my next adventure yet, I'm excited for the next chapter and am going to come out swinging for the fences.
"I've had an amazing journey, met hundreds of dear friends along the way, and like to think that I've made a difference while supporting the I-CAR Vision of compete, safe, and quality repairs for the ultimate benefit of the consumer. I will always support and embrace this vision and it will continue to guide me."
A week later, McFarlin followed suit.
"My last day with I-CAR, after 6 years, will be July 19th," he wrote Friday. "It will be a bummer to not work with all of the great friends I have made in my time here, but I will still be in the industry and I am excited to get back home after all of this time up North."
The two men had just appeared on Collision Hub's "Repair University" in a May 27-29 three-part series about I-CAR. McFarlin in April had unsuccessfully run for a seat on the Society of Collision Repair Specialists' board.
We asked I-CAR Monday about the loss of the two key executives and what effect it would have on training and the extensive overhaul of the Professional Development Program under way.
"We are actually working on something this week that will tell the story! Stay tuned!" marketing director Stacey Wesselink wrote.
"I worked collaboratively with the Leadership Team to establish our 5-year strategy for the Organization that included an overhaul of the entire professional development program including all program and business rules, as well as the entire IT infrastructure to support it," McFarlin's LinkedIn profile states. "Developed and implemented the strategies for Online, Live, Hands-On, Certification, and Virtual training and then integrated the strategies within the larger training delivery strategy for the organization. I spearheaded the designing and leading of a $3.1M curriculum redesign based on an analysis project; utilizing mix of staff and vendor; result: blended learning model of 270 courses w/higher learner engagement; on time and $500k under budget. I completed a $2.8M implementation of the IBM Premiere LCMS, as well as an installation of the Cumulus digital asset management (DAM) system and a custom-built instructor support website for access to materials for 450 part time remote instructors. I lead the team to overhaul the development process – reducing development time, on average, from 14 months to <4 months per course."
I-CAR also said it would convert its classes into Spanish this year, an initiative McFarlin discussed with us in 2017.
Bartanen in recent years played a key role in the development of the I-CAR Repairability Technical Support portal, which launched in 2014. The resource connects collision repairers to OEM repair procedure websites and contains videos explaining how to log on there. It also features a stream of posts related to repair procedures.
The most valuable feature arguably could be "Ask I-CAR," which allows auto body shops to ask questions about OEM procedures and quickly get an answer from I-CAR or the OEM itself.
The portal added a hybrid and electrical vehicle disabling database in 2015, and Bartanen revealed the addition of an advanced driver assistance system calibration database the next year.
A 2018 Collision Advice and CRASH Network "Who Pays for What?" study found more than half of respondents reporting they used the RTS portal to research OEM repair information, an increase of 7 percentage points over 2017, according to I-CAR.
Bartanen also has been a common figure on industry panels and educational events, memorably a mythbusting "What does I-CAR say?" event at NACE 2017.
From left, I-CAR curriculum and product development director Josh McFarlin and I-CAR industry technical relations director Jason Bartanen appear in an 2018 I-CAR and SCRS video highlighting nine new I-CAR classes. (Screenshot from I-CAR and SCRS video)
Share This: