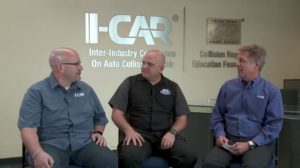 Outgoing I-CAR executives Jason Bartanen and Josh McFarlin in a video Wednesday described teams of qualified I-CAR personnel ready to continue their work.
The film featuring Bartanen, McFarlin and CEO John Van Alstyne looked back at the duo's accomplishments and ahead to what I-CAR called the "deep bench strength" they leave behind.
"Despite their departures and thanks to their contributions, I-CAR continues to thrive and the organization is well-positioned to continue leading the collision repair industry for the next 40 years and beyond," I-CAR wrote in a news release. "Both Bartanen and McFarlin have built teams with deep bench strength that will continue providing I-CAR, instructors, volunteers, the collision repair Inter-industry and other key stakeholders with the same outstanding level of leadership and support."
Bartanen, I-CAR's industry technical relations director for 23 years, and McFarlin, I-CAR's six-year director of curriculum and product development, are perhaps two of the most important and recognizable I-CAR figures for the average shop. Bartanen's last day was Wednesday. McFarlin will remain through July 19.
"We're gonna miss you guys," Van Alstyne said.
Bartanen said he received the opportunity to "do something a little bit different" with a small organization he thought would be an up-and-comer. He said he was looking forward to the greater daily interaction with technicians offered by the new post.
McFarlin was moving back to his native Florida to also work for a smaller organization with "real potential in front of it."
I-CAR's news release credited them for "many significant contributions to the organization's growth and success during their tenure," and Van Alstyne called receiving the news both were leaving so close together "like getting struck by two lightning bolts."
Asked by Van Alstyne about what accomplishments made them proud, Bartanen called the Repairability Technical Support portal launched in 2014 "so wonderful."
He said he loved every moment of the work. "Connecting with the technicians on that level was wonderful," Bartanen said.
The resource connects collision repairers to OEM repair procedure websites and contains videos explaining how to log on there. It also features a stream of posts related to repair procedures.
The most valuable feature arguably could be "Ask I-CAR," which allows auto body shops to ask questions about OEM procedures and quickly get an answer from I-CAR or the OEM itself.
The portal added a hybrid and electrical vehicle disabling database in 2015, and Bartanen revealed the addition of an advanced driver assistance system calibration database the next year.
Bartanen also mentioned developing some of the first vehicle technology-specific courses, including curriculum for the aluminum F-150.
McFarlin cited working to the mission and vision of I-CAR and the opportunity to work with the volunteers and instructors and I-CAR's own Appleton, Wis., team.
He also noted the opportunity to "get to know an industry." Though he's worked in the automotive sector for 25 years, only his last six have been spent in collision.
Van Alstyne and Bartanen mentioned new curriculum product families such as vehicle-specific and hands-on courses also were developed during McFarlin's time. "We got a lot of stuff that's just about ready to launch"
McFarlin said there'd been "enormous amount of change" in what courses I-CAR was building and how it did it, yet there was "no significant turnover" except for normal attrition.
"I'm proud of that, too," he said. "Because we've changed an awful lot, but we've done it in such a way that it wasn't disruptive to the point where people felt that their best option was to leave."
Van Alstyne said I-CAR would recruit for the duo's roles but had interim management in place. Both Bartanen and McFarlin described experienced teams able to continue their efforts.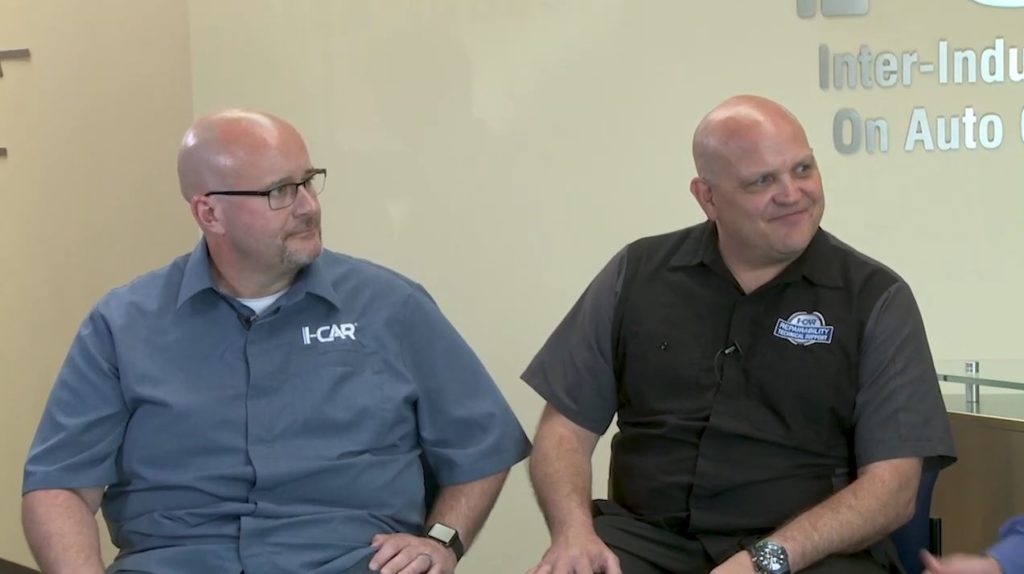 Both industry technical relations supervisor Danielle Babino and OEM technical relations lead associate Scott VanHulle had been involved with the RTS portal since the beginning, according to Bartanen.
"They're mainstays there, and they just do an amazing job," Bartanen said. He said Babino leads a "very solid team" of collision repair experts, and he had "nothing but the utmost respect for her and her abilities." For his part, VanHulle with OEM relationships was "as solid as it could possibly be there."
Both had his "full confidence," he said.
He also cited multiple trainers, calling them possibly the best "in the world."
"… I look for more great things from them," he said.
All embraced the I-CAR vision of "'complete, safe and quality repairs,'" Bartanen said.
"I will continue to be guided by that as well," he said. "I think the I-CAR vision is part of me, and it will always be part of me."
McFarlin said that his team was well positioned to keep developing good curriculum and what the industry needed when it needed it.
"My primary function at this point is just to keep obstacles out of their way," McFarlin said.
He called I-CAR curriculum development senior manager Andrew Barlow instrumental in some efforts with online curriculum and noted the extensive time instructional design supervisor Jamie Jacobs and lead subject matter expert Jeff Poole had with the organization. He cited others in his group as well.
"It's a pretty neat team," McFarlin said.
More information:
"I-CAR Salutes Jason Bartanen and Josh McFarlin"
I-CAR YouTube channel, June 12, 2019
I-CAR Repairability Technical support portal
I-CAR "Train to Gain" curriculum and Gold Class overhaul
Images:
From left, Josh McFarlin, I-CAR's six-year director of curriculum and product development; Jason Bartanen, I-CAR's industry technical relations director for 23 years; and I-CAR CEO John Van Alstyne, participate in a June 12, 2019, video honoring the outgoing McFarlin and Bartanen. (Screenshot from I-CAR video on YouTube)
From left, Josh McFarlin, I-CAR's six-year director of curriculum and product development, and Jason Bartanen, I-CAR's industry technical relations director for 23 years, participate in a June 12, 2019, video honoring them. Both men are leaving the organization. (Screenshot from I-CAR video on YouTube)
Share This: