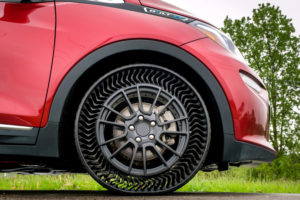 GM announced last week it and Michelin had partnered on a new generation of airless wheels the OEM has targeted for passenger vehicles "as early as 2024."
Michelin described the use case that year as "mainstream."
General Motors said it will test and validate the Uptis "Unique Puncture-proof Tire System" prototype on Chevrolet Bolts in Michigan this year.
"General Motors is excited about the possibilities that Uptis presents, and we are thrilled to collaborate with Michelin on this breakthrough technology," GM global purchasing and supply chain Senior Vice President Steve Kiefer, senior vice president, Global Purchasing and Supply Chain, General Motors. "Uptis is an ideal fit for propelling the automotive industry into the future and a great example of how our customers benefit when we collaborate and innovate with our supplier partners."
GM said Uptis' lack of flats would cut materials usage and dangerous blowouts, "contributing to GM's vision for a world with zero crashes, zero emissions and zero congestion."
This concept is interesting in light of GM also having articulated a vision of operating a self-driving fleet of Bolts as inexpensively as possibly — starting this year.
"Uptis eliminates regular maintenance, such as pressure checks, and inspections for damage, such as punctures," Michelin wrote on its Uptis webpage. "This makes Uptis ideal for the vehicles of tomorrow, from self-driving shuttles to all-electric vehicles."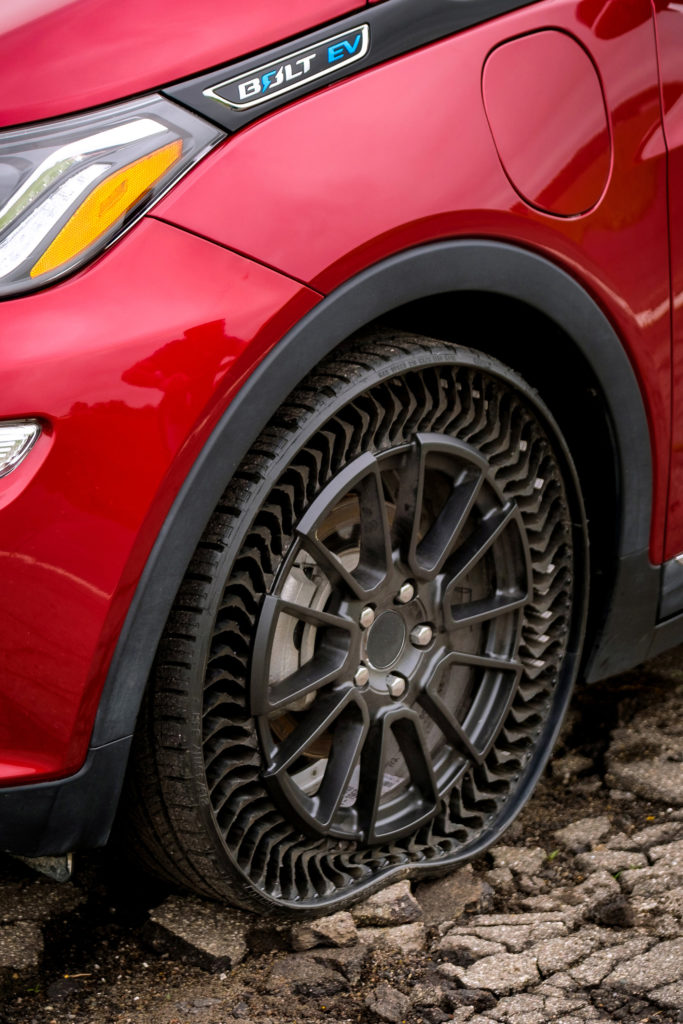 In a FAQ, Michelin wrote that the "most obvious target market segments for Uptis" would be "fleet applications, especially autonomous passenger fleets or urban fleets that transport high passenger volumes."
A wheel that doesn't need constant tire changes and inspection reduces operating costs and unprofitable downtime — helping GM reach the dream of $1 or lower cost per autonomous taxi mile. Eliminating the chance of surprise flats also would reduce situations where a self-driving vehicle would be stranded unexpectedly or rattled by new variables while driving in traffic, without the human capability to adapt and manage either situation. (Sure, telematics can let the vehicle or remote GM observers detect a problem and seek help, but why not minimize the chance that's necessary in the first place?)
"The vehicles and fleets of tomorrow — whether autonomous, all-electric, shared service or other applications — will demand near-zero maintenance from the tire to maximize their operating capabilities," Michelin wrote in a news release.
The Uptis wheel features an alumimum core beneath a tire built out of composite rubber and "high-strength resin embedded fiberglass," according to Michelin. The supplier said its R&D roadmap focuses on sustainable, airless, connected and 3-D printed technology. It's not clear if the Uptis is 3-D printed.
"Uptis features ground-breaking improvements in architecture and composite materials, which enable Uptis to bear the car's weight at road-going speed," the wheel manufacturer wrote in a news release.
It called the Uptis similar to the predecessor Tweel technology in features like "a tire-wheel assembly, 'spokes' that carry the load and a shear beam outer ring, among others," but said the new wheel's "structure and materials represent a technological breakthrough."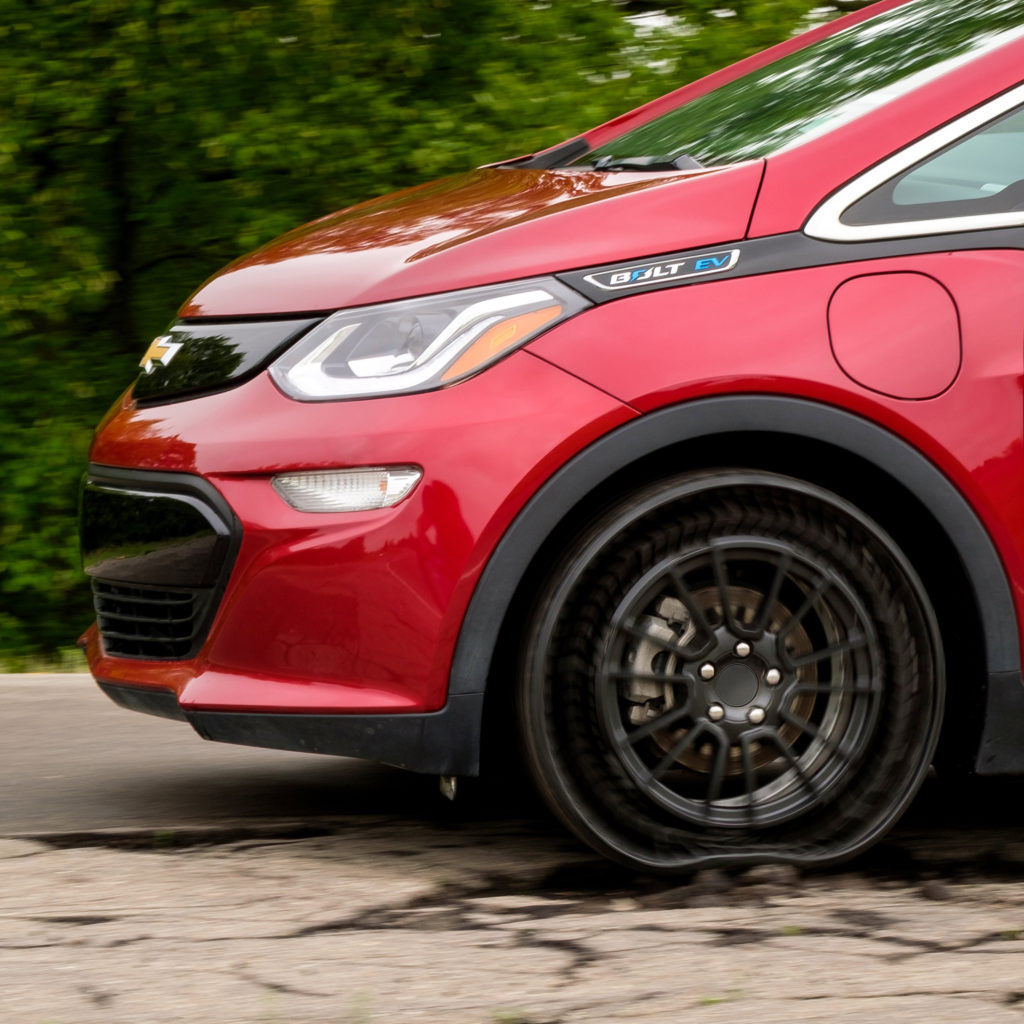 Michelin said the Uptis is meant to work at highway speeds, while the older Tweel can only handle at slower speeds.
"Simply put, Uptis is tuned for the requirements of passenger vehicles, Tweel is not," Michelin wrote.
From a collision repair perspective, one wonders if the new wheels could alter the repair and inspection process. Does an airless tire require closer scrutiny after a crash? Tighter tolerances for balancing or alignment? An end to any cosmetic blemish repair (the only thing many OEMs, including GM, allow on wheels today)? Or perhaps they're more resilient and demand less from the aftermarket. It'll be interesting to see where this goes.
More information:
"MICHELIN, GM TAKE THE AIR OUT OF TIRES FOR PASSENGER VEHICLES"
Michelin, June 4, 2019
"Michelin, GM Take the Air Out of Tires for Passenger Vehicles"
General Motors, June 4, 2019
Featured images: A Michelin Uptis prototype airless tire appears on a Chevrolet Bolt on May 29, 2019, at the General Motors Milford Proving Ground in Michigan. (Steve Fecht for General Motors)
Share This: